By Annie Aggarwal
Photography: Courtesy Ippolito Fleitz Group
©Zooey Braun
Re-designed by Ippolito Fleit
z
Group, Maredo flagship restaurant in Berlin welcomes diners to a 580-sq. m. space, reminiscent of the steak's South American origin.
The German steakhouse Maredo founded in 1978 and a leader in the sector recently opted for a radical interior makeover and profile enhancement. Translating its promise of quality meat into a tangible take-home, the new design reflects its culinary expertise.
©Zooey Braun
©Zooey Braun

The muted colour scheme of white, beige and browns along with natural, living textures of wood and leather bring out the archaic connotations of the raw material – meat in its natural, unadulterated form. The nuances are further augmented by the display of meat in its raw state amid clean lines of the counter.
©Clara Tuma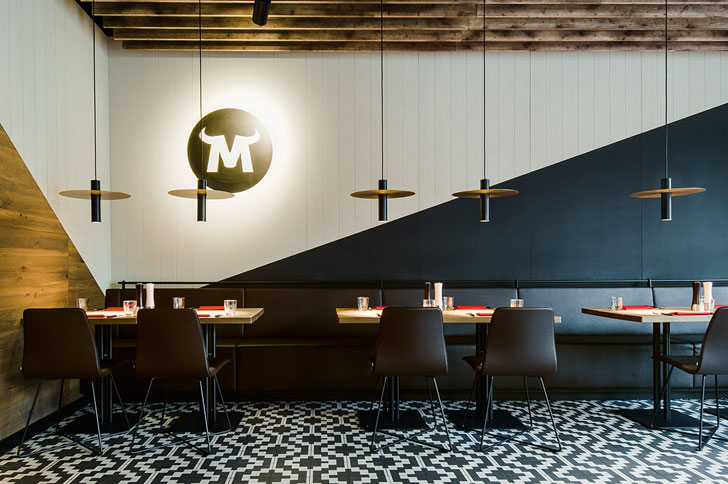 ©Clara Tuma

As guests step in, they are immersed in a partially-archaic ambience. An open fire barbecue area is positioned up front to highlight the core focus of the eatery - meat's intrinsic connection to fire and the quality promise of its preparation. The generous barbecue area, illuminated from beneath with a brass-clad hood, along with a long open fire that runs through the seating areas away from the barbecue, gives the steakhouse a ubiquitous earthy feel. A salad bar, fresh and light in appearance provides a dialogue of contrast with the charcoal fire, and reinstates the use of fresh ingredients.
©Clara Tuma
©Clara Tuma

The figure of Gaucho, the archetypal South American herdsmen is used to represent the South American origin and the essence of nature and life on endless plains. The overall rawness is balanced by rhythmic diamond and zigzag geometric patterns of the traditional Gaucho poncho. The patterns run along the custom floor tiles, wallpapers, counter fronts and the open coffered wooden ceiling.
Spatial elements such as tree trunks and ropes, referencing the natural environment of the herdsmen, adeptly filter the large space into zones. Attention to detail is evident from various elements that further the qualitative feel of the space: photographs and bullhorns adorn the walls, while sombrero shaped lights illuminate the tables. Diners can choose from various seating options - long floating marble tables or enclosed leather upholstered berths in the rear to enjoy their meals in this thematic setting.
The consistent design elements, keeping with the origin, provide all the right ingredients for the brand's new positioning and identity, in the competitive steakhouse sector.