By Annie Aggarwal
Photography:
Adrián Llaguno; courtesy the architect
Read Time: 2 mins
The restaurant Carboncabron by Cadena brothers – chef Alfonso Cadena and architect Ignasio Cadena entices visitors with its overpowering and strong character, instantly reminiscent of an intrinsic connection to fire!
A peninsula - more than 1,800 miles of the endless Pacific Ocean coastline and 930 miles with the Sea of Corte
z - forms the geographical milieu and inspiration for the enigmatic
Carboncabron
in Baja California Sur. Its concept though decontextualized, is a celebration of its locale, of the encounter between the desert and the sea, divided by geopolitical conditions and united by land and fire, as it also looks out for the red hill.
Ignacio Cadena beautifully describes the conceptual coherence of
Carboncabron
saying,
"Fire becomes
the unifying thread, metaphor and celebration of the nomadic tribes and their open-air cuisine under the blue skies and starry nights". The design and cuisine, both intricately embody the concept and even its name is suggestive of the irreverent fire.
A dauntless monochromatic palette of dark hues takes over the senses, as one enters the introspective, warm yet extroverted space. The entire structure - walls, ceiling and floor, is transformed by fire and transports one into a mystical dimension. A material palette of woods, smoked bricks and raw steel of five communal tables along with 6,300 logs shapes an entirely burned environment as abstraction and homage to the charcoal grill. The intricate charcoal grill with its raw metal systems, complete with a fire enhances the inveterate atmosphere. Even the open kitchen with its raw steel and the bar with minimal shelves complement the composition.
Carboncabron
becomes the perfect setting for experimentation and the brutal yet delicate cuisine of chef Alphoso. The narrative of the place revolves around the character of fire and its transforming capacity; and offers a true sensory delight of aromas, textures, colours and flavours.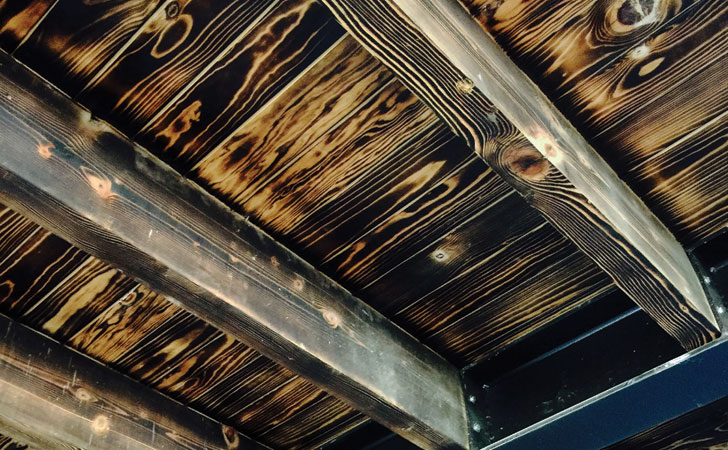 .
.
Fact File:
Concept: Alfonso Cadena & Ignacio Cadena
Design & Experience: Cadena + asoc. Concept design
Art Director: Ignacio Cadena
Architectural Project Leaders: Alejandro Peña, Ana Ledinich
Graphic Design: Rocío Serna
Furniture:
Sillas: Canto by Oscar Hagerman & Mesas: Victoria Woodwork
Location: California, USA