Photography: Courtesy Concrete
In an era, where every square foot of space is essential, architecture firm, Concrete designs a clubhouse atop a residential tower in the heart of Mongkok, Hongkong!
With the intention to create a getaway right in the middle of a busy street in
Mongkok, Concrete designs a bespoke space atop
Skypark, a large residential development,
which allows people to
bump into each other and truly connect
. With human psyche and behavioural characteristics as the focal elements of the project, the architects weave in dollops of landscaping with the interiors, making for a complete rejuvenation arena.
.
.
Open to the sky and not confined by walls, the clubhouse heralds a completely new typology of built spaces. Softscapes and hardscapes work in unison and easily connect the two levels that consist of different functional areas viz. kitchen, library and bar that sit together with a gym, swimming pool and art gallery via a statement staircase. The staircase serves a dual purpose and acts as a piece of urban furniture too.
.
.
Having designed the architecture and interiors of the entire public zone of the building, right from the street entrance to the transfer concierge floor and rooftop clubhouse, Concrete has worked closely with P&T architects and landscape architects ALN, making an integrated design that captures the "in-between spaces".
.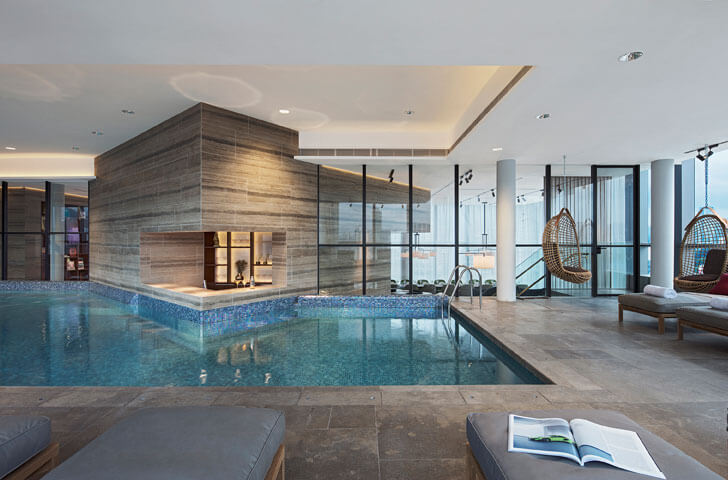 .
Positioning service shafts diagonally gives rise to what is considered negative spaces; contrary to that ideology, Concrete intentionally designs these spaces as transparent and open, with glass partitions and sliding doors; resulting in pockets of surprise, where one can find the best views of the city.
Every residential project has few highlights that help market the apartments; in this case, there can be no argument that potential Skypark's residents will chose their homes based on this remarkable rooftop community space complete with picnic and barbeque areas.
.
Project: Clubhouse Mongkok Skypark Hong Kong
Client: New World Development HK
Project Team Concrete: Rob Wagemans - Maarten de Geus
Tom Ruijken - Sofie Ruytenberg - Julia Hundermark
Wouter Slot - Yoekie de Bree
Executive Architect: P&T architects & engineers Ltd.
Executive Landscape Architect: Adrian L. Norman Ltd.
Structural Engineer: CM Wong & Associates Ltd.
MEP Engineer: WSP Hong Kong Ltd.
Lighting Consultant: Pro-lit Ltd.
Clubhouse Artworks: various artworks at gallery by Lumas collections
Clubhouse Floor Area: 916 sq. m.
Location: Mongkok, Hongkong