Photography: Courtesy 100 architects
A swimming-pool-themed travel company's office tricks its visitors to believe they are submerged under water. Designed by 100architects, this space will urge you to book a Mediterranean escapade instantly!
French travel company,
Club Med specializes in the market of all-inclusive holidays, with many vacation villages and resorts in the most exotic and breathtaking destinations around the world. They recently shifted their Asia-Pacific Headquarters to the Bund Financial Centre, at The Bund, Shanghai and the interior space was commissioned to 100architects in collaboration with product designer, Diego Fuertes.
.
.
The client's brief was straight-forward: Club Med is an avant-garde company, and their new office should reflect extravagance, presenting them as a young and fresh company. Consequently, the space is designed to inspire vacations and reflect the happiness that one feels, when arriving at a new sunny destination at sea.
Creating the illusion of being underwater, a deep blue elevated pipe hangs overhead, looping around the lobby and defining different mini-areas within the space. The pipe is reflected onto the floor to enforce the virtual subdivision of the space. Furthermore 2 different materials i.e. blue PVC carpet as the pool water, and PVC wood flooring as the deck around the pool are introduced on both sides of the projected pipe to define the separate zones.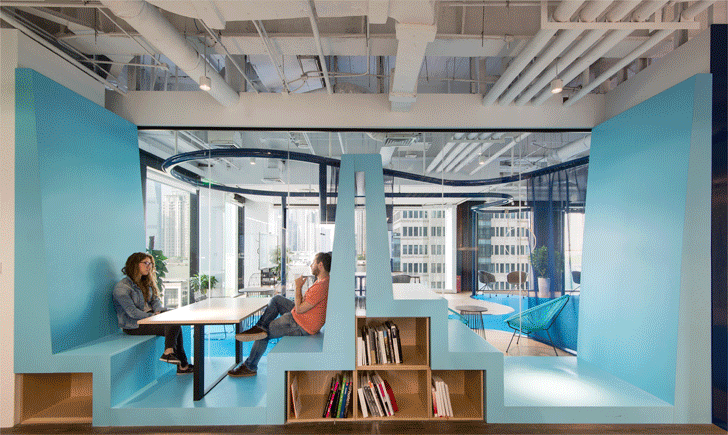 .
While the scope encompasses the entire space, special focus is laid on 2 main accent areas; the signature lobby that offers a lasting first impression to clients and visitors; and the pantry that doubles up as an-all-important social space for informal gatherings and team building activities, rather than being just a small, functional unit. The pantry houses a long yellow counter to solve the functional aspects and a wooden mini-amphitheatre located at one end to provide enough seating areas, while hosting communal activities or speeches.
The result is a multifunctional space with an open-office typology, wherein each loop offers a mini-function, functionally efficient, working spaces with long communal working tables as well as private offices with glass partitions filled with natural light and hanging greenery, providing multi-fold platforms for employee interaction.
.