Compiled by Team IAnD
Photography: Markus Pillhofer; courtesy Coop Himmelb(l)au
COOP HIMMELB(L)AU designed PANEUM – Wunderkammer des Brotes is the first wooden building in free form!
Meticulously planned, this customer information centre and event forum for the company Backaldrin in Asten, Austria, is an iconic structure comprising two elements: a box-shaped plinth building with foyer and event rooms that can be used for a variety of presentations, receptions or workshops for up to 120 visitors and the Wunderkammer des Brotes (Museum of Bread), a two-storey freeform exhibition area floating on top. The square base building shows a cast-in-place concrete façade while the rounded wood structure of the museum is clad with stainless steel shingles.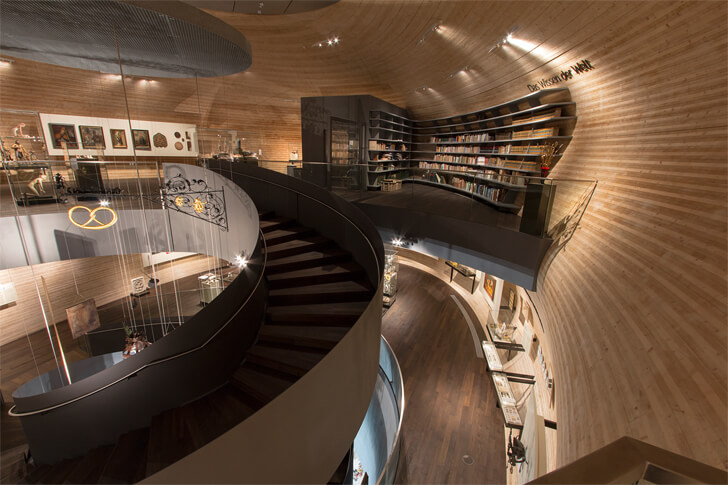 .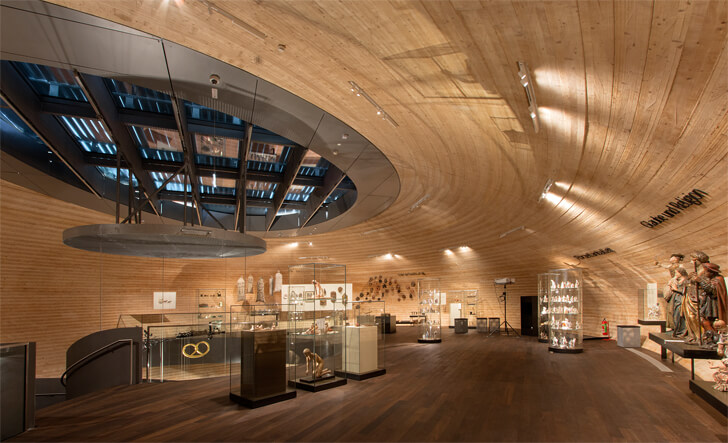 .
A centrally chiselled circular atrium is at once the cynosure of all eyes as it is flanked by a robust spiral staircase that invites visitors to pause awhile and take in the exhibited items from various perspectives. The stair provides access to the two exhibition levels, where the objects are displayed with the help of walls, tables, and cabinets that are integrated into the architecture. It further allows for striking vertical displays that take on a chandelier-like appearance, adding on to the visual appeal of the commanding building.
The raw aesthetic of the interior is augmented by its self-supporting wood shell with its layers of cross-laminated timber and the natural light that filters in from above the atrium. This method of construction enables the realization of the free form and the high degree of prefabrication with 3D CNC technology that is precision-driven and cuts valuable construction time. It is a step into the future of construction; as Design Principal, COOP HIMMELB(L)AU, Wolf D. Prix says, "3D plotting, 3D milling and building with robots – that is the future of building."
Edges and flowing lines, wood and stainless steel, tradition and innovation, light and dark…the architecture of the PANEUM comes alive through its combination of opposites and draws its dynamism and fascination from its contrasts.