By Beverly Pereira
Photography: Moment Factory; courtesy v2com
Multi-media entertainment studio Moment Factory creates a multi-sensory experience within Montreal's grandiose Notre-Dame Basilica using sound, light and video projection-mapping.
Designed by Irish-American architect James O'Donnell in 1824, the Notre-Dame Basilica in Montreal is a picture of divinity. Now, as part of the city's 375th anniversary celebrations, the iconic heritage landmark has been given a new, and luminous, lease of life. Montreal-based multimedia entertainment studio Moment Factory has created AURA, a transformative experience that propels visitors on a sacred journey using layers of augmented reality and spatial orchestral scoring within the walls of the Gothic Revival cathedral.


Since its opening in March 2017, AURA, which seats 600 people at a time, has been performed over 400 times. The 45-minute experience, presented in two acts, unfolds beneath the grandiose Basilica's lofty rood screens. Before being seated, visitors are encouraged to discover and connect with sublime artworks highlighted by multimedia-enhanced installations on a self-led tour.
The second act, when the Basilica's interior is bathed in a series of animated projections, is just as, if not more, breathtaking. Coupled with an orchestral composition interpreted by 30 musicians, 20 chorists and the Basilica's resonant organ, the experience is soul-stirring.
Conceived in 2015 by the Moment Factory team and the cathedral's managers, Fabrique de la Paroisse Notre-Dame, the project was produced by over 100 people. Bringing this vision to reality required an intensive year of musical composition and recording, four months of visual content production, 90 days of installation and a month of content integration and testing.
The technical rig of a total of 21 projectors — seven for the exploratory introduction and 14 for the second act — and 140 lights, four lasers and 20 mirrors is but one of the cogs in the machine.
Notre-Dame Basilica ornamental ceiling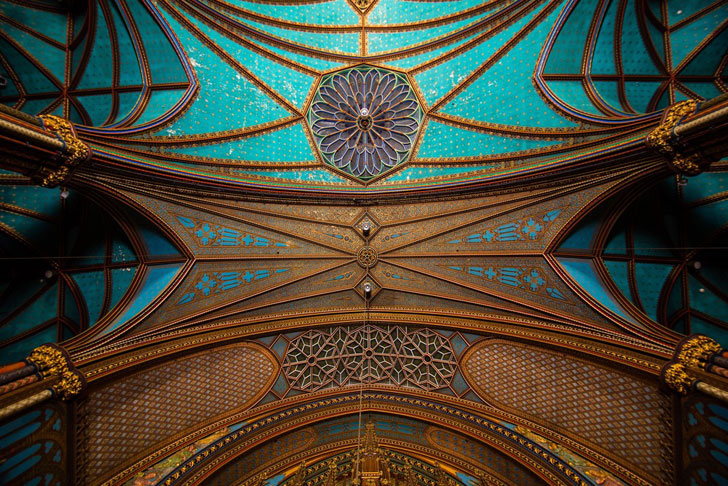 Notre-Dame Basilica ornamental ceiling detail
Aurs - process of integration
To fully utilize the cathedral's intricate architecture as a complex digital canvas, in a seamless manner, Moment Factory developed X-Agora, a specialized projection-mapping software that permits the creation of complex 3D maps of concave surfaces and ornate carvings. The video projections were also tuned to match the cathedral's vibrant chromatic palette so as to enrich the existing details.
The intense rounds of developing and testing have paid off, for it is impossible to be unmoved by this powerful, ethereal journey.