By Rutvi Ashar
Photography: Nicolas Matheus & Beckmann N'Thépé Architects
Read Time: 2 mins
Does anyone need more reasons to fall in love with Paris? A 45-room, 5-star, green hotel building by Beckmann N'Thépé Architects is a representation of Parisian chic, and is bound to impress!
The Parister Hotel is not just another Parisian 5-star. Located on a narrow street in a planned tourist neighbourhood, it displays the historical character and lifestyle of local Paris. An existing office building is completely restructured to create this luxury hotel, with a focus on a central courtyard and contemporary extension. The hotel comes with 45 guest rooms, restaurant-cocktail bar, pool, gym, massage room and a hammam.
With the idea of opening the hotel to the city, through both, its architecture and its commercial offering, the proposal has also considered the needs of local residents. The concrete facade is sculpted with a natural appearance resembling marble and is lightly overlaid with moss; thus, adding a unique and unexpected touch to the whole built mass. The two wings of the building are joined by a series of metal walkways on different levels that remind the customer of New York's bohemian spirit.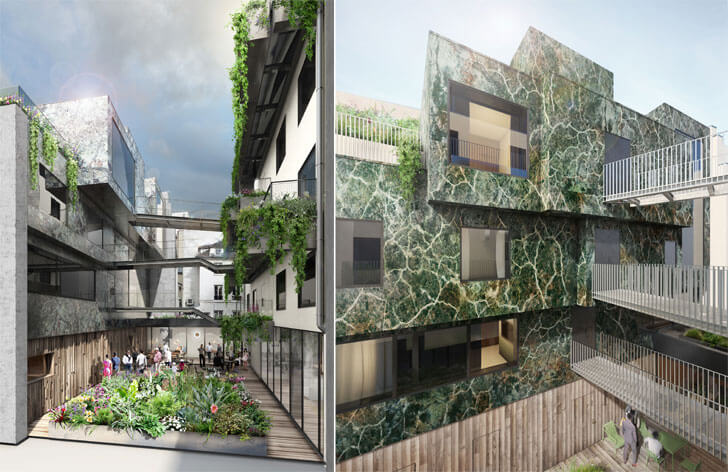 While part facade retains its historical character, the new façade draws elements from the existing architecture such as height, rhythm of openings, mouldings and pale render. Unvarnished wood boards and planters add a huge natural element to the design. Green stands out against elegant black awnings, providing a link between the contemporary and the historic. Huge sliding bay windows open onto a large wooden terrace, which functions as an extension of the indoor reception area and enjoys the same view as many rooms onto the rain garden.
©N. Matheus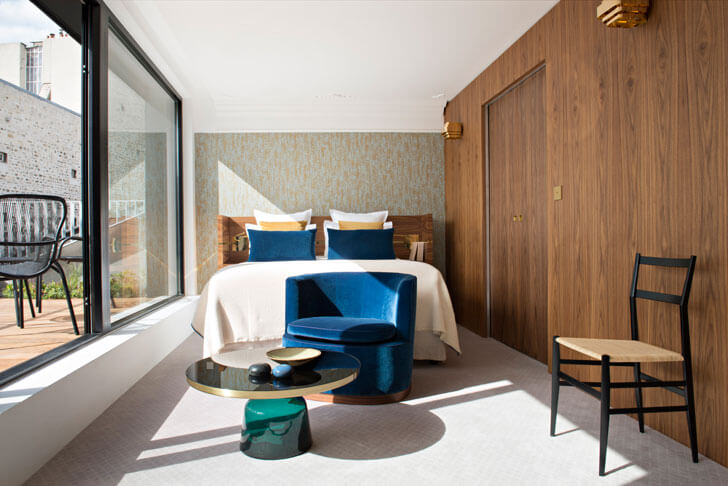 The interiors are designed in tandem with the architectural design; with decorative elements of different colours and materials that harmonise to create graphic tableaux, from wallpaper to bedding, from floor coverings to bathroom fittings, intentionally uniting contrasting materials, such as metal and fabric.
Close attention to detail in the design of the lighting and furniture enhances the intimate atmosphere that continues to other parts of the hotel. The mix of pure luxury with bold green areas definitely makes this hotel worth a visit!
Design Firm:
Beckmann N'Thépé Architects
Design Principal: Ar.
Christophe Crouau
Assistant Architects: Estelle Brandon, Martin Lefèvre, Guillaume Thomas, Ammara Voravong
Perspectivist: Charles Costantini
Area:
floor area + interior courtyard
(22916.36 sq. ft.)