By Annie Aggarwal
Photography: Hufton+Crow & EvaBloem; courtesy UNStudio
Read Time: 2 mins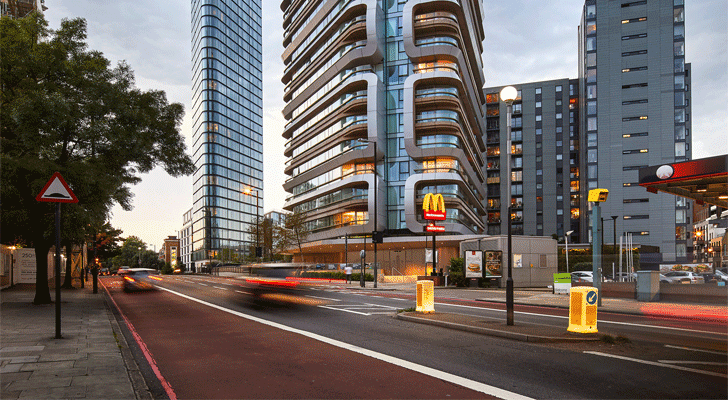 ©Hufton+Crow
The Canaletto Tower's design by UNStudio, located in the vibrant London borough of Islington, is a unique response to the context…
The building distinguishes itself from buildings in the nearby financial district of the City with particular emphasis on its residential character.
©Hufton+Crow
©Hufton+Crow
The tower features a curvilinear ribbon façade, where several floors are clustered together to form vertical communities. Its triangular façade of 31 storeys facing west, in tandem with a rectangular facade facing east, rather than resounding a typical high rise, forms 'small communities that are visibly unique', lending the tower its unique identity.
Add caption
.
The clusters designed to maximise transparency and frame views towards the London skyline lend the tower a softer, more nuanced silhouette. Contrasting material palettes are employed within each cluster, with a smooth outer metallic element complemented by textured inner materials. The unexpected detailing and material variation, borrowed from furniture design, even at a large scale, gives individual units a feel of a private residence - something identifiably theirs.
©Hufton+Crow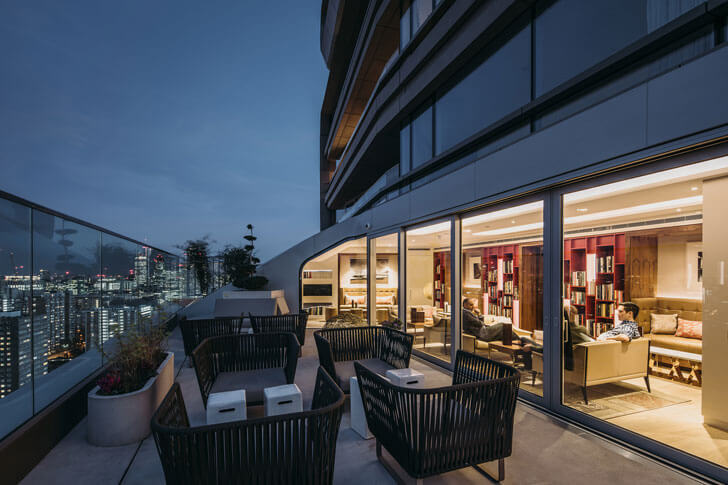 ©
EvaBloem
The surface modelling also provides for shading, balanced internal daylight, while offering views without heat gain. Additionally, the façade articulation reduces wind downdraft, and canopies at the base even improve pedestrian microclimate. Gardens on Wharf Road and framing the entrance lobby provide a green oasis off the busy city road.
©Hufton+Crow
©
EvaBloem
The clustered façade makes way for aluminium-framed balconies, accessed by sliding folding doors on the north and south façade, while Juliet balconies open up the east; offering residents unique sheltered outdoor spaces and thus, quality living environments.
©Hufton+Crow
The 190 individual units divided into one and two bedroom apartments, premium three bedroom apartments and a distinct penthouse with a full rooftop, meet the varying aspirations of the residents.
.
Shared amenities cater to collective leisure activities. Residents can enjoy healthy leisure pursuits at the gym or the pool area, or relax and socialise at the cinema, restaurant or clubroom. Dramatic architectural features of the ceiling and finishes on the walls accentuate the spaces.
Located in the culturally diverse city of London, Canaletto creates a distinct residential identity for a high rise.