By Annie Aggarwal
Photography: Ewout Huibers; courtesy the architects
Read Time: 2 mins
.
The international luggage brand, Samsonite's new Amsterdam showroom by i29 interior architects is an exciting take on the brand's spatial identity…
The space is a fresh, recognizable and consistent reflection of the urban setting, the natural habitat of the suitcase or bag. Instantly inspiring and attracting diverse social and age groups of customers, the use of archaic symbols intuitively refers to travel and movement. The dynamic space resonates with the young and fashionable to the mature and classic alike, as the brand's effective universal communication is ingrained in global collective memory.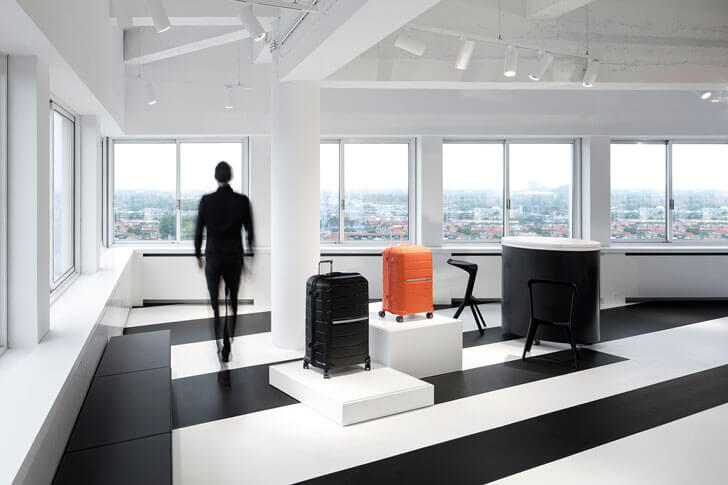 .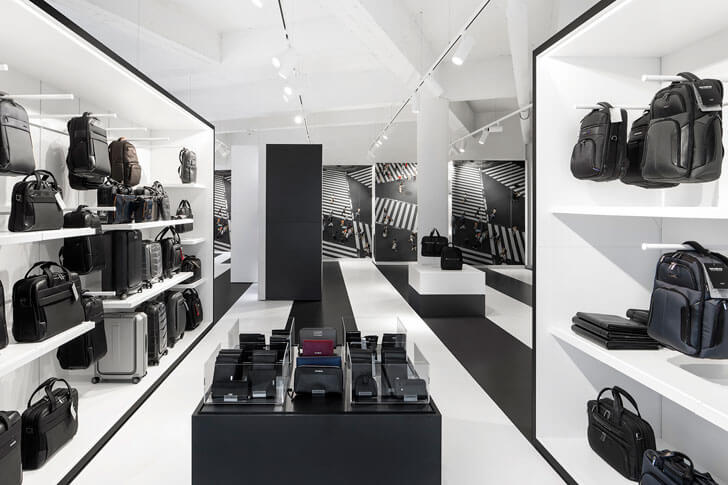 .
A bold and graphical colour scheme of black and white communicates powerfully, adding an essence of drama and intrigue, though does not adhere to a single style. The monochromes also offer a fitting base for any colour or material of the products on display.
.
.
Oblique graphical patterns and diagonally placed objects throughout offer a strong sense of direction, as they sustain the dramatic language. Lighting rails, centre floor units and perimeter units, all in a diagonal layout make the space seem turned and offer a twist for the eye. Customers can experience walking through a blown-up crosswalk, while multiple-view angles and contrasting visuals provide surprise and excitement.
Customers can explore Samsonite's premium product line of Polypropylene suitcases along the exciting curved wall, which exhibits multiple facets, when seen from different positions. Or, one can walk through a series of open and closed display units, offering a dynamic landscape. Each of the structures represents a sub-brand of Samsonite, each with its own presentation, and yet part of the whole.
.
Additionally, customers can discuss and confer in the sleek glass conference room, with minimal, elegant furniture that keeps with the store's design philosophy.
With a natural urban habitat for the suitcases, bags and travel products, and a truly unique experience for customers, i29 interior architects take the Samsonite shopping experience to the next level.