Compiled by TeamIAnD
Photography: Michel Denance; courtesy v2com
Read Time: 2 mins
.
Printemps, the historic department store on Boulevard Haussmann in Paris, France, gets a makeover with a stunning atrium that stretches vertically from the lower ground floor up to the 9th floor…
Through its long history, Printemps was the first department store to use electricity, elevator lifts and introduce modernized architectural feats such as a massive spiral staircase and a 42-meter high dome. As part of today's reconstruction of Printemps, the objective was to introduce a new atrium that would allow visitors to see all levels.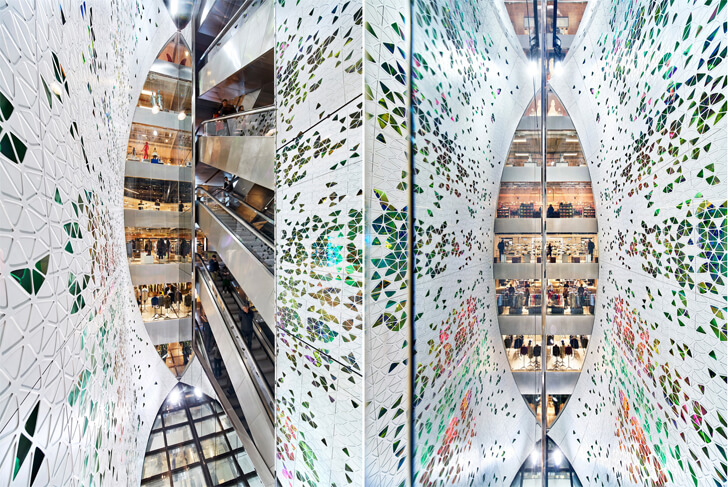 .
.
Interdisciplinary research-based architecture studio, UUfie, who is responsible for this dynamic feature applies the concept of a vertical dome, also called a veil to the atrium as it penetrates the heart of the building; reminiscent and a homage to the store's iconic stained-glass domes seen in 1894. The veil weighs 24 tons, but appears to float in front of the vertical circulation with a glass floor and mirrored ceiling. 25.5 meters high and 12.5 meters wide, it comprises white-painted aluminium panels perforated with approximately 17,200 petal-shaped openings that reveal a layer of Dichroic glass, which changes colours based on people's angle of view, which gives it an iridescent quality. The floral relief created by the two layers of aluminium surface is an interpretation of images found in the historic stained glass; transposed into a repetitive pattern that is then randomized to form the burst of colours on the white surface.
.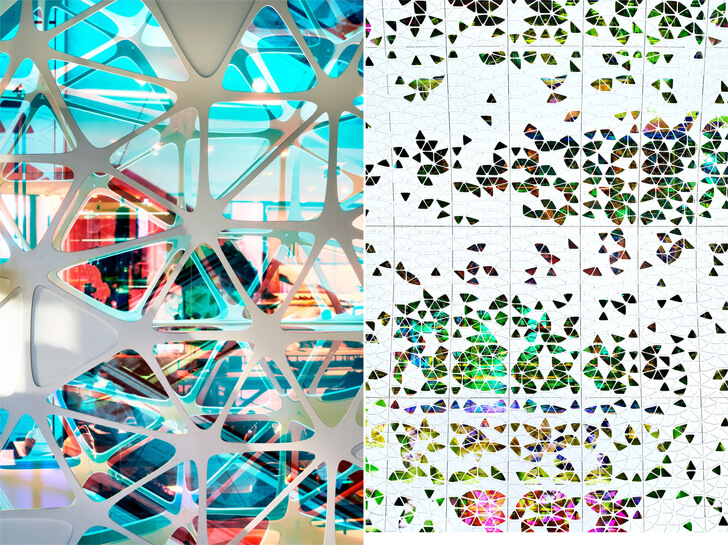 .
The geometry of the veil is conceived by connecting the four corners of the void with simple curves in plan and elevation. A combination of two-dimensional curved panels gives the overall shape to the full veil. A precise assembly allowed for the perfect control of joints between each panel. On the opposite side of the veil is a one-way mirror wall that conceals twelve newly installed escalators. It creates a reflection that completes the symmetry of the veil and gives the appearance of a widened void.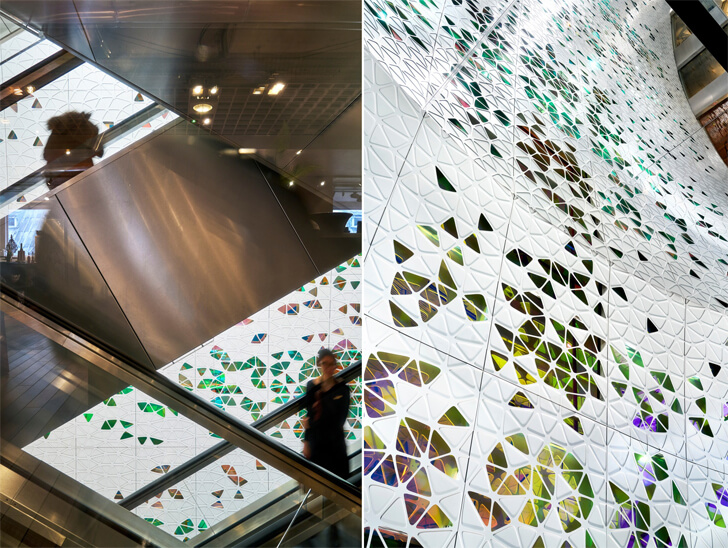 .
.
Visitors approach the space through a darkened vestibule leading to the escalators behind the one-way mirror. Between 4th-8th floors, an opening in the one-way mirror wall gives an unobstructed view of the veil. The progression through the spaces gives varying perspective and moments to experience the ever-changing play of light and colour in the void. Acting as the backbone of the main building, it channels the energy to the different retail concepts on each floor and brings part of the building's history to the present.
.
.
To negotiate the constraints of the existing building and strict fire regulations has resulted in a space that is symbolic and expressive of ingenuity in architecture and engineering. The entire project was constructed in only eight months, while the stores were able to remain in operation.
Project: Printemps Haussmann
Producer: Yabu Pushelberg
Number of Storeys: 10 (B1F-9F)
Construction Period: 2016–2017
American Architecture Prize—Winner in Architectural Design/Restoration & Renovation
World Architecture Festival Award—Shortlisted for Built Project—Restoration & Renovation
World Architecture Festival Award—Shortlisted for Built Project—Best Use of Colour