By Annie Aggarwal
Photography: Courtesy Ganna Design
Read Time: 2 mins
.
The MK Home by Ganna Design, Taiwan is a recent addition to the studio's profile and offers its residents an abode abundant with charm.
Versatile materials and finishes combined create the most fitting spaces in this home, where one can let go of their daytime exhaustion and uplift their spirits.
.
The rectangular plan of the house dictates a linear flow of spaces, from large and spacious public areas comprising the living, dining and study to more modest and comfortable private bed spaces. A celebrated living space perfect to entertain or relax with family makes way for cosy bedrooms, each space replete with natural sunlight and charming views through large floor-to-ceiling windows.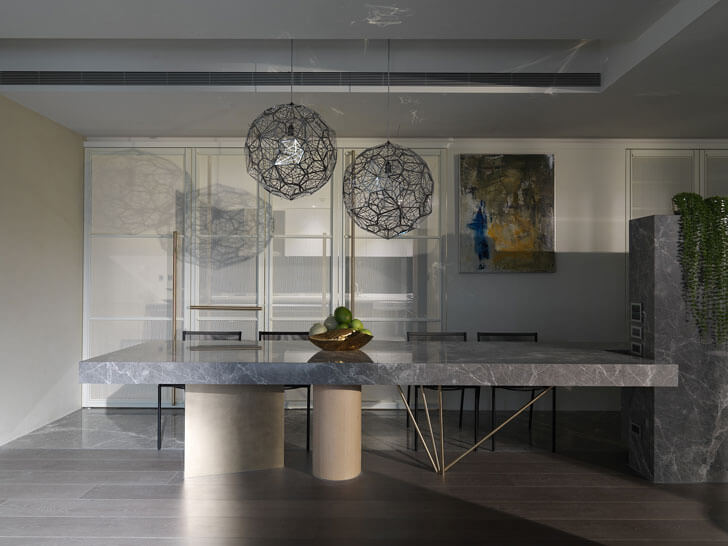 .
.
A symphony of varied materials greets one throughout the house. A wall composed of perforated plates encased in white frames and adorning a linear arrangement of titanium-coated handles connects the public spaces, offering picturesque frames. The study behind clear glass and perforated sheet doors is well composed with wooden furniture, giving it a heavy yet elegant appearance; while the backdrop of creamy white walls becomes a stage for the play of light and shadow.
.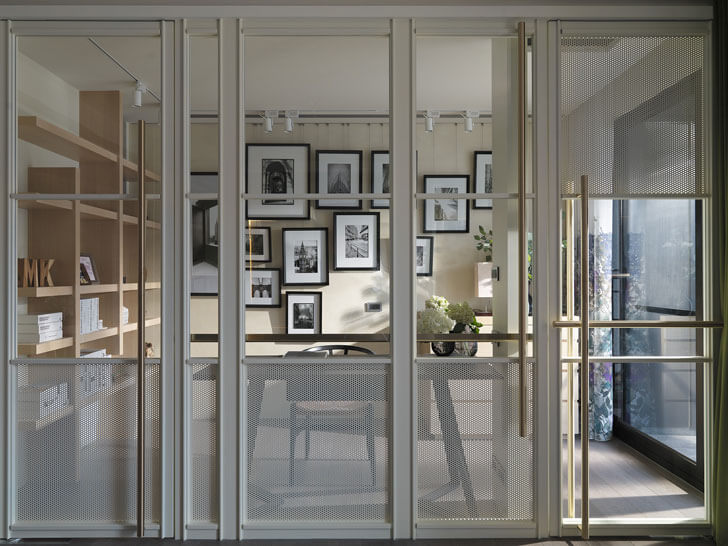 .
While the language of crisp lines and subtle colours continues in the bedrooms, a contrasting, though appropriate material palette takes over, as smooth curves, upholstery patterns on walls and minimal furniture add a touch of softness.
.
.
A striking balance of delicate subtlety and substantial mass is achieved in the spaces, the furniture exhibiting a dual character alongside. A heavy marble dining platform continues into the TV wall, tables stand on contrasting voluminous wood and sleek titanium coated metal legs, while plush seating is balanced by intricate lamps and art pieces.
.
Add caption
MK home becomes a centrestage for artistic creativity and yet a comfortable and luxurious abode for the residents.