By Beverly Pereira
Photography: Zhang Chao; courtesy MVRDV
Read Time: 2 mins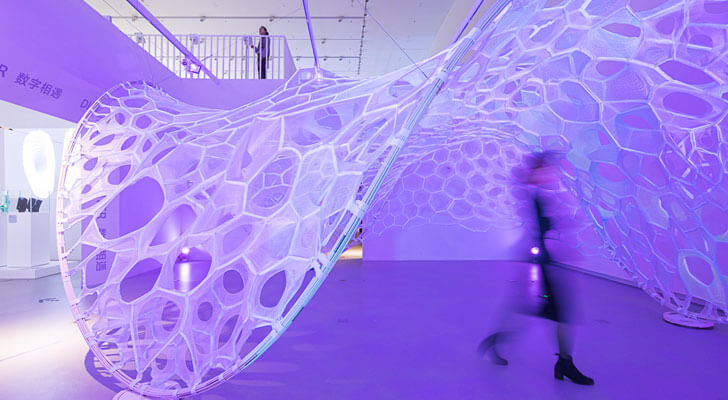 MVRDV highlights the design process and the inevitable impact of digital creativity in an exhibition with labyrinth-like interiors in Shenzhen…
Dutch architecture and urban design practice, MVRDV was commissioned by Design Society Shenzhen to design the main hall of the V & A-backed cultural hub Sea World Culture and Art Centre in Shekou, Shenzhen. Responding to the theme of the Shenzhen Biennale "Minding the digital", where the focus lies on decoding multiple design directions generated by digital thinking, MVRDV takes into consideration the myriad forms of digital creativity critical to China's shift from a historic manufacturing centre to its current reinvention as an innovative hub.
So, the architects create a metaphoric labyrinth across two levels that at once differentiates the exhibition space for designers from that of their products, and creates a synergy between the two floors. Viewers are offered different perspectives from either within the exhibition hall or when viewing from above.
A walk through a maze of rooms with all-black interiors take viewers through the creations of both local and international designers on the first level; whilst a space for workshops, lectures and discussions anoints the second floor; the two floors appearing seamless by a glass flooring.
Viewers are encouraged to interact with what goes on below, while immersing themselves in a space for future products. Adopting 'design' as the buzzword in the present and the future, the exhibition space puts the spotlight on the conceptualisation of products and the machines that produce them.
In a way, one can compare the design-led concept of this spatial exhibition to Schliemann's excavations in Troy that put forth the evolution of history and the making of the city. Much like new societies are built layer upon layer over millennia, the labyrinthine layout of this exhibition focuses on the discovery, or excavation, of ideas and creations of past and present designers, while simultaneously offering a space for discussion of and collaboration on future ideas.
MVRDV conveys the emergence of a new world of digitised creativity - one that is led by design in a society that is under endless creative construction.