By Annie Aggarwal
Photography: Diego Opazo; courtesy the architect
Read Time: 2 mins
100-year old Valencian building (inset) Ar. Fran Silvestre
Office building 1905, located in the first expansion district of Valencia brings to life outstanding restoration architecture by Fran Silvestre Arquitectos; the interiors bearing their signature surreal ambience…
Originally conceived in 1905, and designed by the distinguished architect Late Antonio Martorell, the building is a sample of the early twentieth century Valencian Architecture. Being the headquarters of a historic Valencian Company, the edifice always housed an office despite its residential typology. Fran Silvestre Arquitectos have introduced subtle changes, sensitively bringing the building at par with present day technological requirements, while giving its design a pleasant contrast of styles.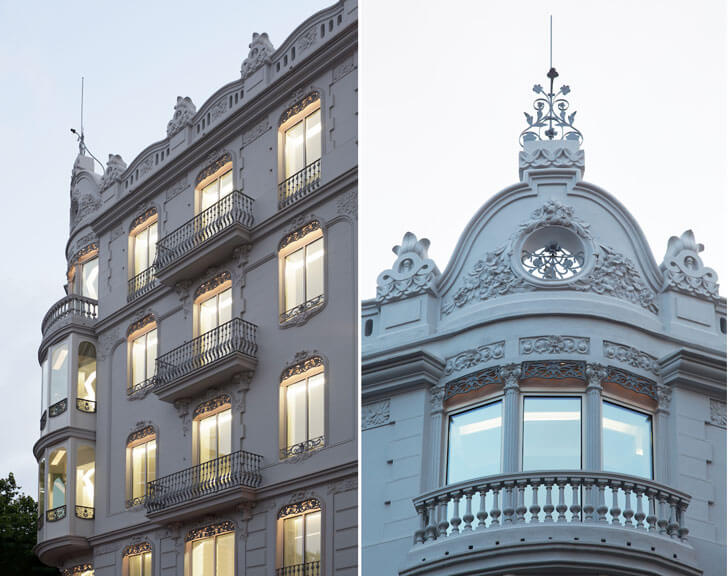 .
.
The façade is composed of three straight faces, meeting at curved edges; the curves resolved with carpentry elements, and the façade articulated with charming details of mouldings, railings and fenestrations. The glory of the original façade is maintained even as the architects improve the technical conditions of the glazing. The fifth-floor façade behind the decorative crown of the building sits in contrast, with large contemporary openings, redesigned with greater freedom, to take advantage of natural light. While the building meets all its present needs, its illustrious Valencian facade allows one to imagine the city in which it was built over a hundred years ago.
.
Once inside, one experiences a contrasting and surreal futuristic space - stark white, with elements in black, and raw grey flooring. The functions are connected by elegant circulation spaces, while niche lighting along the edges, contemporary light fixtures and sleek furniture make for a minimal though practical office space that bears the Fran Silvestre signature of angular compositional spaces, white light and surreal ambience.
.
The skillful distribution of humid areas and services by Martorell is maintained to layout closed offices and services, while the central courtyard with the original arrangement of the staircase and central patio becomes the vertical core, with the mandatory elevator and the rehabilitation of the staircase.
.
.
While earlier, the ground and first floors with greater clearance heights offered comfort in a building with no elevator, now the ground floor houses the reception beyond the entrance, and the other floors with similar character cater to a landscape office with departments distributed on different floors. The last floor initially used for storage, is now enjoyed as the representative floor of the building, with an outdoor terrace that circles the space.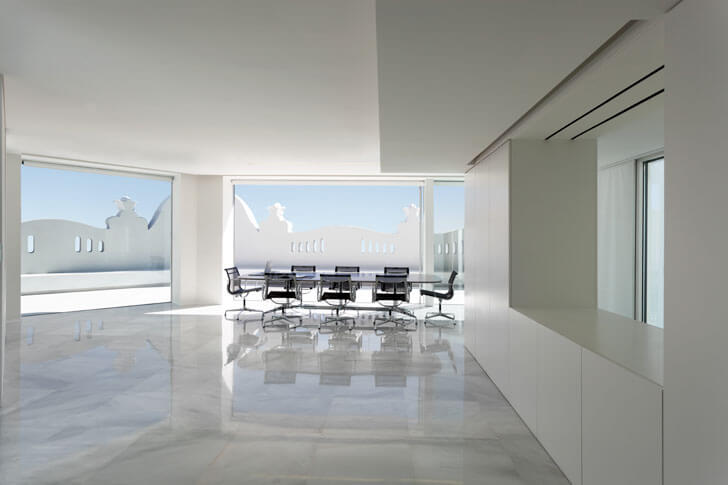 .
.
Office Building 1905 thus has a renewed vision and a new life as it also seamlessly integrates in the plot in which it was projected; making one contemplate by-gone times and the future changes and transformations yet to come to keep a building and city active and alive.
Architecture: Fran Silvestre Arquitectos
Interior design: Alfaro Hofmann
Project team: Fran Silvestre , Maria José Saez, Fran Ayala, Jordi Martínez