Compiled by Team IAnD
Photography: Courtesy the architects
Read Time: 2 mins
Chartierdalix Architects in association with Brenac & Gonzalez & Associates designs a mixed-use building with a Möbius strip-like façade that radiates in every direction with frank intensity.
Positioned at the edge of the web of train tracks, on the slab partially covering rails void for train storage, the site is inserted between this opening facing the wider landscape and what is becoming a densely built up new urban artery on the other side of the extremely dynamic renewal that is underway in the Clichy-Batignolles district in Paris.
@Sergio Grazia

Imagined as a telluric body, in dialogue with the major axes of the site, the "ribbon" plan offers an open façade in relation with the context of the train tracks, the street and the park. Thus, like a Möbius strip, the exterior and interior spaces interlock on all sides of the building, enabling easy and fluid movement and a visual continuity from the exterior and from the ground floor up to the roof. All the façades receive the same careful attention to their design, ensuring that they resemble a continuous, homogeneous and unbroken skin.
@Sergio Grazia
This ribbon pattern wraps around the entire building, the horizontal lines accentuating the appearance of sedimentary layers. On each floor, the levels appear to be detached from each other, an effect achieved through superposition and setbacks; with the recesses resulting in a stratification, further emphasized by staggered terraces, thus avoiding overlooking views.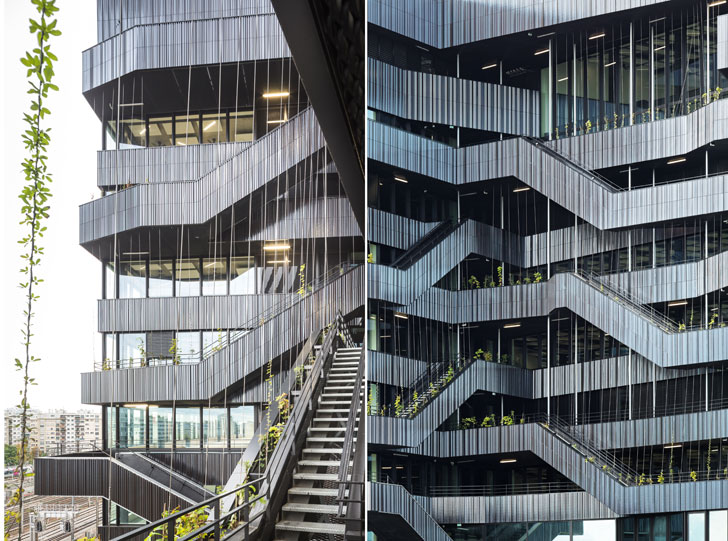 ©Sergio Grazia & Takuji_Shimmura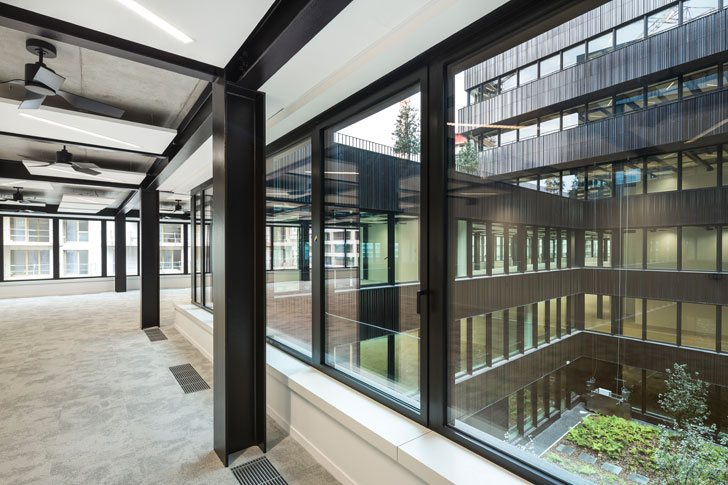 The façades are composed of alternating horizontal lines, formed by glazed bays and their solid window aprons that account for a continuously changing skin. The whole building is clad with enamelled terra cotta, a reference to the industrial buildings standing along the train tracks. Applied on all the façades, this skin comes alive, its appearance changing according to the orientation of the façades according to the quality of daylight and what is happening in the sky. Clad in this manner, the building can be understood as a landscape, whose contour lines are deformed by the tectonic forces of the interior. The modules were made to measure, the effect of randomness obtained with three different moulds and arranged according to an algorithm specially developed for this project. The type of enamel, a relief with vertical grooving and moulded edges results in a constantly changing hue reminiscent of paintings by Soulages.
The building opens broadly onto the city, where the transparency of the lobby on two levels enables everyone to enjoy the site's incredible geography.