By Savitha Hira
Photography: Saranin Artemy
Read Time: 1 min 30 secs
K16 Cafe (inset) Designer Saranin Artemy
Designer Saranin Artemy of ALLARTSDESIGN turns 115 sq. ft on its head to celebrate an all-day gourmet café in Perm, Russia.
The recently opened K16 Café, which is a renovation of a clothing store, has to its credit a dining area, kitchen and utility rooms – all in a remarkably designed interior spanning a mere 115 sq. ft area.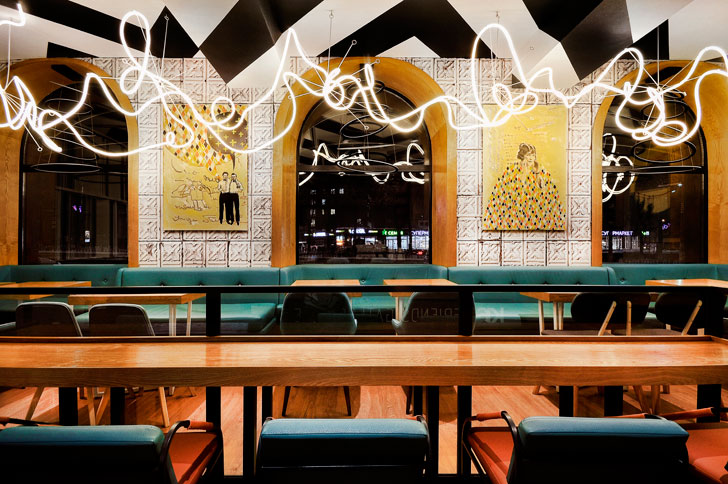 .
From serving breakfast to the early-risers to wholesome homemade meals and desserts to late-night diners, the café sits on a rather elongated rectangular plot, highlighted by its arched stained-glass windows. Using the existing wooden beams in the ceiling as a point of take-off, the designer camouflages it with a Z-shaped pattern – which also becomes the signature of the eatery – establishing recognition from every frame.
.
Its small area is ingeniously demarcated into a peripheral long sofa that aligns along one length of the eatery complemented by chair-seating opposite forming groups of twos and fours. The length of the plot is longitudinally split into two levels; with the slightly raised level towards the back hosting the open kitchen.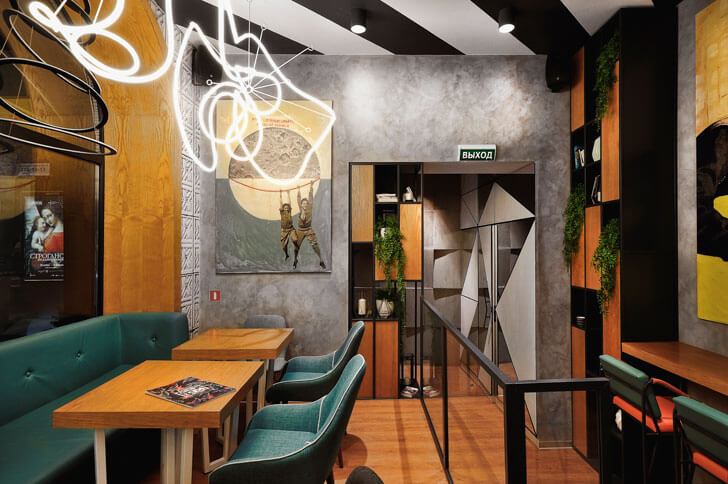 .
A custom-designed light fitting that is made of a bright tangled cord acts as the highlight of the design as it effectively binds the space into a warm enclave.
.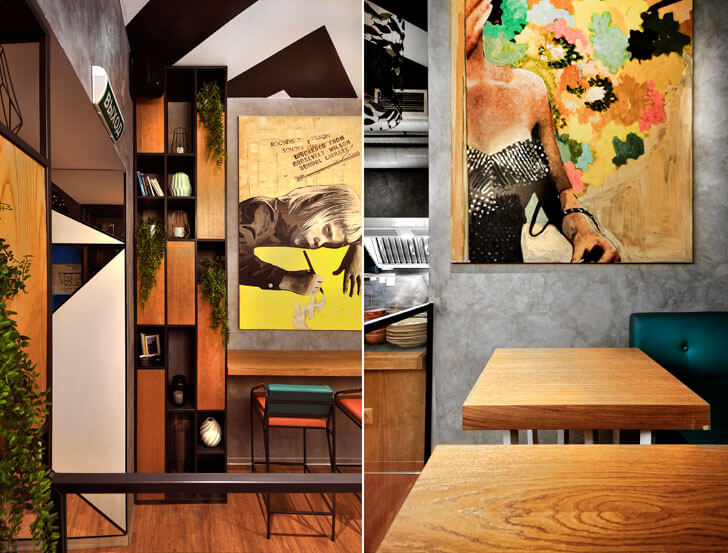 .
With selective works of art, touch of the handmade in tiles, an arresting ceiling-mounted installation of miniature caruncles and red snapper, play of simple elements garnering user-interest and an arresting colour palette of orange and deep ocean blue sporting a delicate mix of textures, the café comes alive as a trendy hangout. Its tag line – friends gather here – becomes the perfect adjunct to invite folks in, irrespective of age!
Design company: ALLARTSDESIGN
Location: Perm, Ural, Russia