Compiled by TeamIAnD
Renderings: Pei Cobb Freed & Partners
Read Time: 2 mins
Linear alley with classroom buildings beyond
Pei Cobb Freed & Partners unveils a transformation design for IESB Brasilia's new university campus…
The New York-based architectural firm Pei Cobb Freed & Partners has been selected to design a major expansion to IESB Brasilia, an international university based in Brazil's capital, that will more than double the size of the campus with new facilities and open space.
IESB's inward-focused existing campus will be transformed by an L-shaped complex featuring a new academic allée and a generous entry precinct with facilities that serve both the university and the public.
Linear canopy and campus green, with classroom buildings beyond
Design partner José Bruguera, architect of the recent expansion to the Universidad Europea de Madrid, considers the project a watershed moment for the university. "In addition to improving the experience for faculty and students with a greener, more open campus, the university will become a welcoming presence for the community on the south side of Brasilia."
Auditorium building

A new linear campus green with a connective curvilinear canopy will unfold alongside a sequence of academic buildings joined by indoor and outdoor circulation paths. The modular composition of the complex allows classrooms of different types and sizes to be arranged as variations on a theme.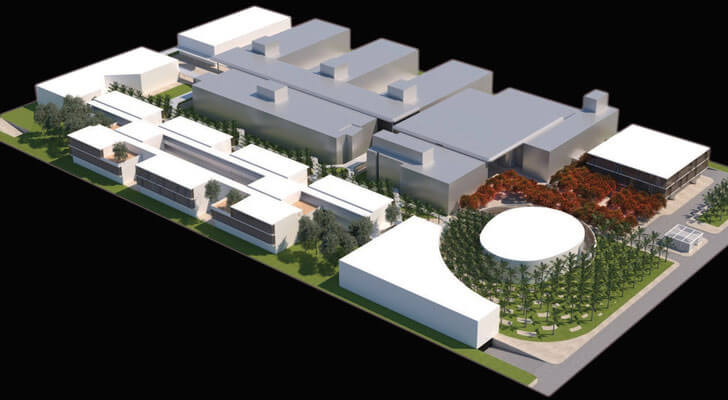 Aerial view with new public and administrative buildings at right
The new entry precinct is anchored by a colonnaded administration building and a freestanding auditorium, whose geometry of intersecting arcs extends into a surrounding landscaped plaza and adjacent clinic. The auditorium also marks the starting point for the linear campus green, which culminates at the entrance to a new library.
Below-grade parking under the existing buildings will be expanded beneath the new academic complex and campus green. A future phase will apply the strategy of connecting open spaces to the existing campus complex, increasing sunlight and improving sightlines throughout the university.
Campus roof plan
Lead designer: José Bruguera of Pei Cobb Freed & Partners
Use: Landscaped academic campus with teaching spaces, auditorium, administration, health clinic, lab, library, parking
Gross area: 18,750 sq. m. + 9,150
sq. m.
underground parking