Compiled by Pari Syal
Photography: Wouter van der Sar for Concrete; courtesy Concrete
Read Time: 2 mins
.
Restaurant 212 is open! The new address in Amsterdam is a gourmet's delight; more so, it is the balance between two passionate chefs joining forces to create one unforgettable experience...
Dining in the open kitchen of chefs, Richard van Oostenbrugge & Thomas Groot is a carefully crafted experience designed by Concrete, who has worked not only on the mono-hued interiors, but also on the graphic identity and name of the bistro.
.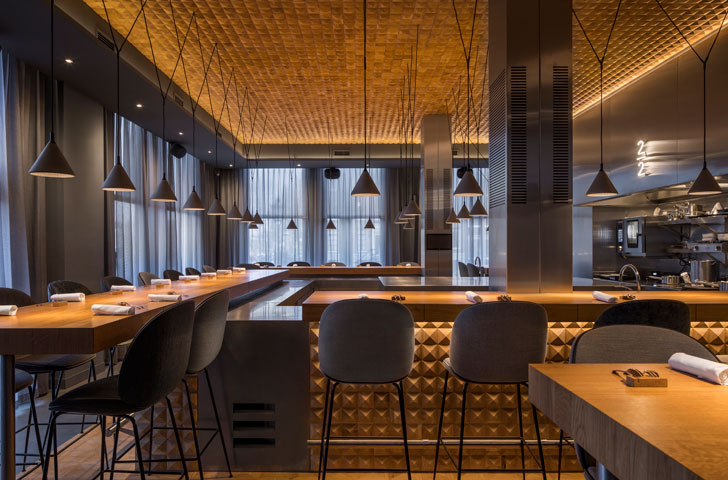 .
The 82 sq. m. space is conceptualised as one large kitchen, where visitors and invited to sit around the kitchen counter in a warm homely ambience. This creates a close rapport between the chef and the diners, aiding in the direct sharing of their passions and elevating their dining experience.
In fact, 212 is Amsterdam's first 'no table restaurant'. The focus of the interior is on the central kitchen and the guest experience, while everything else is literally greyed out. The interior layout is designed around the open kitchen in the centre of the space as the counter wraps around it on three sides in an interrupted U-shape. Around the corners, the counter top cantilevers over its edge to create tables of two or four. The back wall boasts all major appliances and an open fireplace.
.
"organisation restaurant 212 concrete indiaartndesign"
.
The ambience is highlighted by an honest choice of materials: stainless steel for the entire kitchen, rear wall and hood. Natural oak for the counter top and front as well as the floor and ceiling as a warm counterpart to the industrial feel of the kitchen. The centre ceiling and bar counters have a custom three-dimensional surface constructed from oak pyramid shapes to create a warm, dimmed and intimate ambience. The perimeter between the façade and bar counter is realised in a neutral grey: with ton-sur-ton floor, walls, sheer curtains and ceiling. Even the smallest details such as windows sills, speakers, lighting and switches feature grey tones. The wall next to the entrance displays a monochrome graffiti by street artist
Rafael Sliks.
3D surface constructed from oak pyramid shapes create a warm, dimmed and intimate ambience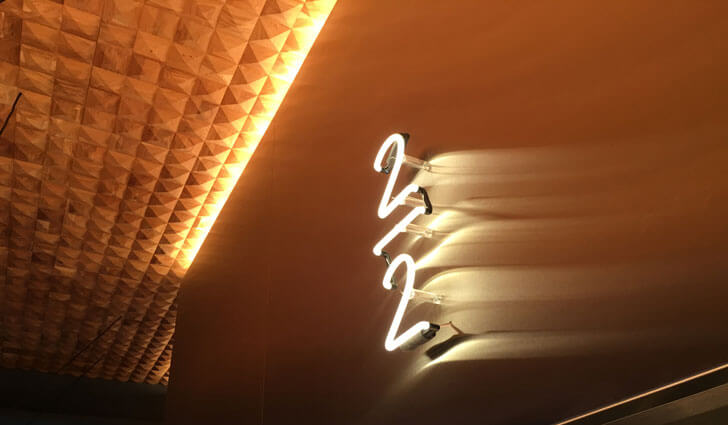 Logo
The logo of 212 is balanced over the horizontal axis creating a mathematical fraction, symbolising two parts that make a perfect whole.
The success of the design lies in bringing in unaffected simplicity in the entire experience of enjoying a cosy meal in a desirable ambience amid congenial company.