By Savitha Hira
Photography: Luis Beltran; courtesy Masquespacio
Read Time: 1 min 30 secs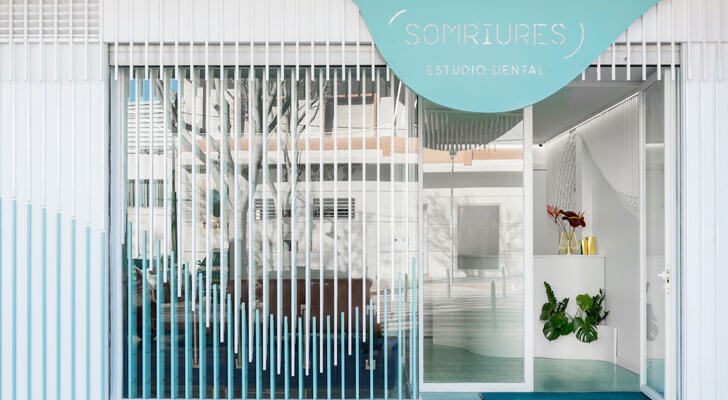 .
A sculpture made of wooden strips creates a 'beautiful smile' as the signatory feature of a dental clinic in Valencia, Spain…
Award-winning Spanish creative consultancy Masquespacio helmed by Ana Milena Her-nández Palacios and Christophe Penasse has recently designed a 120 sq. m. dental clin-ic, Somriures in a small town called L'Alcudia, around 30 km away from Valencia.
Thinking out-of-the-box and using the specialty of the clinic of creating a 'beautiful smile' as the mainstay of the design, the designers have crafted a large part of the interior envelope including the ceiling into a 'beautiful smile'. 2884 strips of wood hang from the ceiling and overwhelm some of the main walls with the aim to recreate a smile. The sculptural feature also serves as the perfect guide to take the clients from one point in the clinic to another, tacitly vouching for mandatory signage.
.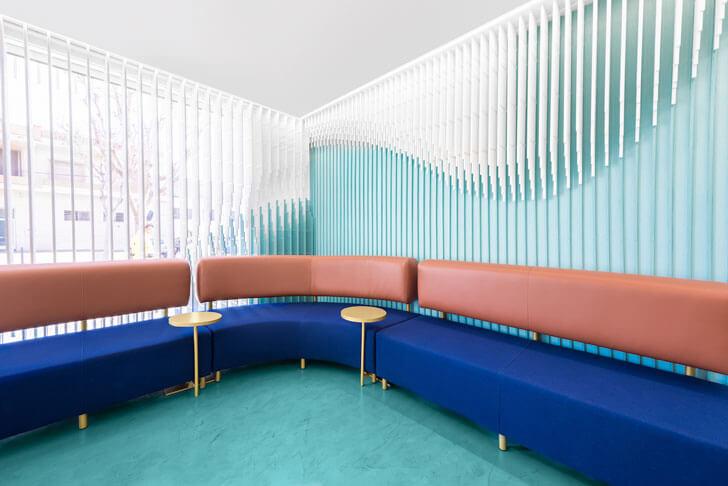 .
Keeping the ambience soothing is the turquoise green and white colour palette that is strategically peppered with small touches of gold, brown leather and dark blue to establish a sophisticated contrast. Also keeping pace with the undulating smile, is the custom-made furniture that follows an organic form and the space planning that augments the organic at the outset via a meandering passage.
.
Masquespacio as a creative agency has time and again proved its mettle in the detailing that the designers follow in a project. Contrarily, this project did not have much scope for this feature. Hence, the approach has been to garner the best, using minimum materials. And they achieve this with aplomb!
Location: L'Alcudia, Valencia