By Deepika Srivastava
Photography: courtesy William Kaven Architecture
Read Time: 2 mins
.
Camp Minoh, a vacation home in Northern Michigan, designed by Ar. William Kaven, attempts to reflect the massiveness of the Michigan lake…
Historically, Michigan was a place of refuge; a place, where people came to trap fur or escape the law; Ernst Hemingway called it a 'great place to laze around, and the best place in the world to do nothing'. Today, it is a popular summer and winter destination, well-shielded from commercial exposure due to its extreme weather conditions.
.
Situated in sparsely populated Northern Michigan, Camp Minoh too serves as a refuge for extended family gatherings. Perceived as a modern, simplistic, and transparent box, its expression is derived from the lake, whose massiveness made it essential for the architect to design a house of equal strength.
.
.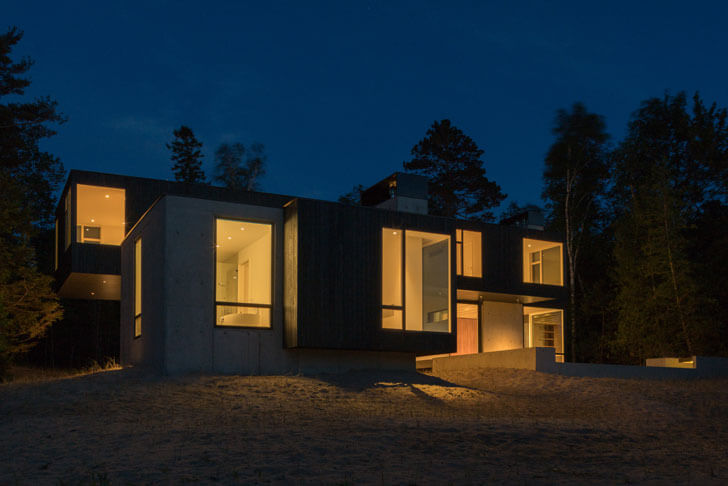 .
The ground floor serves as the main gathering space, with the living, dining, and kitchen, connected openly and placed linearly. The 'pinwheel' connected floor space has a second level, which is the private den – housing a space for movies, a bunk room and two bedroom suites. The master bedroom on the lower level juts out towards the lake and allows for an unobstructed view of the lake from bedroom and master bathroom. The large interior is complemented by an adjacent outdoor space at its core.
.
.
The material palette for the project is based on the client's desire to have a rugged and low-maintenance home. On the exterior, the building comprises concrete, which is formed by inexpensive forms that result in a textured finish, charred wood, made using the Japanese technique, Shou Sugi Ban, which extends the life of wood, glass and steel; while the interior palette is formed by concrete, wood and white walls.
.
With the lake in view from every space within, Camp Minoh preserves, even celebrates the lazy, escapist feel of Michigan.