By Deepika Srivastava
Photography: Dirk Weiblen; courtesy v2com
Read Time: 2 mins
The architects at More Design Office (MDO), Shanghai, curate the ambiguous relationship between actor and audience in the built form of the Jianliju Theatre Company, making it an interesting examination of typology…
The architects at MDO have designed the Jianliju theatre in Shanghai by addressing the relationship between space, event, and movement through an exaggerated exploration of form, lighting, and circulation.
.
.
Architecturally culling out a unique spectator experience, based on the film noir genre, the theatre is a sequence of contrasting spaces that read as a montage of screenshots from a film reel. Resembling a 1950's Hollywood melodrama, the space simulates film noir techniques like distortion, repetition, and superimposition. In this, the designers have carefully adapted the cinematic expression to create a heightened sense of drama, in a deliberate and exaggerated exploration of form, lighting and circulation.
.
.

It starts from the approach to the facility, where the entrance door is tucked in an unlikely corner at the back of an antique furniture emporium, off a nondescript side-street in central Shanghai; and a stair leads down into the dark interior, through a curved corridor with low-key lighting.
.
.
The space, organized linearly, prevents the visitor, disoriented and departed from the outside world, from going backwards, letting him tread along an unbeknown path like one would chase an unknown figure through the street at night. With a simple, monotone palette, the treatment of the plaster gives a minimal texture, adding lustre and depth to the space. From here the visitor steps into a contrastingly bright lobby, lined with acoustic panelling on the walls and benches, creating a soft and closed environment, acclimatising him before the performance begins.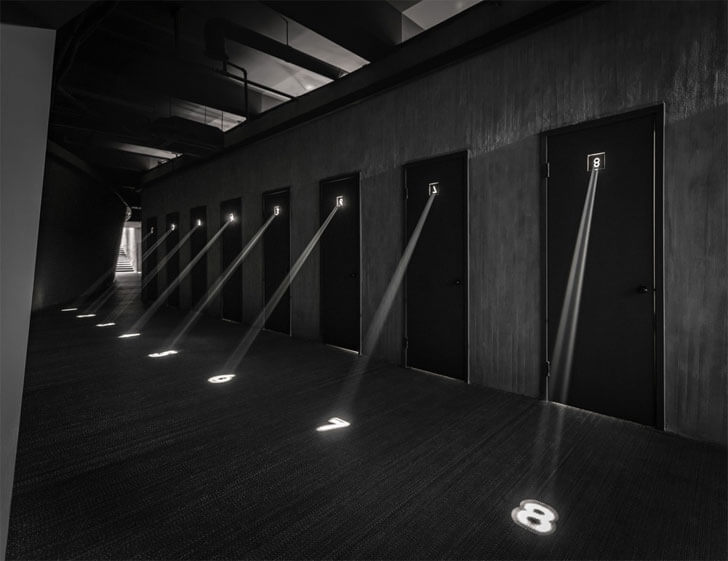 .
.
Eerie numbers projected from pinhole apertures on to the dark corridor floor highlight the green rooms, where the participants get into the skin of their characters. They emerge into a small anti-chamber, where the four enclosing walls are kept asymmetrical. The space is unsettling, with the focus on a number displayed through a magnifying glass giving stage directions to the waiting participants.
.
The last space the visitor passes through is hall of mirrors - a final nod to the film reel and the cinematic traditions that have manifested in all their subtlety into the architecture!
Fact File:
Project Name: Jian Li Ju Theatre
Client: Jianliju Theatre Company
Architecture Firm: More Design Office (MDO)
Signage: Evelyn Chiu
Size: 930sqm
Location: Shanghai