By Annie Aggarwal
Photography: Courtesy the architect
Read Time: 2 mins
Residence interior by Gonye Proje Tasarim Architects(inset) l-r: Ar. Yelin Evcen and Int. Designer Gonul Ardal
Gönye Proje Tasarım architects enriches a modern design line with select materials and fine, delicate details to conceive a flat that is visually rich without compromising on the functionality…
Located in the prestigious region of Anatolia in Istanbul, the 200 sq. m. apartment has a spacious entrance area, where especially designed cloakrooms and cupboards welcome the frequent guests that are customary to this home. The entranceway doors slide into the wall to avoid loss of space, open into the living and kitchen and generally create an inclusive ambience right at the entrance.
.
.
A material palette dominantly composed of woods and ceramics rendered into a varied palette adorns the house with a cosy, opulent feel. Marble-look-alike ceramic for the entranceway flooring gives way to wooden parquet flooring in the night hall, complementary to the bedrooms. Complementing the parquets, wood-look-alike ceramics, 20 x 120 cm in size cover the bathroom flooring. A night hall gives way to the bedrooms, each space emanating a sense of warmth owing to the rich material palette.
.
.
The walls further complement and pursue the sense of warmth in the home. Natural-stone-look-alike ceramics with vinyl wallpapers in the bathroom balance the wood-coated cabinets and cupboards, which increase the impression of depth in the space; while providing storage to the residents. Dark coloured fabric wallpapers with textile tissues enhance the natural light in the living areas and bedrooms. The children's rooms with select fabrics for all textile products, and a subdued colour palette with light fabrics, maintains harmony with the concept, while creating thematic spaces – soccer theme for the boy and princess concept for the girl. Subtle colours of modular parts characterise the kitchen. Additionally, glass and wood for doors and wooden panelling for headboard enhance the warm environment.
.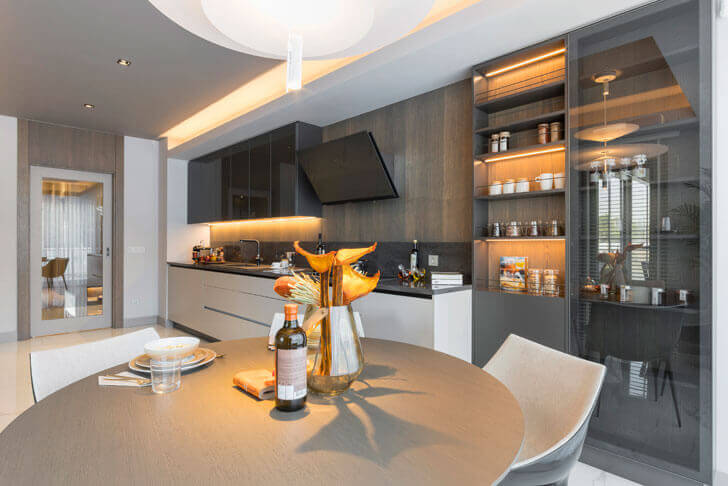 .
Custom made furniture featuring fine details in bronze, painted glass and leather coatings in living and bedrooms elevate the modern and elegant spaces; while marble for dressers and dining adds character. An L-shaped generous couch enables hosting several guests conveniently, while offering homeowners a cosy place to spend time.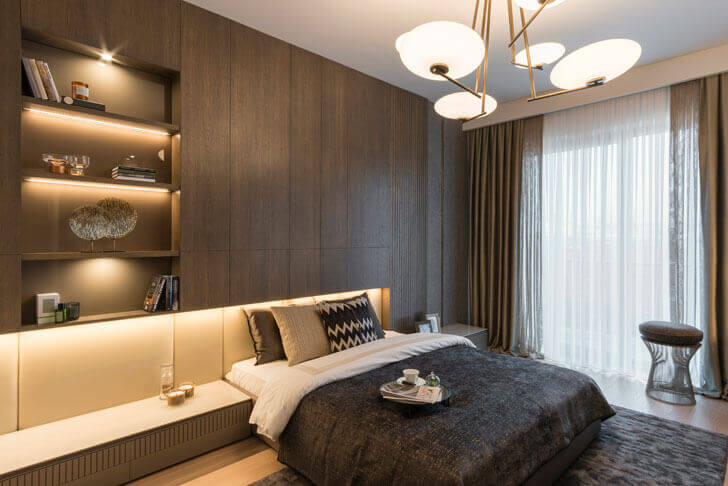 .
.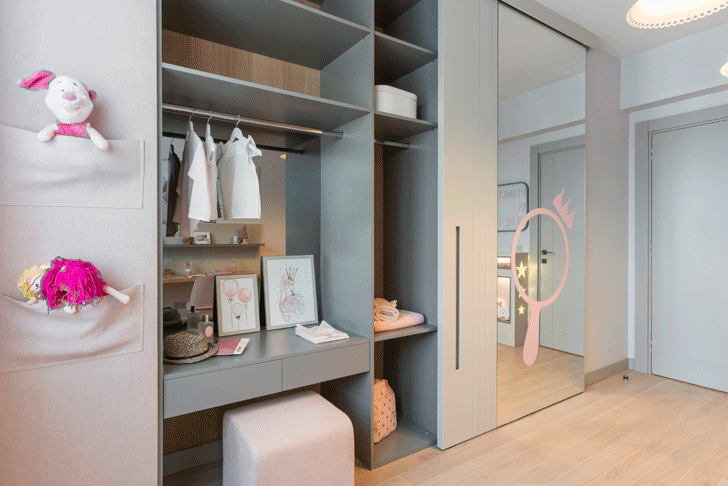 .
Gonye Proje Tasarim has worked closely with sculptors and painters to anoint the home with especially curated works of art. Sculptural marvels, exclusive paintings and carpets adorn the entrance areas and living spaces. The apartment comes alive with a sumptuous material palette as fine details make this house an epitome of luxury.