Compiled by Team IAnD
Photography: Adrien Williams; courtesy v2com
Read Time: 2 mins
.
Bourgeois Lechasseur architects follow nature's inbuilt dialogue with materiality and context to rebuild an old house in Canada…
The façade is articulated by a series of angles and wide openings that are a perfect adjunct to the naturally contoured Adstock area, on the shores of Lake St. Francis. The plan follows the old footprint of the house; yet adds on to accommodate the growing family and needs of its inmates, all along retaining its original ethos of communing with the natural surrounds and keeping the space open towards the lake.
.
.
L'Accostée House as it is christened, is warm and friendly, courtesy its architecture, which is integrated into the slope of the land and in constant dialogue with the elements. A terrace with spa is built on top of the old house footprint, with wide stairs leading to the lake. This architectural gesture takes the form of an agora in Greek residential typology or the aangan or internal courtyard in Indian residential typology; and becomes the cornerstone for the new house. The discreet entrance along with the open facade on the lakeside creates a strong duality. The idea is not to reveal everything at a glance.
.
.
This contemporary house is distinguished by the expression of its wooden structure. The exposed beams indoors continue outdoors emphasizing the effect of transparency towards the lake. The roof overhang protects the south-facing glass facade from overheating in the summer and helps the house reveal itself gradually, through its different levels.
.
.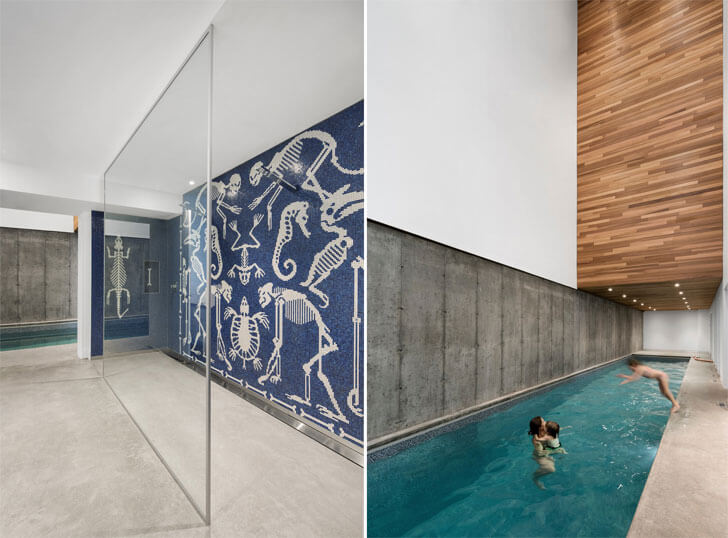 .
.
The host welcomes friends and family around a large U-shaped island in a friendly and unifying atmosphere. The master bedroom, set back from the living areas, offers peaceful views of the cedars outside, while the children's rooms, located on the upper floor, are accessible by the catwalk. The staircase connecting the three levels is light and dynamic: it runs along the red cedar wall and leads to the garden floor. This level reveals a well-kept secret, an indoor swimming pool in the heart of the house. It is accessed by crossing the Paleolithic mosaic that adorns the walls of the shower. Natural light sweeps over the wall at the end of the long pool, beckoning swimmers.
.
The project is designed as a delicately carved volume, which nestles into the site following its topography. The formal gestures are strong and powerful, while the materials - sandy beige wood and red cedar slats - are more delicate and warm. The built form is a state of perpetual banter with its inmates on the one hand, and the panorama outside on the other!