By Annie Aggarwal
Photography: Courtesy the architects
Read Time: 2 mins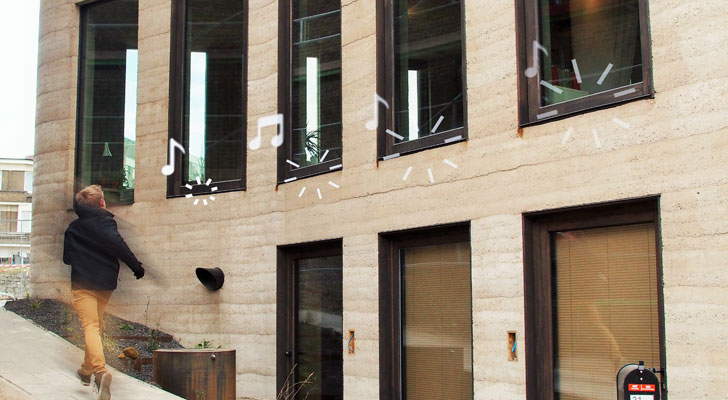 .
The recently designed headquarters building of architectural office DMOA in Leuven, Belgium sings! Yes, you read that right.
The building's architectural façade, MUURmelaar, translating to 'a mumbling wall person' comes alive with spectacular soundscape as it greets passers-by.
The curvilinear profile of the modern building adorns a modest exposed-concrete finish, set in which are 17 simple windows, the source of surreal, but far-from-fictional, dynamic soundscape of intriguing sounds and rhythms. The designers and researchers set out to create a facade that comes alive by sound, as if it's architectural materials could speak to engage and nudge interaction.
Several experiments by the researchers
(prof.ir.arch. Andrew Vande Moere and ir.arch. student Maarten Houben)

at
the Department of Architecture at KU Leuven University led to the development of the system, which integrates electronically controlled wooden instruments within the window frames. Activated by cameras under the roof overhang, soundscapes made up of wooden sound effects in different tones and rhythms emerge, as if out of nowhere.
.
.
.
Movements of passers-by trigger the (interactive) façade to produce sounds that adapt to the direction, speed as well as the number of people. Encouraging interaction and excitement, the building turns a dull morning stroll or a hurried walk by into an unexpected, surprising and unique spatial experience. MUURmelaar has successfully generated positive reactions adding a tinge of joy to daily life: It was observed that people changed their daily routes to pass the building; runners made a little stop, while children ran up and down the pathway, excited by the unique soundscapes they helped make.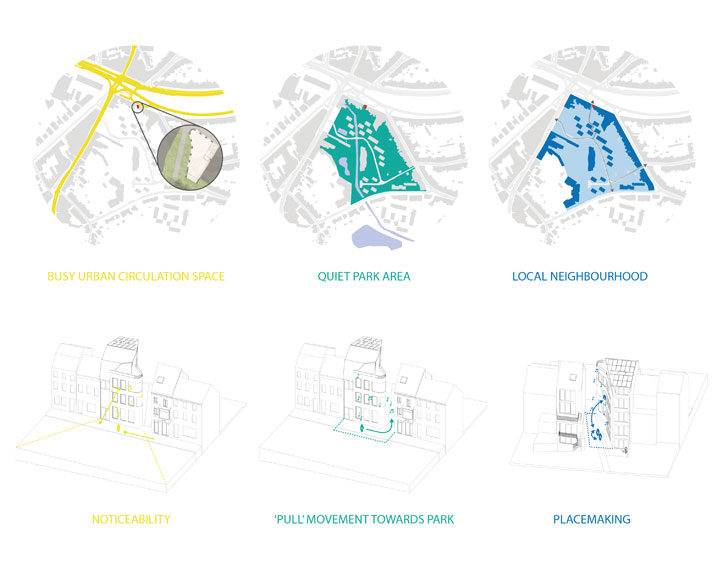 .
.
Located at a local ring-way of a midtown city in Belgium, MUURmelaar integrates with the neighbourhood to play a significant role in placemaking, as it actively engages passers-by. With scope to activate underused community spaces, MUURmelaar offers immense future possibilities.