By Beverly Pereira
Photography: Courtesy v2com
Read Time: 2 mins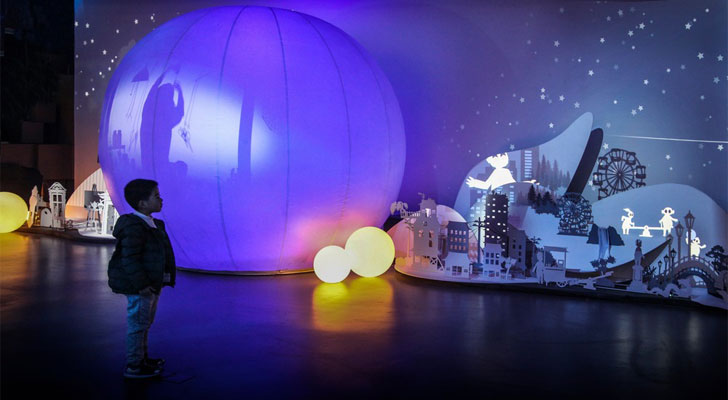 .
Lucion Media's Shadow Play is an enchanting cinematic installation based on shadow theatre, the world's oldest imaging technique…
Lucion Media's Shadow Play is a sheer delight for the senses - age no bar. Lasting all of five minutes, the show transports the observer to a new world and tells the story of an artist, who brings tiny paper characters to life in the city of Shanghai. Premiered at the Shanghai Museum of Modern Art earlier this year, the show is powered by light, micro-mapping and 67 media-density fibreboard (MFD) cutouts.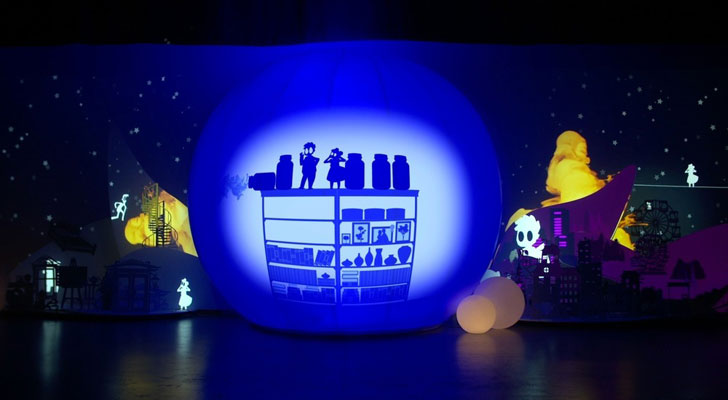 .
This isn't the first time that the Montreal-based company has created such a stunning installation, though. Since 2000, Lucion has gained reputation for its light installations, architectural projections and interactive projects. Last year, the ethereal moonGARDEN installation placed the company's light and shadow theatres in luminous pastel-hued spheres to cast a captivating narrative.
.
So enthralling was this installation that it was only natural for Lucion Media to take these sprightly silhouettes out of the sphere and on to a scrim to create its first showcase for Shadow Play. Shadow Play reproduces the city of Shanghai, complete with its iconic bridges, parks and buildings. However, the installation is completely customizable and can be adapted to various settings to transform a garden, lobby or public zone into a space for story telling.
.
The passion for storytelling and paper art is at the heart of Shadow Play. Cinema, theatre and the world's oldest imaging technique - shadow theatre - are artfully blended to create this show that appears almost as a computer-generated animation. Instead, four projectors, LED lights, MFD cutouts and interactive sounds work together to complete this experience.
.
.
The show may be the quickest one you'll ever see. But, in the second part that lasts 20 minutes, viewers are encouraged to use the light of their mobile phones to bring back moments from the movie and discover the sounds of Shanghai all over again, as the volumetric décor is transformed into a giant interactive shadow garden.
Shadow Play is an important piece of work and an excellent medium for storytelling. It comes at an apt time, when the art of storytelling is getting overshadowed by other mediums and, more importantly, so are traditional crafts like shadow theatre.
.
Duration: 5 minutes + 20 minutes
Site: Shanghai, January 2018
Production: Lucion Media in collaboration (visual content and narration) with Audio Z (sound design, music and interactive sounds)
Dimensions: 5460x1080pixels for the screen and 1280x800pixels in the sphere.
Lumière: 4x514 adressable LED
Sound: 1 sound system, from 4.1 to 10.1