By Rutvi Ashar
Photography: Courtesy Studio Ben Allen
Studio Ben Allen reinterprets the imagery of 'St. Jerome in His Study' - a painting by the Italian Renaissance master Antonello da Messina - as a room for two children…
Inspiration comes from strange, often unexpected quarters. The exercise of designing a compact interior based on a painting that was executed sometime between 1460-1475 "reflecting a magnificent taste for detail and optical truth" has become a much-looked-forward-to private lair for two young siblings.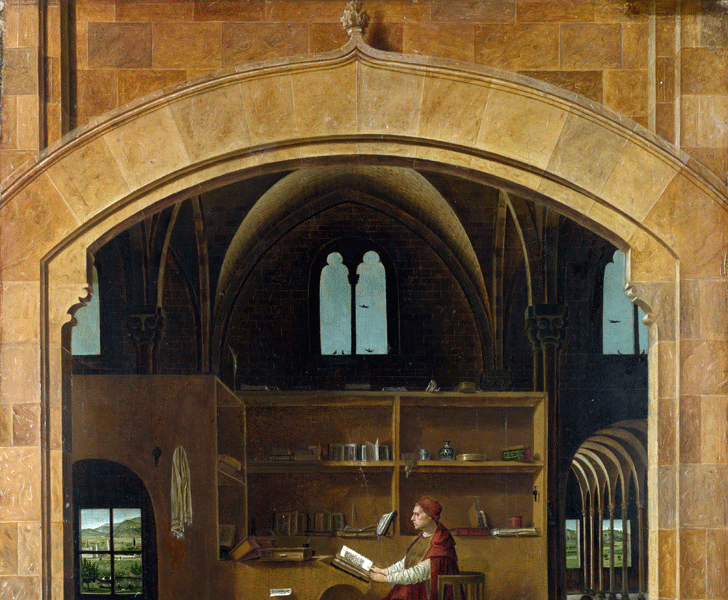 Antonello da Messina's 'St Jerome in his study' now with National Gallery, London. Image courtesy Wikipedia
With the children visiting their parents during weekends – the space that is fashioned as a kind of triumphal arch sans walls and ceiling, serves as study area, play area, sleep and relax area, as the case maybe, and can be reconfigured at will.
Its highlight is its large furniture element that defines the architecture of the space. Site context plays a huge role here. Located in Central London's Brutalist neighbourhood, the one-bedroom Barbican estate apartment integrates the architecture of the surroundings with its interior.
.
.
With the use of lightly-stained ply and picking up on the architectural elements like the arches of the Brutalist style, the bedroom a la architectural installation reads as one coherent whole – as it stands fabricated from the durable and natural Birch plywood. Two separate entrances open into the interconnected spaces, which feature a desk and a bed for each child thus allowing them to socialise, whilst also having their own privacy. With every element being CNC-cut as a kit of parts, the assembly can be easily dismounted and reassembled for future use.
The installation-like furniture playfully separates the space it both - divides and connects, framing views out to the estate and creating an architectural dialogue between siblings. Two arches create notional thresholds and a sense of enclosure to each of the children's spaces with each anointed with pitched-roof forms, one positive, one negative - symbolising each as a personal petit maison.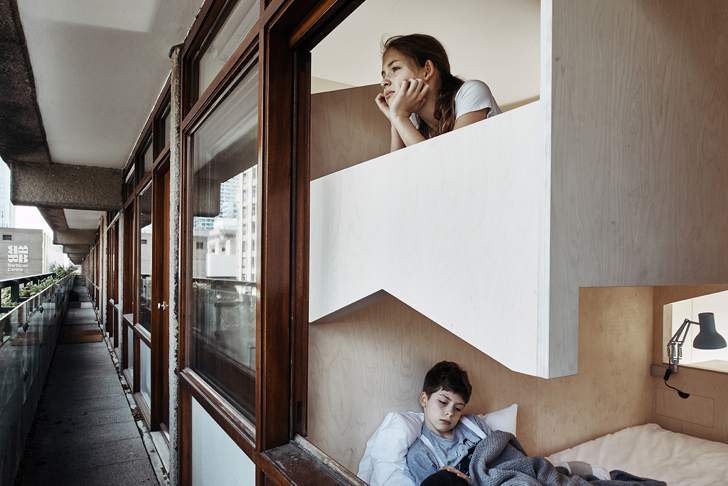 .
The concept clearly breaks the monotony of traditional bunk beds, treating space to pack in a lot more. Little nooks are created almost everywhere such as the steps and above the headboard, where small items can be stored. A sense of partial enclosure along with that of ownership is very subtly conveyed to the kids, wherein the elder sibling is exposed to a more private area reflecting her greater independence; and the younger is closer to the main flat and more accessible for parental care.
Whilst this is a fabulous piece of functional design that nestles perfectly into the needs of its users (in fact similar stuff has been done several times earlier), one can't help but wonder at the response the design could have evoked had the symbolism of the painting been incorporated in an equally novel application. Now, that would have been something to talk about!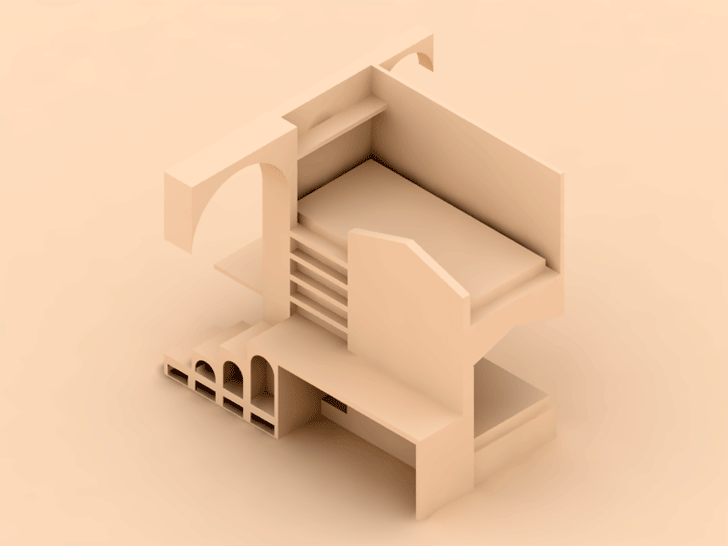 .
Client: Emmanuel Lumineau
Design Firm: Studio Ben Allen
Project Lead: Omar Ghazal, Studio Ben Allen
Area: 11 sq. m. (118 sq. ft)