Compiled by Savitha Hira
Photography: Aitor Estévez Olaizola (www.aitorestevez.com);courtesy BAT
Read Time: 2 mins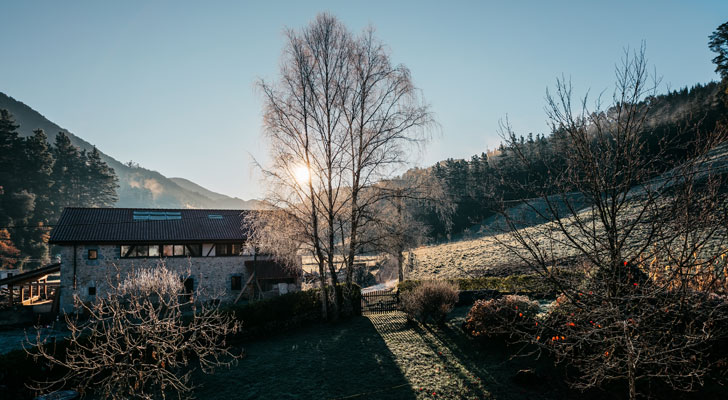 .
Once a trite symbol of the local culture of Busturialdea, Spain, this stone and oak building that follows the typical '
Baserri
' typology stands partially refurbished to serve a contemporary lifestyle, at the expert hands of Bilbao Architecture Team (BAT)…
This 150-year-old farmhouse is listed as a historical heritage building located inside the Urdaibai Biosphere in the heart of the Oma Valley, Spain. It stands commandingly in all its splendour of stone walls and oak wood structural elements, typical of Basque countryside buildings, untouched by the vagaries of its immediate surrounds.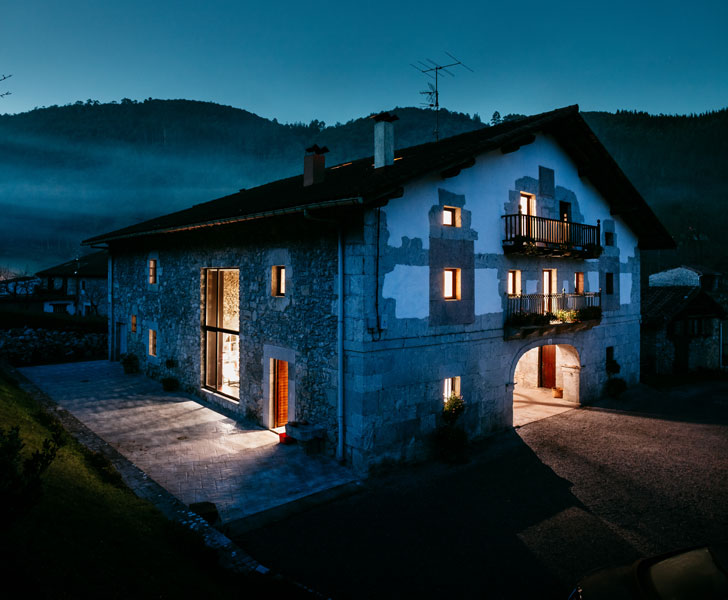 .
Looking at it, one can hardly tell that a part of this three-storeyed farmhouse, christened Goizko House hosts a contemporary lifestyle within. While the total area of 750 sq. m. is apportioned into the three floors, BAT has refurbished only the south-western half of the home.
.
.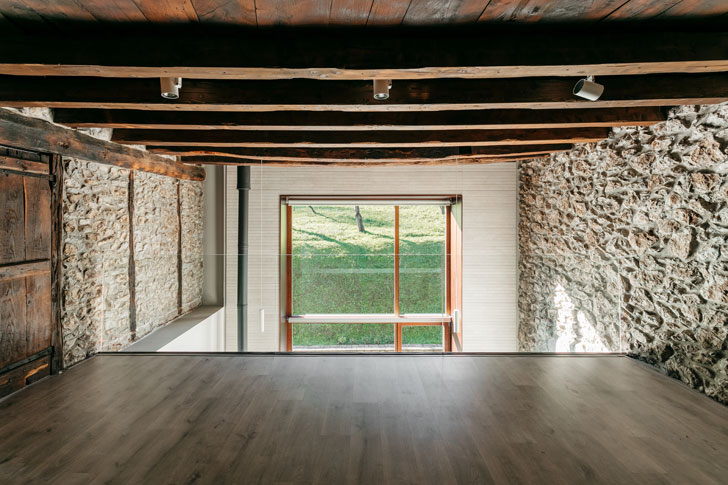 .
An interesting and rather paradoxical detail about the traditional Baserri homes is that they were always built in isolation; yet, traditionally, the facades were mostly opaque - cutting off communication with the exterior.
.
.
In this hamlet, the living room has been majorly redesigned, where part of the ceiling has been demolished to obtain a second-level space in the lounge. This new volume is reflected in the exterior with a large double-height opening that breaks the traditional Baserri scheme of the era. A smaller second living room stands towards the top of the lounge space for a more intimate use.
.
.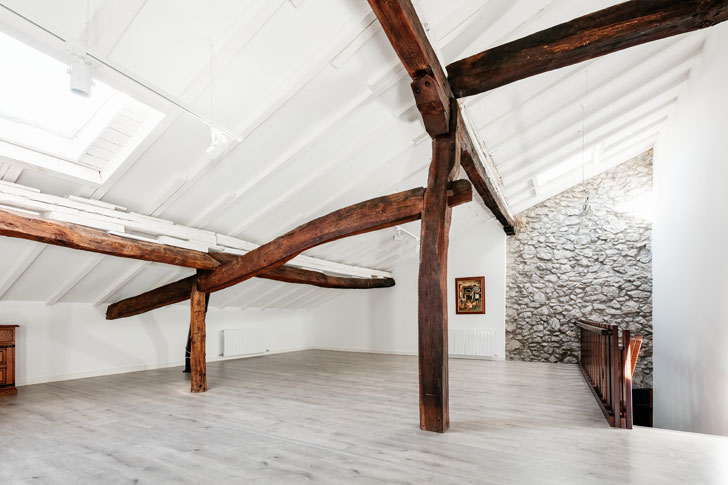 .
Structurally, a complete restoration is effected with the damaged and deteriorating parts replaced by some original oak wooded beams and pillars that were stored in the attic; by sandblasting, sanding and finally treating the rest of the elements with anti-xylophagous products; and by introducing a colour palette of bright material finishes that absorb light and strikingly contrast the original wood and stone structural elements.
.
.
As a norm, the Baserri would host up to 12 people, whose lives revolved around livestock and agriculture. However, with a growing preference for contemporary lifestyles and choices, traditional Baserris are a phenomenal tourist attraction and every effort is made to adapt the historic hutments to modern-day aesthetic standards. The current exercise bridges this divide in resonance with 'that which was'.
Architect: Bilbao Architecture Team (BAT) www.batbilbao.com
Project management: Bilbao Architecture Team (BAT)
Construction company: Construcan 2006
Location: OMA, Kortezubi (Spain)