By Savitha Hira
Photography:
Courtesy
MBFMADGALLERY
Read Time: 2 min
Bugatti-Atlantic
French sculptor Antoine Dufilho explores the versatility of metal in his design of a fleet of seductive cars - limited-edition collector's masterpieces…
With his passion for art and automobiles overriding his vocational training in architecture and medicine, sculptor Antoine Dufilho is gung-ho about 'Sequential' - the latest M.A.D.Gallery Exhibition in Geneva.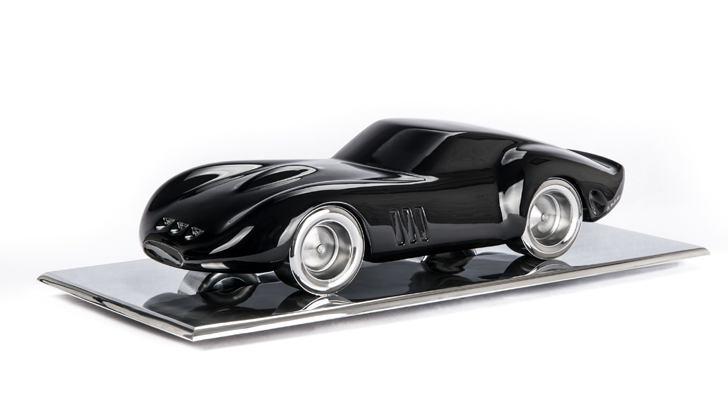 Ferrari 250 GTO -3
'Sequential' is an avant-garde exhibit of eight automotive works. Starting with the big gun itself - the 'Ferrari 250 GTO' - also described as the "Mona Lisa" of the automotive world (lauded for being the exclusive and rarest machine on the planet since only 39 units were made), the collection boasts other enviables viz., Mercedes W196 Streamliner, Jaguar E-Type, Auto-Union-Avus, a Porsche 356… each one diligently and painstakingly handcrafted to boast of its distinct classic contours.
Ferrari 250 GTO -3
Each piece is defined by a different technique. The Ferrari is built with fuselage handcrafted in resin and finished with automotive paint to enhance the aerodynamic appeal of the car, its sleek lines and smooth black surface emphasize its signature speed even as it rests on a 75cm x 35cm polished aluminum base.
Aston Martin DB5-3
The Aston Martin DB5 – often called the 'James Bond car' that first appeared in Goldfinger is wall mounted. Dufilho's artistic technique uses shaped stainless-steel pieces strategically layered to present his rendition of the car that has its front end in the wall, racing through the polished stainless-steel mounting.
Porsche-356
Predominantly using metal as it grants him the "freedom to add or subtract, unlike wood", Antoine constructs a sexy silhouette of the iconic Bugatti Type 57S Atlantic (perhaps one of the most important models in the history of Bugatti, sold between 1934 - 1940) with polish-finished stainless-steel plates and bronze wheels, parked on a polished aluminum base. The 76 x 20 x 33-cm sculpture is limited to ten pieces in addition to two artist editions.
Jaguar Type-E
Auto Union Avus
Standing apart for its stature and its creative outlook is the one-of-a-kind Jaguar E-Type - a superstar of the motoring world. 2,250 handcrafted stainless-steel rods, each measuring only 2-mm in diameter and coloured to emphasize the exquisite aesthetics of the automobile, are strategically and meticulously placed, one-by-one on a rosewood base, inviting viewers to discover a lightweight and airy representation of this renowned motorcar. Its unique construction has a rotating base that creates the illusion of the car being in motion, every time someone passes by. Standing 24-cm tall and 78.5-cm in length, this is the showstopper of the exhibition.
Mercedes W196 Streamliner-2
Antoine Dufilho
Each sculpture decomposes the sleek lines and shapes of each vehicle into successive layers materializing into a modern automotive framework and revealing the contour of the car. "This sequenced representation provides a kinetic effect as the observer views the piece from different perspectives causing the sensation of a static object in movement. The dynamic effect is accentuated by alternating symmetries and asymmetries proving the feel of acceleration or deceleration," concludes Antoine.
On view until the end of September.
at
MB&F M.A.D.Gallery
11 rue Verdaine
1204 Geneva
Switzerland
Tuesday - Friday: 10am - 6.30pm
Saturday: 10am - 5pm
No entry charges.