Compiled by Team IAnD
Photography: Margot Krasojević
Read Time: 3 mins
.
Ar. Margot Krasojević is looking to develop a type of hotel, which goes beyond catering to travellers, to contribute to its immediate environment by producing clean reusable energy…
Ar. Margot Krasojević is currently working on the idea of a hotel inspired from rock pools and tidal power – one that dips into the sea just enough to catch the tide, whilst being able to sway in the current. The entire experience is that of surfing – a beach hotel with sections submerged during high tide.
.
interior & exterior
In her continued quest for developing a dialogue between architectural form, geometry, sustainability and smart materials as an inherent part of the design process, Margot has been consciously dictating the terms of architectural design criteria rather than referring to sustainable technology as a polite afterthought. Renewable energy and how to optimize the collaboration between program, typology and architecture has always been at the forefront of her studio's research and design approach. She has been relentlessly using architecture as a tool through which to explore environmental change and renewable energy sources.
.
sections
study models
Her latest project – the Harmonic Turbine Hotel in Wenchang Shi (on Yalong Bay, on the island of Hainan in the South China seas) is an energy plant as well as a wellness facility; all technology and building materials are fabricated from environmentally clean materials. The hotel sits along the bay's coastline amid sheltered areas and certain sections that are high-energy sites exposed to winds and high waves. Partially anchored to the coastline's rock using partly exposed open foundations with its elements spiralling into the substructure, gently moving with the tide, the hotel building harnesses tidal energy to generate electricity.
high tide rock pool formations
The primary goal is to combine hotel design and program with renewable energy, by using industrial and mechanical turbine engineering. It is therefore equipped with revolving water turbines that are partially buried in the sand and partially exposed to the South China sea, which washes over the turbines that in turn respond to tidal waves, creating a sustainable infrastructure as part of the hotel's design. Pipe water turbines follow a spiral of paths into and around the hotel. The layout of these tidal turbines resembles natural tidal sand ripples and creates enclosures like the rock pool bays for guests.
stylisation
stylisation
The hotel consists of two interlocking steel frame aluminum-clad elements. Like the hull of a boat, these elements are lightweight enough to gently sway with the tide; but strong enough not to break.
The main entrance platform is accessed by stairs and a ramp leading to the turbine hotel's foyer or bedrooms via an entrance hatch, which descends into the viewing chamber that is partially submerged and connected to the 30 ensuite spa bedrooms. Each bedroom has a privacy glass-clad panel, which makes the guests feel as though they are in a partly submerged submarine, waves crash against the room windows with the tide, whilst water turbine rock pools define private guest pools.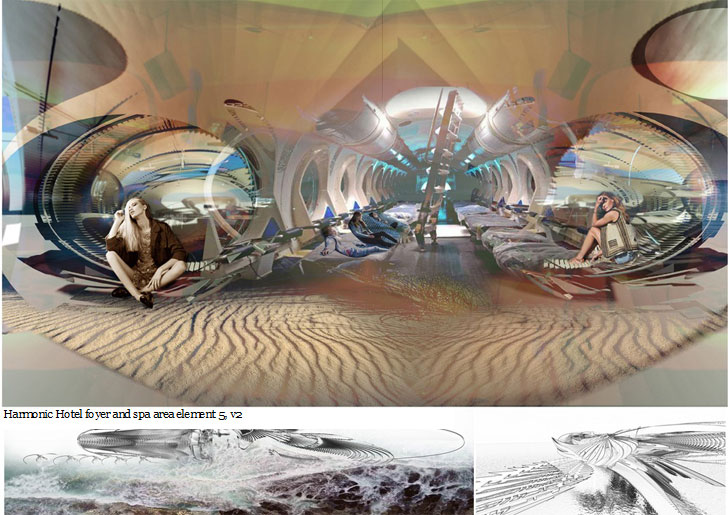 foyer and spa area
The idea here is to redefine hotel typology by embracing renewable energy to create a sustainable environment. This is the last of three tidal projects using the project brief to further underline the importance of inter-disciplinary dialogue between architecture, engineering, renewable energy and industrial design.
Architect & Project Manager: Margot Krasojević
Location: Yalong Bay, Island of Hainan in the South China Seas, China
Project End Date: February 2020