By Rutvi Ashar
Photography: Luis Beltran; courtesy the designers
Read Time: 2 mins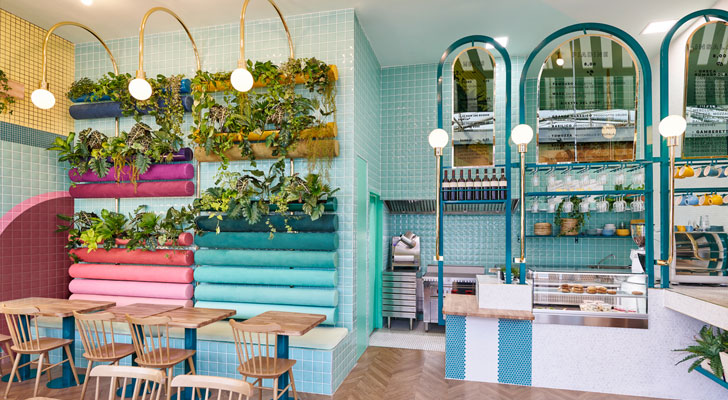 .
While Italian chefs take over traditional gastronomy, a signature Masquespacio design hits the contemporary nail on the head. Italian piadinas now in Lyon, France…
Bold hues and a contrasting palette of materials is signature Masquespacio. This Valencia based creative consultancy firm has just designed a traditional Italian piadina store in the Confluence neighbourhood of Lyon. The food that hits the wooden table would make owners, Arthur and Mathilde's mother proud! She had a dream about her children bringing a part of her native Italy to the French city Lyon, through traditional piadinas, a flatbread made of flour used as a side dish or stuffed with typical Italian ingredients like ham, mozzarella and tomato.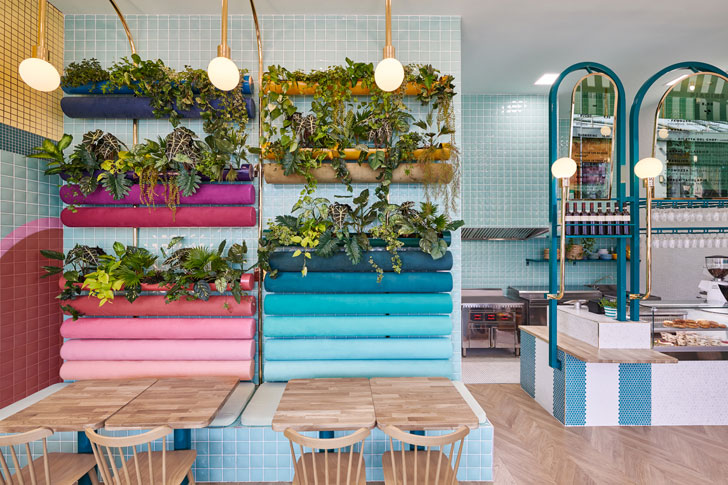 .
The project sits in a shopping centre, being developed for multiple purposes and integrates a cinema, indoor adventure park, stores and restaurants. This interior design project came with a clear brief: A space that celebrated the Italian product, while staying tuned in to its modern consumer. Contextually used, wooden parquet flooring, golden bar lamps and mirrored arcs reminisce about ancient Italy, while an array of shades and tints of numerous colours bring in the Post-modern vibe.
.
.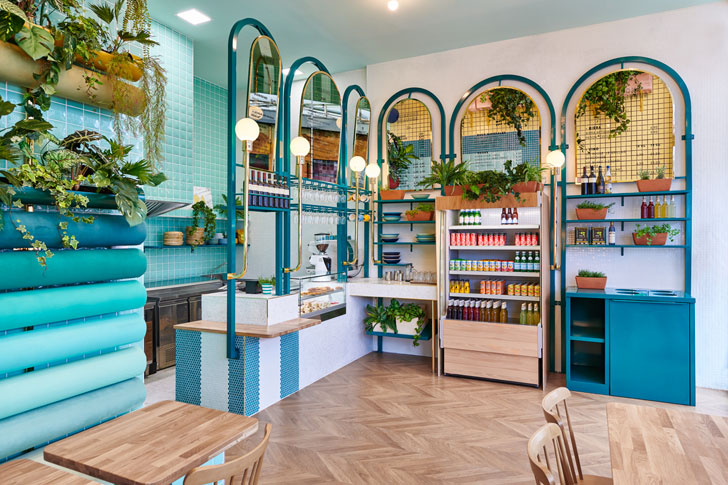 .
The open layout of this eatery is inviting and even the cooking area is visible through the large glass façade. With plenty of natural light flowing in during the day, one wonders about the use of pastels, mirrors and large lamps that only reflect more light. Moreover, a neon sign ("A little bit of Italy") that was to be highlighted as one of the key elements, required by Piada's founders from the beginning, is somehow lost in the colourful chaos of artisan tiles.

.

The conflict remains in the space as Masquespacio continues to stun us with their playful and fashionable design sensibility, while the client sets up shop for an accepted and established menu that hopes to attract a youthful crowd.
Client: Arthur and Mathilde, Piada
Design Lead: Masquespacio
Principal Designer/Architect: Sandrine Brenans
Built-up Area: 40 sq. m. (430 sq. ft)