Hospitality Special
By Rutvi
Renders: Courtesy Lazzarini Designs
Read Time: 2 mins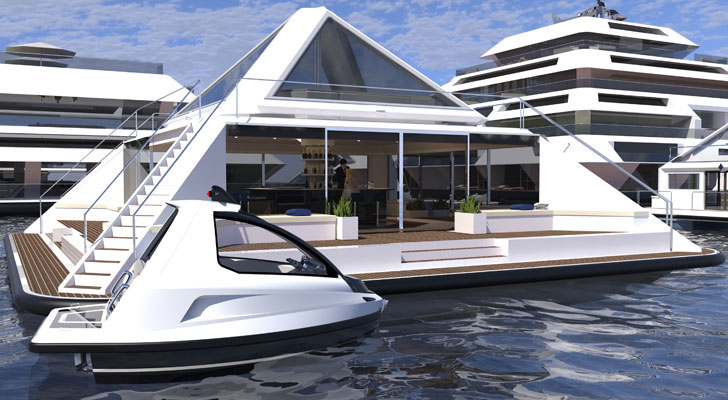 .
Lazzarini Design Studio is working towards offering a novel holiday experience - derived from the concept of cruising – a floating city-hotel that offers exclusive citizenship.
Looking at Egyptian and Mayan architecture and partially, the construction of Japanese temples for their theories of foundation in architecture, especially pyramids that can offer an excellent subdivision of spaces - and in this case, a perfect balancing for floating structures; Lazzarini Design Studio is proposing Waya – a modular pyramidal floating hospitality.
.
Wayaland, to be built on water (it could be anywhere in the world – even in multiple locations) is conceptualised to offer a new offshore living experience on the lines of a self-sustainable community. The floating modules, composed in part from fiberglass, carbon and steel with a façade surface made of solar panels will be anchored to keep their positions. The largest floating basement will measure 54m x 54m, extend the surface to about 3000 sq. m. and the height to a maximum of 30m. from the waterline. Other smaller modules of say 10m x 10m could host bedroom suites, bars, gyms, etc.
.
.
.
.
The ten-storeyed main Waya building (planned as a hotel) will comprise 5 modules with a total surface of about 6700 square metres. This will host up to 60 rooms to accommodate up to 180 guests + 20 crew with restaurants, bars, gym, cinema, spa, and shopping spread over various floors, all connected through stairs and pneumatic elevators.
.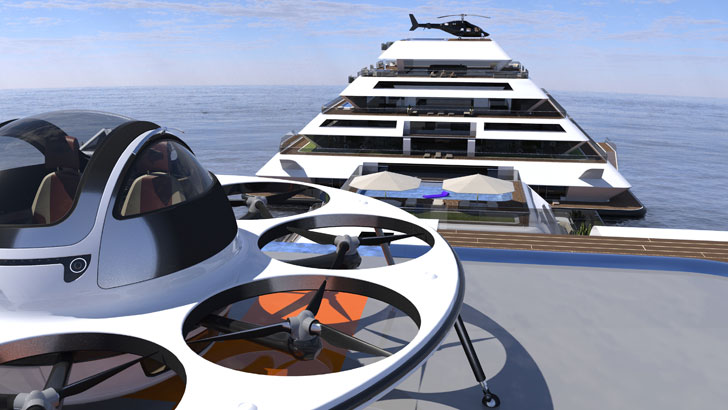 .

Each module will have a boat entry port, and some will also be equipped with helicopter and drone landings for people to reach Wayaland.
.
.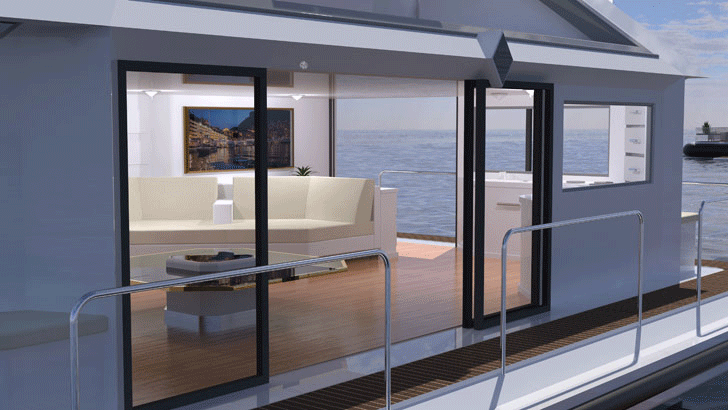 .
The community is envisioned to be not more than 2 miles from the coast in a calm sea or lake. However, Waya that is registered as a ship, will be able to cruise or remain permanently in the harbour. The designers hope to have more than just one Wayaland floating on the shores. So, typically a module would contain 3 hotels, 10 villas, 20 suites, 2 floating
bars/restaurants, 5 custom use etc.
Lazzarini Design Studio is currently looking for enthusiasts to invest/ contribute towards making this vision real; those who do stand the chance of becoming a citizen of Waya, will receive the Waya passport. The backers can choose between 4 pledges: 1€ for the name on the contributor list, 10 € for the name on the contributor list and a 3d printed Waya-coin key holder, 100 € for the Waya passport (invitation and valid ID for Wayaland) 1000€ for all the above and a chosen day/night of the year on the Waya-suite.
With a crowdfunding deadline less than 3 years away, we can only wonder whether this community driven approach will hit the right notes! Especially since Lazzarini Design Studio is not the only one working on 'living on water'.