By Rutvi Ashar
Photography: Ouyang Yun; courtesy AD Architecture
Read Time: 2 mins
.
Black in its bewitching tones embodies contemporary luxury, whilst providing a sensory experience; as AD Architecture endorses this apartment with an archaic philosophical bent…
In the search for the original, the designers employ the concept of the 'origin of texture', introducing a raw natural feel to this predominantly monochrome home. The main aim is to ensconce the users in a comfortable and natural living environment, where luxury is juxtaposed with a touch of introspection.
.
.
The colour scheme of the apartment focuses on a combination of black and grey with white light, with pops of sombre bluish-grey shades. This creates a strong sense of drama as the core of the design is - its people. Lighting focuses on the users almost like a spotlight, to remind them to live in the present moment. Almost dramatically, the home in its shaded black interior envelope plays out like a stage; and its users - the lead characters!
.
.
.
The hue strongly runs through each space just like the indoor background of a stage. Materials stand out in their subtle chicness - handcrafted stone with a leaf painting as the sofa backdrop; statement light pieces vie for attention against choice works of art that emphasize nature and humour the space with emotion, artistic flavour and a laid-back cosiness.
.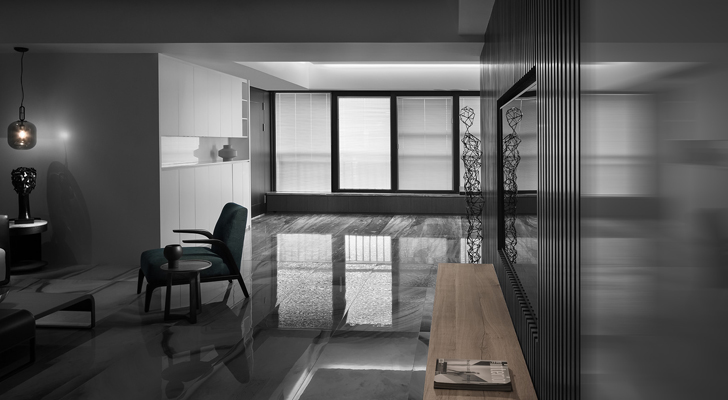 .
.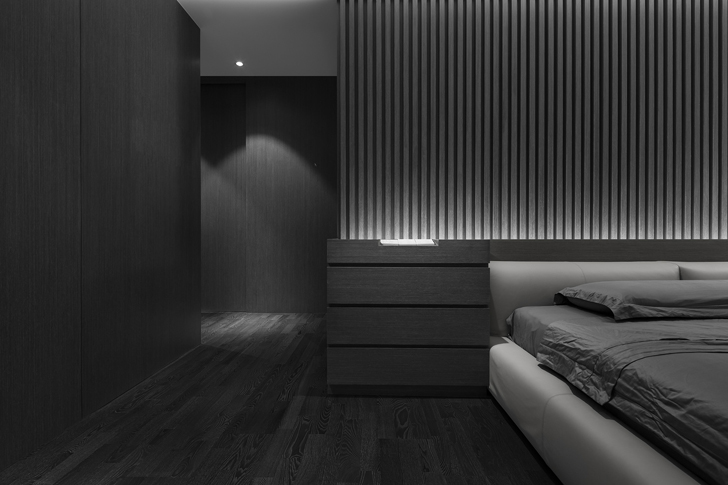 .
A large expanse of glass windows brings natural light into the room and reflects it through the glossy tiles. The application of natural wood in the reception hall expresses the most concise spatial essence. The bland bedroom is in a quiet and pure state, and its wood background ties in with the wood furniture in the other areas to achieve uniformity in design.
.
The design encourages its inhabitants to feel and discover through the application of various senses. However, in this attempt to follow the theme, the palette becomes a little stifling. It overpowers the senses, and the space begins to scream for a much lighter hue. The wandering eyes search and can only hope that props would suddenly appear in waiting to breathe in a sense of vitality in the design.
Design Firm: AD Architecture
Chief Designer: Xie Peihe
Project Team: Ji Jianan, Zhou Qian, Zhu Jie
Built-up Area: 245 sq. m. (2637.16 sq. ft)
Location: Shantou, Guangdong, China