Compiled by Team IAnD
Photography: Bruce Damonte; courtesy v2com
Read Time:2 mins
.
Studio Vara infuses warmth and a modern and spacious character into an uninspired white box of a loft in San Francisco...
The two-level Soma loft residence is a 12-year-old beautiful white box with spectacular harbour and Bay Bridge views but was uninspiringly chopped up into many small rooms. Having worked with the owners on another home in the Carmel Valley, the designers work to bring a similar warm, modern and spacious character to it, accentuating the view, while offering two-bedroom suites for overnight guests.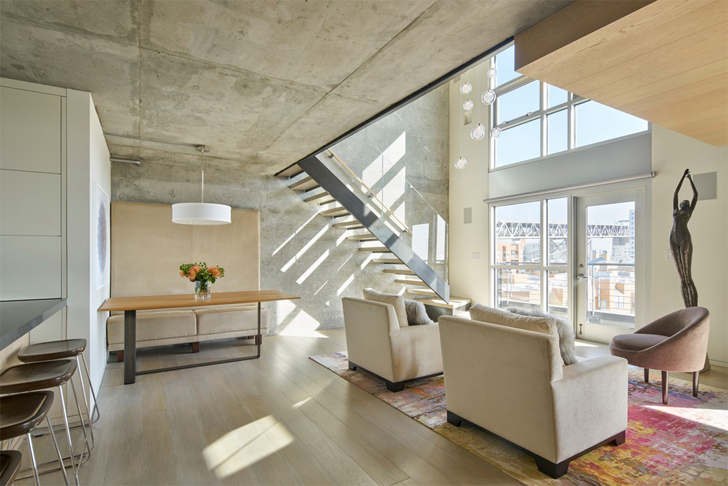 .
.
.
Removing the walls and soffits to expose concrete, and paring down to the essentials, the designers reimagined the space as a composition of planes and volumes in warm materials: concrete, wire-brushed and waxed European white oak, gunmetal grey panels and gallery white walls. These planes intersect in the open-plan, double-height living room, creating a fulcrum from which the apartment expands out.
.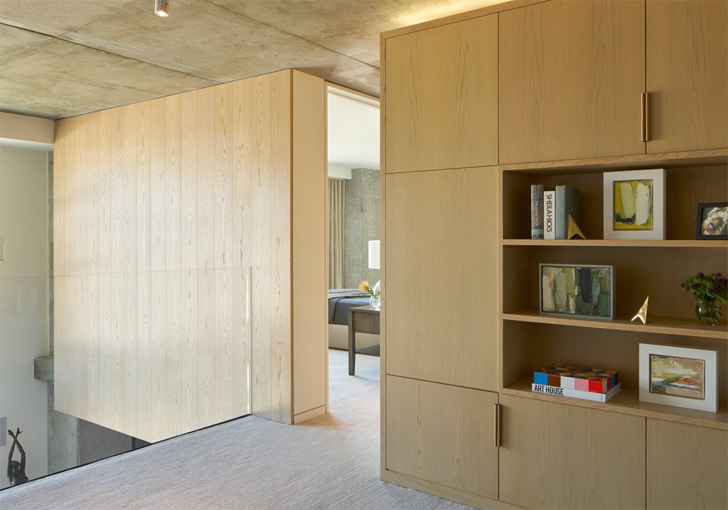 .
Tucking kitchen functions neatly into a compact minimalist white wall of white lacquer cabinets opens to expansive views over an oversized stone island with bar seating. A slender blackened steel stair of white oak treads and a frameless glass guardrail replaces the heavy original and serves as a focal point for the room. The adjacent guest bedroom features a moveable wall of hanging panels that can be hidden away, allowing the living room to seamlessly double in size.
On the upper floor, the master bathroom features custom back-lit steel mirror frames, travertine slab floors and shower walls and floating vanities made from wire-brushed waxed oak. A media loft overlooks the living room and is separated from the rest of the upper floor by a wall of custom cabinetry that doubles as a media unit and closet.
.
Like many double height loft apartments in San Francisco, all windows are located along one side. Working with lighting designer Marissa Tucci, Studio Vara brightens the darker areas by highlighting architectural details with warm-tone LED strip lighting. The lighting scheme highlights the kitchen cabinetry, media-loft built-ins, as well as along shower walls and backlit floating mirrors in the bathrooms.
.
Using a vibrant Stark carpet purchased by the owners before construction started, furniture and art are selected to complement the natural material palette. Unique pieces include a custom steel and oak dining table and an upholstered bench. The entire exercise is led by a process-driven approach and a deep commitment to architecture as a material craft and a discipline grounded in ideas, with human-centric experiences at many scales.
Soma Loft Residence is 2017 IIDA Global Excellence Award Finalist.
Interiors: Tony Ambus, Design Details
Structural Engineer: Strandberg Engineering
General Contractor: Upscale Construction