Compiled by Team IAnD
Photography: Hao Chen, Xiaodan Song; courtesy the architect
Read: 2 mins
©Song Xiaodan
Monoarchi Architects design a captivating contextual habitat nestled in a mountain village on the edge of a secondary forest, borrowing from the surrounds and giving back to nature…
Picture this: a small river running softly and serenely from north to south dividing a remote mountain village into two parts. On the west bank of the lower stream, nestled among the trees, rests this rotund tree house perched on stilts with its captivating undulating roof. The site is located on one side of the dyke, surrounded by ancient bamboo forests across the creek at the foot of the Siming Mountain in Yuyao, Zhejiang Province.
The tree house is a two-storey structure. 8-metres high, roughly equal to the height of an adult bamboo. The deck and the walls are supported by fifty-seven giant steel trusses that vary gradually in thickness and appear more like stilts. Huddled at several points on the land to minimize the impact on the environment, they make larger free space available for ground activities.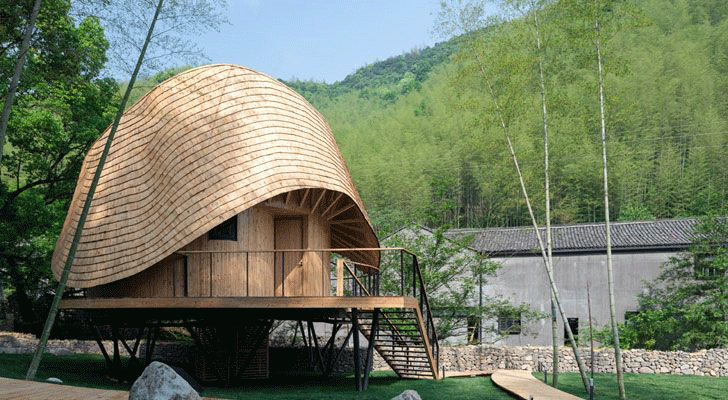 ©Chen Hao
The main structure is all-wood. Part of the deck hangs over the stream, creating a sense of floating. The ostensibly soft roof not only helps outlining the elegant skyline; more importantly, the waving eave introduces the landscape into the room from the window and preserves the privacy of the rooms.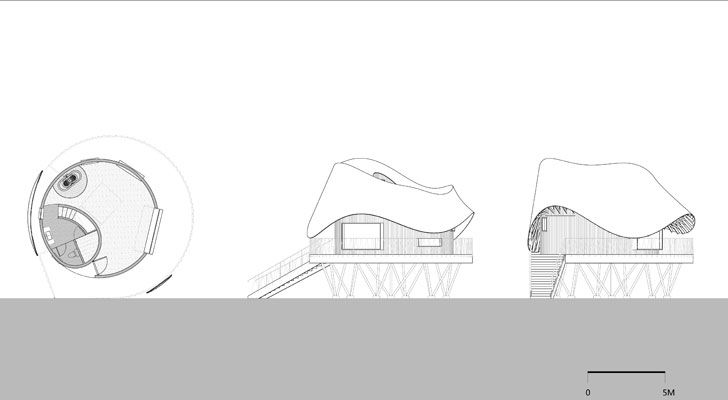 Plan and elevations ©Monoarchi
Sections ©Monoarchi
layout©Monoarchi
The plan is a simple spiral line. The wooden structure consists of three non-concentric circles: the undulating roof, the round deck overhanging the stream, and the two-storey guest room. The circle of the outer wall is integrated into the interior, separating the bathroom and the steps into the mezzanine, away from the living space. Each window has a unique view to the outside, but the best part is relegated to the top of the roof with a panoramic view of the natural charms of the mountains.
Concept process ©Monoarchi
Model ©Monoarchi
©Chen Hao
The undulating roof is not an arbitrary fantasy of the architect. The non-linear eave has extremely high error-tolerant rate, which can be considered as a respect of rural construction to natural laws. Incidentally, the design and construction processes are carried out with informed inputs from local craftsmen to achieve a balance between the design form and local construction skills.
©Song Xiaodan
©Song Xiaodan ©Chen Hao
©Chen Hao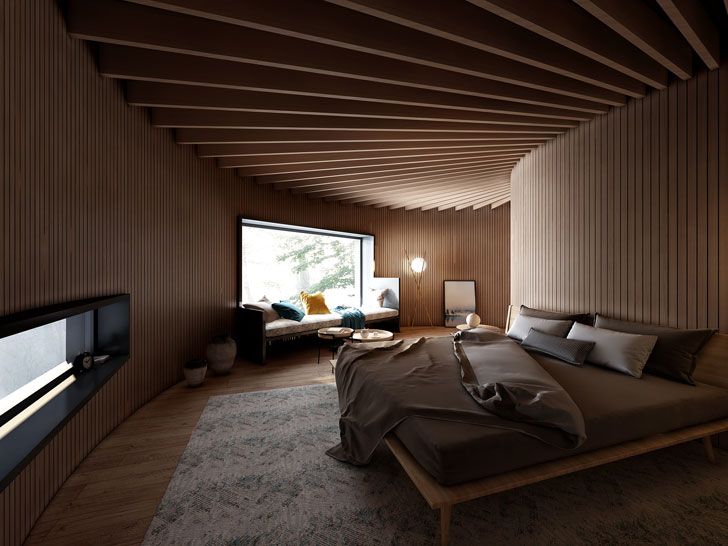 ©Monoarchi
Project: Yuyao Treewow Tribe
Client firm: Xbandclub Yuyao Treewow Hotel Management Company
Architect's firm: Monoarchi
Lead architects: Xiaochao Song, Keming Wang
Structure Consultant:XIE Technologies
Location: Zhongcun, Luting, Yuyao, Zhejiang Province