By Avinash Yadav
Photography: Enrico Galvani; courtesy the architect
Read Time: 2 mins
.
Are you up for a game? If not, then you will be! Italian designer Alberto Apostoli simulates the new Converse showroom in Verona as a sporting arena…
Dealing with an athleisure brand, Alberto Apostoli brings in his design sensibility that embodies the brand identity itself.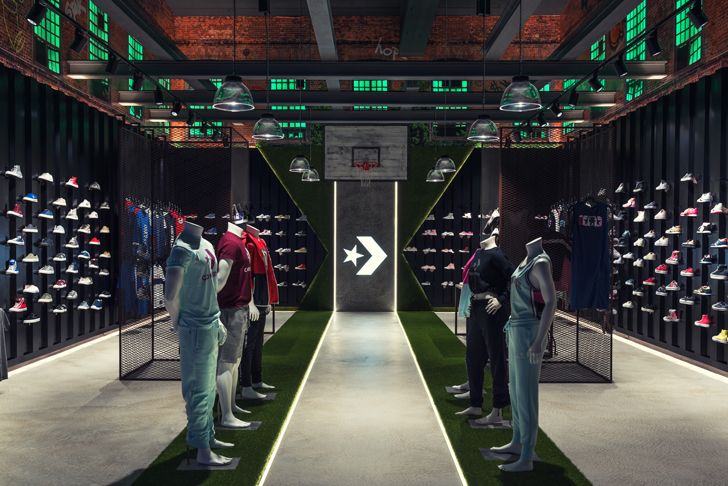 .
The designer crafts the new Converse showroom, owned by 3A Sport, by following the thematic of a much-used-much-loved basketball court recreating the culture and social lifestyle of an old American neighbourhood - home to some of the best basketball players; Chuck Taylor, the player who made the Converse brand famous, being one of them.
.
.
.
The new logo - a star and a 90-degree inverted chevron (redesigned last July) of this heritage brand is the focal point of the showroom. The space exhibits a "street minimal" style, distinguished by a concrete-effect floor and large black corrugated sheets on three sides, used for the display of over two hundred different models of shoes. The upper part of the showroom plays canvas to a graphic that recreates the exterior of the American buildings of the 1930's, complete with red bricks, windows with grids, murals, and graffiti. With escaping lines radiating in all directions and accentuating its depth, the space exhibits perfect symmetry.
.
.
.
The centre of the court acts as a runway with two green bands sashed up to the fifth wall emphasizing the logo and the mannequins modelling the clothes flanked by display cages and wooden tables.
.
A distinguishing client-service area - the "Converse Café" constitutes the reception area for meetings with clients. The store maintains an essential style via a rugged vocabulary that has robust-looking sofas and stools with an iron structure and the abundant use of OSB (reconstructed wood), as the background panels and kitchen. "Industrial Jungle" themed graphics, large round rope-rugs and some paintings with images of "Converse" champions add a touch of warmth to the space.
RGB LED strip lights are combined with a DALI system to enable different ambient scenarios. Industrial-style pendant lamps accentuate the mood, while numerous spots provide product-specific illumination. The showroom is an absolute go-getter for all basketball fans!
Design Firm: Studio Alberto Apostoli
Principal Designer/Architect: Alberto Apostoli
Project Manager: Arch. Marco Bertasi