By Vinita Wagh
Renders: Courtesy Karim Rashid
Read Time: 1 min 30 secs
Spreading global love (inset) Designer Karim Rashid; photography credits:
Lupe de la Vallina
One world, one love. A celebration of humanity. Karim Rashid's architectural proposal for the Church of Globalove suggests exactly that.
This internationally acclaimed designer has made his mark within the design fraternity for his versatility in the field and is a strong advocate of the thought that design can inspire change. He dreams of a better world, where he believes that love and humanity together, can triumph over greed, corruption, violence, racism, and poverty. Idealistic. The Church of Globalove is one such concept that takes this ideology and gives it architectural meaning.
Mosque
He envisions the holy space encompassed by a seamless form, with no straight lines or boundaries, a form symbolic of a world with no borders. The contemporary form takes the shape of an ovoid, known to be the strongest form in existence. The ovoid shell with its high oculus tilts eastwards, allowing the sky, sun, and cosmos to penetrate inside, infusing positive energy and creating a humbling space that inspires one to embrace humanity.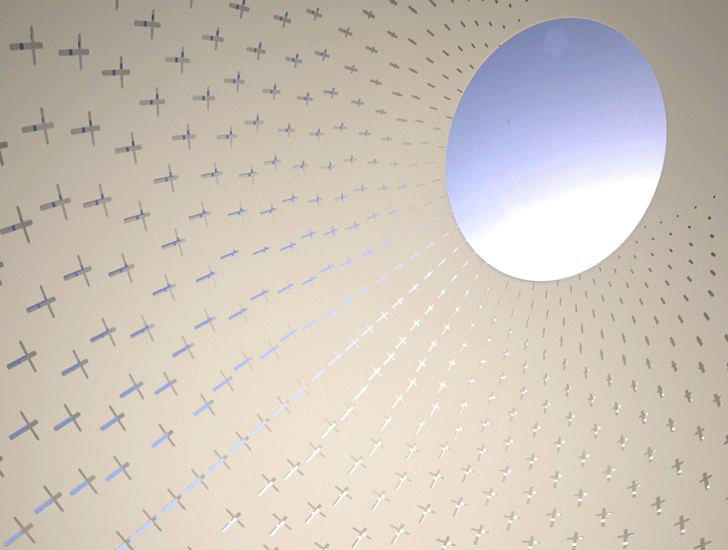 Church
Patterned light permeates through the cross forms of the perforated shell and dots the column-less space to stimulate peacefulness and tranquillity. The minimalist white interior expresses purity and embraces simplicity, while the benches and pews rise from the floor to represent the ties between humans and nature. He visualises the shell to be of super lightweight translucent concrete – an orb lit up from inside during the day and one that glows from within at night.
Synagogue
He translates the same concept to recreate other holy spaces like mosques and synagogues. With this unique synthesis of form, light, and colour, Karim Rashid proposes to create an immersive, moving experience where one can reflect on the meaning of humanity and the love and compassion that binds all.