By Rutvi Ashar
Renders: Renderings by CRA graphic team: Gary di Silvio, Pasquale Milieri, Gianluca Zimbardi
Read Time: 2 mins
International design and innovation office, Carlo Ratti Associati (CRA) uses a Ficus tree as the fulcrum of a progressive residential design in Parma, Northern Italy.
As the first step of CRA's 2017 winning master plan for Mutti, a tomato company, which calls for a closer integration between nature and the built environment, the designers present a project that disrupts conventional demarcations between rooms and floors; offering instead a stepped-plan that breaks away from a stereotyped typology.
The under-renovation farmhouse stands with its program organised around a 10-metre-high Ficus religiosa growing within the main living area.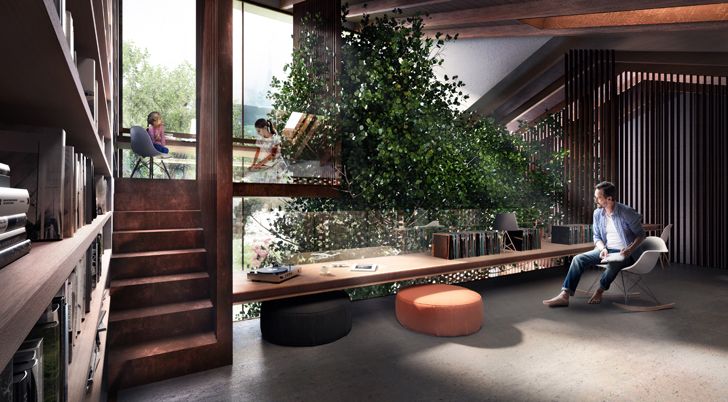 .
Using a stepped format, encircling the tree, a sequence of interconnected rooms give rise to six domestic spaces – three above the entrance, three below it - each dedicated to a specific activity viz., practicing yoga, listening to music, reading, eating together, sharing a drink, keeping a wine cellar... Each space is at a different level of the tree, a 3-dimensional sequence that follows Adolf Loos' principle of Raumplan.
The principle of biophilia: the natural impulse to connect with other forms of life, applies here as the residence opens out onto the vast orchard, where donkeys and other animals stroll. In addition, every level provides a different perspective on nature. In fact, to create an ideal setting for the tree to thrive, the designers maximise natural light through a 10-metre-high (33-feet-high) south-facing glass wall, which perfectly complements the all-season 50-year-old tree that enjoys stable temperatures all year long.
The 'Greenary' as the home is christened, is thus not a tree-house or a house on a tree. It is a house designed around a tree. Ironically, for the designers, inhabiting each of the rooms will be a bit like inhabiting a tree; while for us, the main inhabitant of this space is the tree. The home is scheduled for completion in 2019.
Design Lead: Carlo Ratti Associati
Principal Designers: CRA Team: Carlo Ratti, Giovanni de Niederhausern, Saverio Panata, Andrea Cassi (project manager) Francesco Strocchio (project leader), Alberto Benetti, Anna Morani, Gerolamo Gnecchi Ruscone, Giovanni Trogu
Built-up Area: 800 sq. m. (8611 sq. ft.)
Location: Parma, Northern Italy