By Vinita Wagh
Project Photography: Adam Letch
Aerial Photography: ICON Aircraft; courtesy SAOTA
Read Time: 2 mins
On the southern tip of Di Lido Island, Miami, SAOTA designs a masterpiece of modern living – incredibly idyllic and distinctly dramatic…
.
.
Perched on the expansive waterfront on a pie-shaped lot, the home offers brilliant views of the islands, downtown and South beach. The striking form, with its sharp lines, meshes with the cobalt blue water and the vivid green landscape, obscuring the edge between the interior and exterior. Designed to emphasize its immediacy to the water, the home not only conforms to mandatory climate codes, but also balances both scale and intimacy.
Beyond the restrained entry and the landscaped driveway, a curved screen of etched glass unifies the built elements. Inside, through the double-volume entrance hall, the outspread mass sculpts an impressive canyon - programmatic volumes in the wings and the central core that frames a theatrical view of the bay. With private suites on the floor above, sculptural elements and artwork decorate this void - the bold spiral staircase contrasting the drop-down bronze screens to accentuate the double-height of the dining room.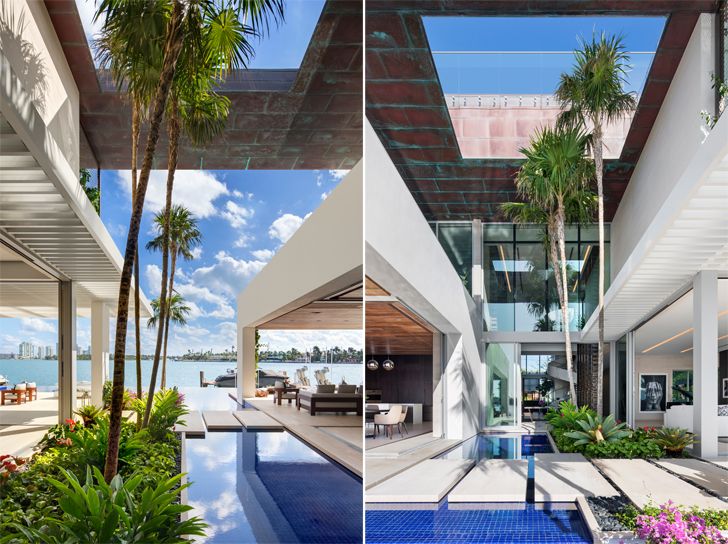 .
From the entrance pond to the reflection pools, water elements find their way through the home, creating small islands of space that link the interior and the exterior.
The living spaces spread out onto the deep-sheltered external rooms, the deck along the bay side and mooring docks beyond. While the deck sports lounging areas, shallow water seating and a full bar, it also offers an outdoor dining experience. Alternatively, the rooftop terrace flaunts a bar, fire pit and a hot tub that offers scenic views.
The roof, decked with pre-patinated copper sheets, acknowledges the surrounding early 20th century Italianate vernacular. The use of crisp white stucco, warm grey Portuguese limestone, copper and bronze detail elements imparts a rich, cohesive and relaxed aesthetic, crafting a space that is elegant and uninhibited, radiating minimalist luxury.
Collaborating with experts from KKAID, Brodson construction, Lux Populi for lighting, Lynda Murray for interiors and Raymond Jungles for landscaping, SAOTA creates a tropical paradise, classic to Biscayne Bay, giving the term 'life on the deck' a whole new meaning.
Design Team: Philip Olmesdahl, Mark Bullivant, Stefan Antoni, Dominik George, Meghan Ho-Tong & Dirk Olivier
Interior Designer:

Lynda Murray Interior Design (LMID)
Landscaping:

Raymond Jungles
Built-up Area of project:

Project Area: 1 670 sq. m.
Carpet Area of project:

Site Area: 1 982 sq. m.