Compiled by Team IAnD
Renders: Courtesy JA arquitectura
Read Time: 2 mins 30 secs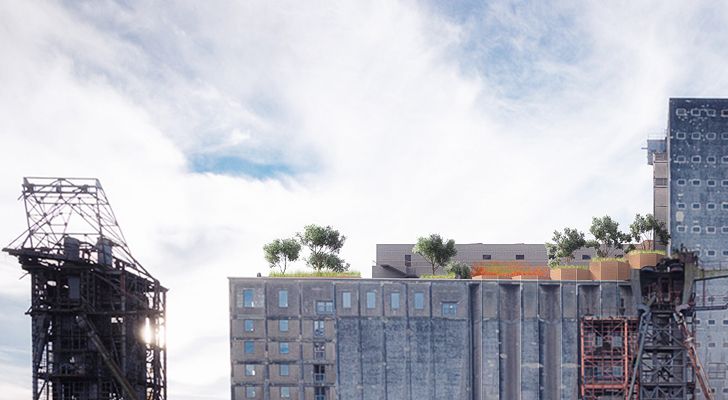 Maassilo roof transformation
JA Architects make a modern intervention in Rotterdam's century-old Stok building, setting a precedent for a fresh approach to reducing the carbon footprint…
The Maassilo is an iconic monument of the Dutch industrial past in the harbor of Rotterdam. Since its construction by Ar. J.P. Stok in 1906, and the several interventions, closure and its reopening in 2004, the building houses a large event space with a 5000-capacity, a seven-floors co-working space called the Creative Factory and has just been given its ultimate transformation - a new sustainable roof that connects the entire building.
The new design retrieves the beautifully hidden geometries of the concrete silos to transform the roof and last floors of the building. The Event Deck, a multifunctional outdoor space that can host up to 1,000 people, is accompanied by the 950 sq. m. Sky Garden elevated at 35m, where users can enjoy the diversity of plants changing over the seasons. This Event Deck is completed with a multifunctional tribune that connects floor 7 (the Creative Factory) and floor 10 (Factory010) with the Event Deck and houses below a multipurpose room, 230 sq. m. of auxiliary space for outdoor activities.
Floor Plan Level 10 factory and sky box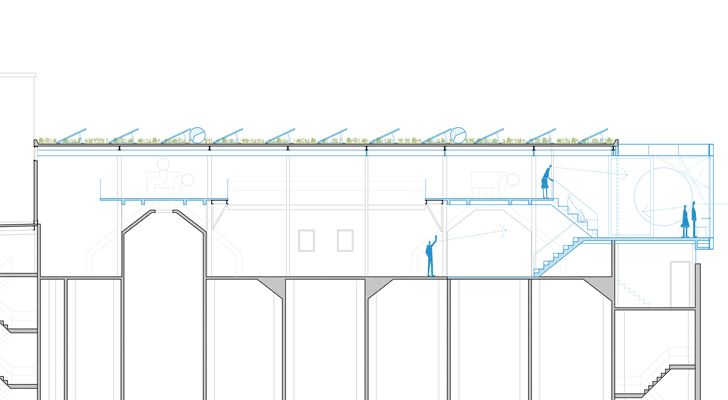 Factory Section Sky box extension
The extension transforms the interior dark space of the main hall of the nightclub into a dynamic stepped space open to the skyline of the city through a new glass box. The Skybox presents a diaphanous and transparent space, with a system of two glazed facades that allows it to adapt to the year-round climatic conditions, protecting itself from wind, rain, and sun. The structure of the skybox reflects on the facade the rhythm of the hidden silo structure. The levels of the main room, Skybox and mezzanine are connected by a stepped tribune, creating a dynamic crossroads of vision.
Skybox
An Energy Farm, a 3,300 sq. m. green roof creates a natural isolation for the building and serves as a cold carpet for a large installation of solar panels. This roof generates enough electricity to cover the electrical demand of the building in case of normal activity. The available space of the silos is used as storage for batteries that store the energy generated by the solar panels. In addition, with the combination of green roof plus storage space in the silos, the building is equipped with a storm absorption system to help the city of Rotterdam to drain the abundant rainfall of the Dutch climate. In addition, this accumulated water can also produce energy when required.
Chosen by the municipality of Rotterdam as the best project to transform the Maassilo roofs, highlighting its sustainable values, the project sets a blueprint for a conscientious utilization of rooftops not just in Rotterdam but universally. The idea can also be used to stimulate development for multifunctional roofs and new cases that can highlight the benefits of multi-functional roofs. Now the question is, will it?
Client: Rotterdam City Hall, Maassilo, Factory010. Rotterdam, The Netherlands
Designer office: JA arquitectura
Technical adviser: Groendak
Design Team: Joan Alomar Mateu and Lucía Ribes Sánchez (JA arquitectura, Rotterdam)
Location: Rotterdam, Netherlands