By Beverly Pereira
Photography: Amey Kandalgaonkar; courtesy the designers
Read Time: 2 mins
.
100architects designs a vibrant walkway to offer shoppers an immersive experience
enroute
a newly opened retail space in Shanghai.
Vibrant splotches of paint splattered along a walkway organically steer shoppers towards Life Hub@Daning, one of Shanghai's newest open-air retail spaces. By blending pedestrian-friendly streets, public green spaces and a 1,10,000 sq. m. open-air retail space, the launch of the 2,50,000 sq. m. mixed-used development revitalises a traditionally undeveloped area of Shanghai.
.
.
The public installation titled Paint Drop creates an instant visual link between the main plaza and the new retail development. Designed by 100architects, an architecture studio known for conceptualising creative solutions for street architecture and urban intervention, the corridor of splashing paint in green, yellow, orange, red, blue and purple is a visual treat for people of all ages.
.
.
The permeable walkway consists of eight interlinked catenary arches, designed to appear as if they were dropping on the floor from above. Not only does this prismatic installation serve as a public intervention to increase pedestrian circulation, but it also urges one to linger and revitalise oneself during a shopping spree. As the arches of paint hit the floor, the resulting splashes of colour serve as seating and resting areas that are intensified by eye-catching floor graphics.
.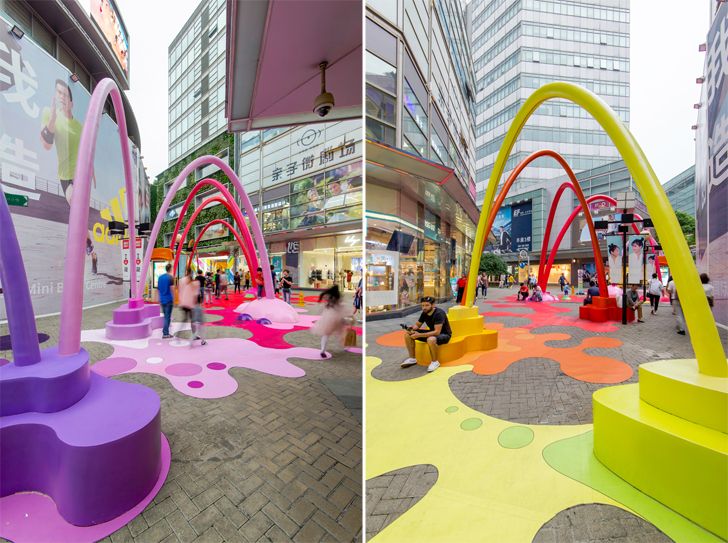 .
An interactive lighting system enhances the experiential space as the bases of all eight arches are equipped with movement sensors that activate flexible LED strips of light, automatically lighting up each arch every time a person passes by, urging pedestrians and shoppers to engage and interact as they walk through the archways.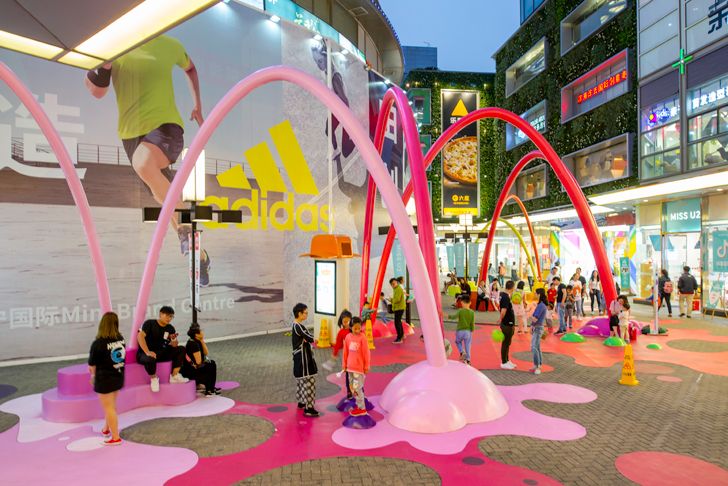 .
.
By creating a visually arresting public space intervention, the Paint Drop installation draws attention to the newly opened Life Hub@Daning retail space, boosting the footfall in the area.
Client: Life Hub@Daning (Chongbang Group)
Design Firm: 100architects
Design Team: Marcial Jesus, Javier Gonzalez, Anshuman Roy
Production: HongYang Advertising
Location: Daning Road, Jin'An District, Shanghai, China