By Beverly Pereira
Photography: People's Architecture Office, Jing Weiqi
Read Time: 2 mins
.
Surpassing the clichéd norm of the office gym, People's Architecture Office designs the Leping Foundation headquarters in Beijing as a workplace that focusses on wellbeing.
An increasing number of companies subscribe to the belief that happy and healthy employees make a productive workplace. But, Beijing-based People's Architecture Office (PAO) takes the notion of workplace wellness to a new level at the Leping Foundation headquarters.
Atrium functions
working positions in the red ring
Aligning with the foundation's mission of social innovation, PAO conceptualises a layout plump with opportunities for both - movement and rest. Even though the 1,100 sq. m. office provides for a gym and meditation space, the concept builds on the understanding that physical activity throughout the day is good for the brain.
.
.
A focal element is a red ring of vegetation suspended in mid-air and mirrored below by a central activity loop. Staff from the foundation's investee companies that work in the fields of job training for migrant workers, agricultural research, preschool education
and
microfinance are encouraged to take a lap along the track while on call. They may even take a breather, or converse with
colleagues,
while caring for the plants.
.
.
At one end of the office is a mini-mountain of sorts that encourages varying degrees of activity, posture change and rest. For one, employees might opt to 'hike' up to the mezzanine level. Gradating bands of blue span the height of the walls and columns at intervals of 60 cm, each serving as an indication of the recommended periods of time spent at each height and that correspond to favourable postures like laying down, sitting, walking and climbing. On similar lines, combating the high levels of pollution in Bejing, an air purification system — fitted in the vegetation loop — monitors and displays indoor air quality data in real-time.
.
.
Small social spaces like mini kitchens and lounge zones promote spontaneous communication encouraging collaboration. Besides, the workstations utilise a truss structure to accommodate suspended storage, thereby freeing up floor space for ease of movement.
.
.
In addition to hosting events, the interior of the central activity loop serves as a space for incubating social enterprises. A People's Canopy — a retractable canopy fitted with cycles — can be moved around or expanded to serve as an isolated space for meetings within the loop. Additionally, Tetris and other gaming tables configured to work in combinations or individually, offer flexibility and ample opportunities for interaction.
.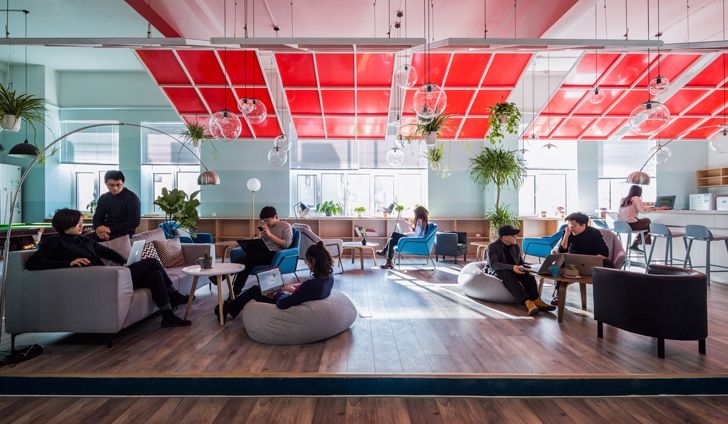 .
Supplementing the wellness factor is an open kitchen along the length of the office, where fresh vegetables and aromatic herbs from the activity loop vegetation and adjoining hydroponic gardens are harvested and prepared on-site for lunch.
Client: Leping Social Entrepreneur Foundation Headquarters
Design Firm: People's Architecture Office
Principal Designers: He Zhe, James Shen, Zang Feng
Project Team: Jiang Hao, Sha Jinghai, Kong Ming, Cui Gangjian, Xiang Weixing, Lin Mingkai, Xu Xi, Jing Zhenzhen, Chen Ziwei