Compiled by Vinita Wagh
Photography: Juan Pablo Allegre; courtesy ZHA
Read Time: 2 mins 30 secs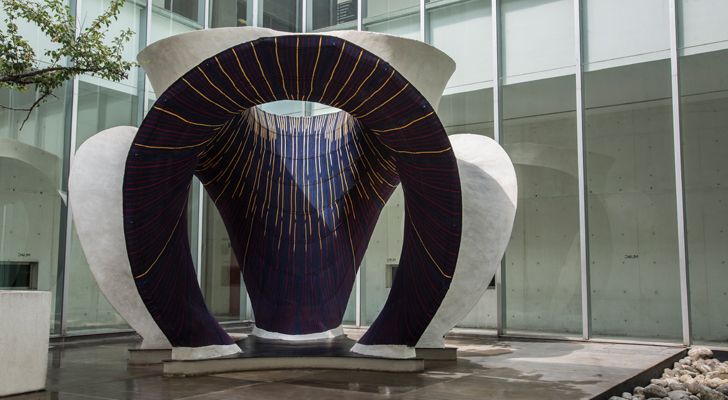 .
Zaha Hadid Architects and ETH Zurich introduce KnitCandela – an incredibly thin concrete shell, built on an ultra-lightweight, knitted formwork that can be suitcase-condensed. How's that for revolutionary?
Designed to coalesce expertise in the fields of computational design, engineering and fabrication, it brings together ZHA's design research group ZCODE for its design vision, ETH Zurich's Block Research Group (BRG) for the formwork and Architecture Extrapolated for its on-site execution.
plan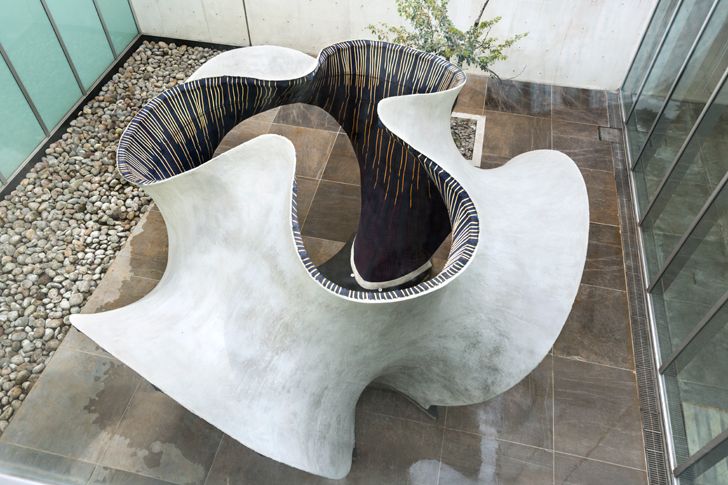 .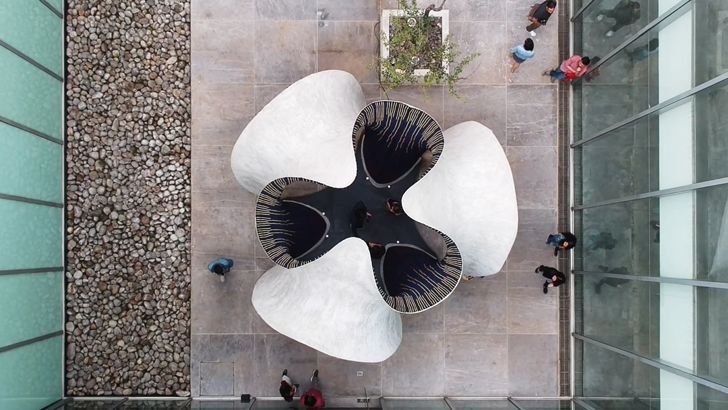 aerial view
Constructed in Mexico as part of ZHA's first Latin American exhibition, the structure pays tribute to acclaimed architect and engineer Félix Candela. While the fluid design recalls his celebrated restaurant at Xochimilco, it also takes reference from the traditional dress of the people of Jalisco. It employs KnitCrete to "reimagine his concrete shells and doubly curved forms" through experimentation with computational design methods and innovative formwork technology.
Developed by BRG, especially for casting doubly curved geometries in concrete, KnitCrete is a "cable-net and fabric formwork system" that allows for the realization of anticlastic geometries, eliminating the requirement of complex moulds.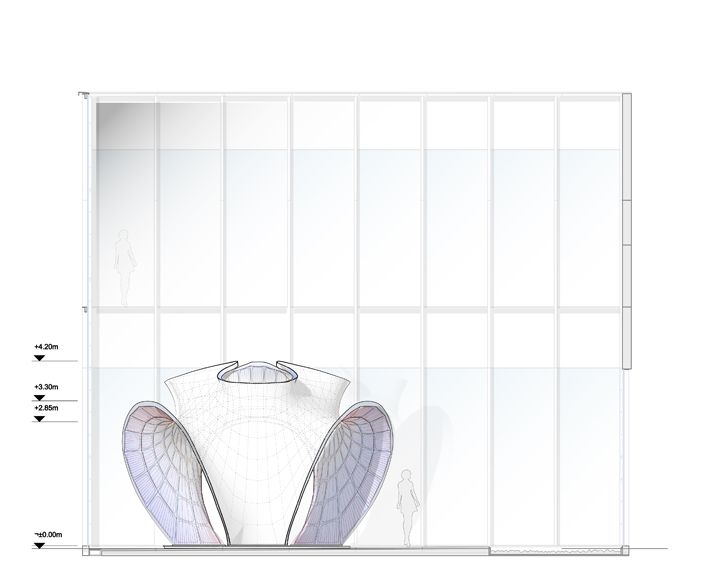 elevation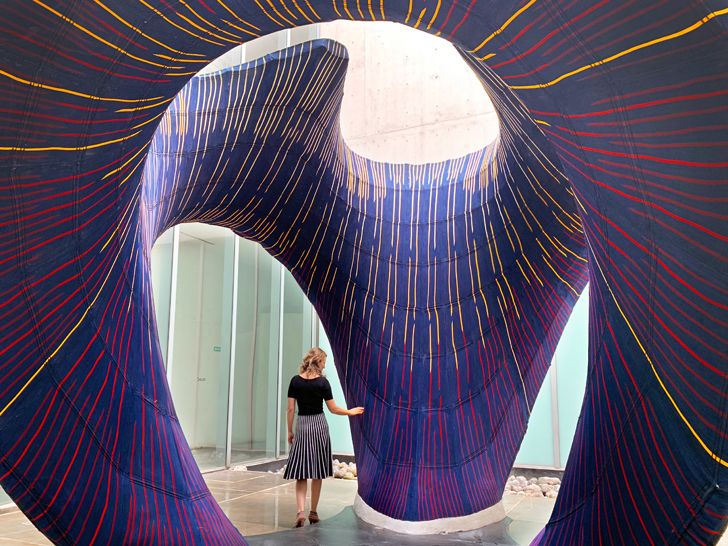 .
.
It customs a "3D-knitted, technical textile as a lightweight, a stay-in-place shuttering coated with a special cement paste" that fashions a rigid
mould
and
is
supported by "additional falsework elements such as a tensioned cable-net or bending-active splines". Knitting, unlike weaving, "
minimises
the need for cutting patterns to create spatial surfaces, facilitates the directional variation of material properties and simplifies the integration of channels and openings" for multiple tasks, including insulation, reinforcements, electrical components,
and
technical systems. As such, the system is hybrid and eases the fabrication process on many fronts – material saving,
labour
reducing,
cost-effectiveness
, transportation, reducing additional supports and simplifying site logistics.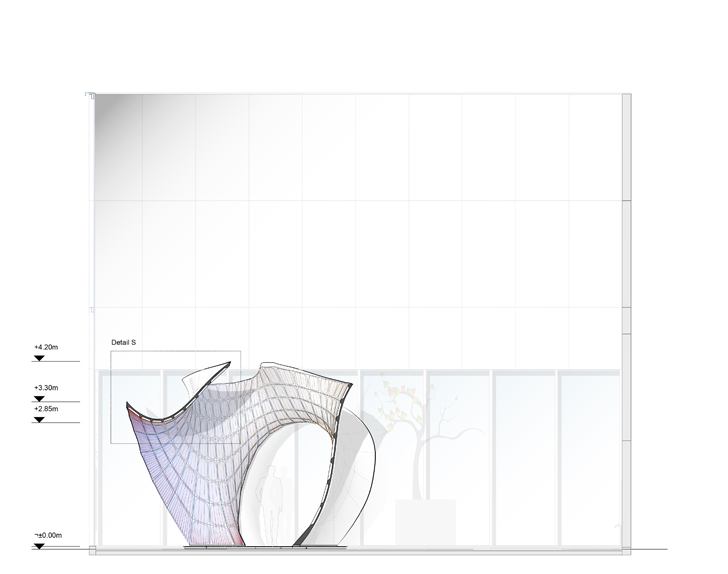 section
.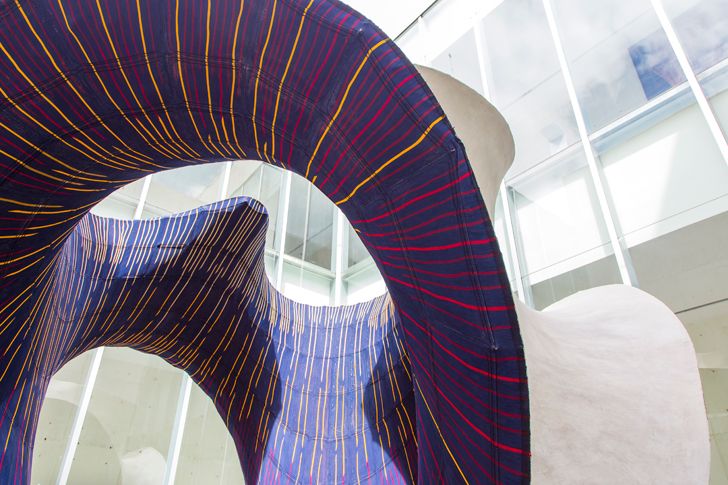 .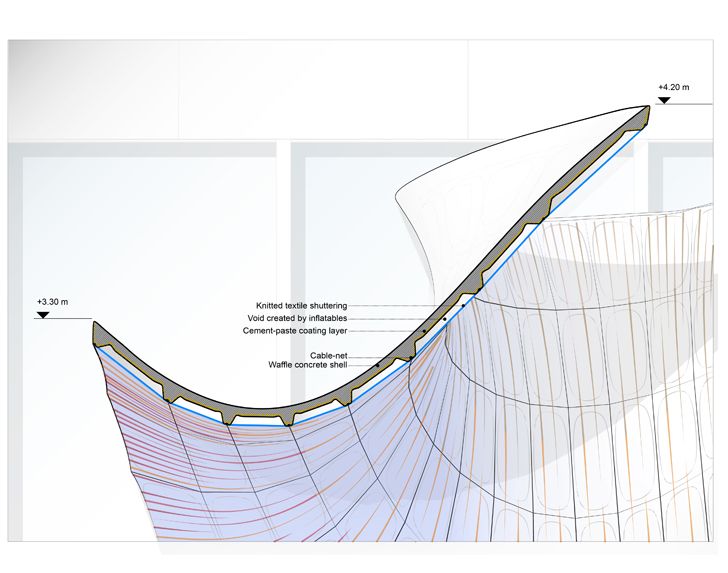 section detail

Textile shuttering, on the other hand, comprises of four long strips of 15-26m in length - each seamless, double-layered, with dual function and produced as a single piece. While the interior aesthetic surface flaunts a colourful pattern and hints at the "supporting cable net falsework systems", the exterior accomplishes the inclusion of features for "inserting, guiding and controlling the position of additional formwork elements". The pockets in between, inflated using standard modelling balloons, act like cavities to form a structurally efficient waffle shell. Their varying densities allow control over shape and openings, enabling one standard balloon size to create flexible cavities.
As KnitCandela's soft, colourful textile interior contrasts its hard, concrete exterior, their simultaneous visibility emphasizes the spatial experience, the radial symmetry, and curvatures of its sinuous form.
While the project is a demonstration of the advancing possibilities that digital design and fabrication offer and the synthesis of these techniques with traditional craftsmanship, it has stunningly revolutionized the artistry of freeform concrete in the years to come!
Fact-sheet
Global dimensions shell: 5.8m x 5.8m x 4.1m
Surface area of concrete: 47.5 sq.m.
Weight concrete: 5 tonnes
Weight formwork: 30 kg (cable net) + 25 kg (knit)
Total length yarn: 350 km
Type of yarn: Polyester (PES)
Total amount of loops: 14'660'028
Modelling balloons used: 1000