Compiled by Team IAnD
Photography: Adrian Ozimek; courtesy v2com
Read Time: 2 mins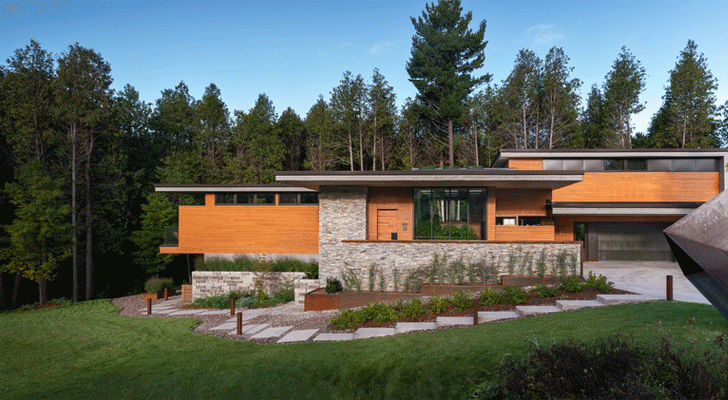 .
Ar. Trevor McIvor uses clean lines, a multi-tiered flat roof and an elegant composition to chisel this home as a stand-out dwelling in a rural subdivision near the seaside town of Whitby, in northern England…
Petaluma House, as it is christened is a split-level, open-plan contemporary home located in a neighbourhood of traditional custom homes. Designed for a retired professional, both function and flexibility of space play a large role in the layout of spaces.
.
.
A double-height glazed atrium filled with bamboo trees at the entrance brings natural daylight into the lower level entertainment and recreation rooms, while an elegant, open-riser concrete and steel stair accentuates this space, nestled between the tall vegetation and an indoor waterfall.
.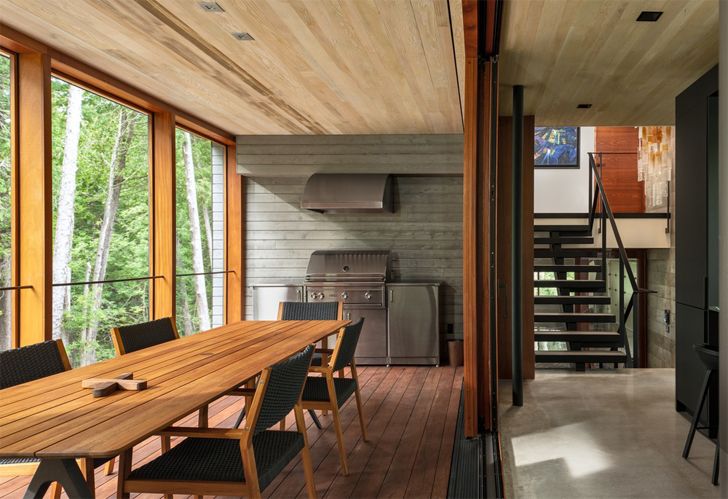 .
.
The main living space encompasses an open kitchen, with a dining room, and a screened porch which has the ability to merge with the interior or the exterior of the dwelling.
The slightly lowered living room is fully glazed and is connected with a cantilevered balcony.
Elements of whitewashed Douglas Fir cedars and soffits, mahogany, concrete and glass appear throughout the house, providing a natural, yet timeless palette.
.
The client, a vintage car collector needed a room to store his gems in an integrated, and fully glazed attached car garage, which looks out onto the surrounding ravine.
Petaluma House features finished concrete floors throughout with radiant-in-floor heating and cooling. The house has ample daylight and provides a comfortable atmosphere with natural ventilation.
.
The master ensuite, a spa-like nook is located within the master bedroom; a modern approach with a very open, yet natural feeling.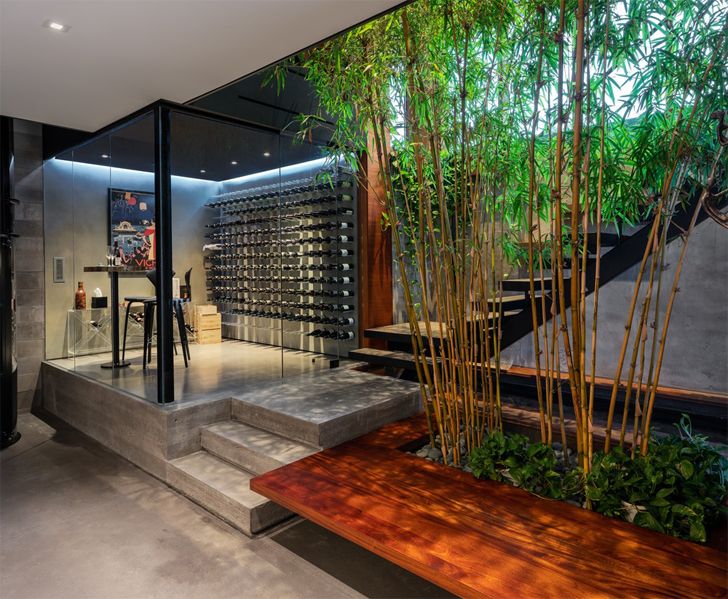 .
.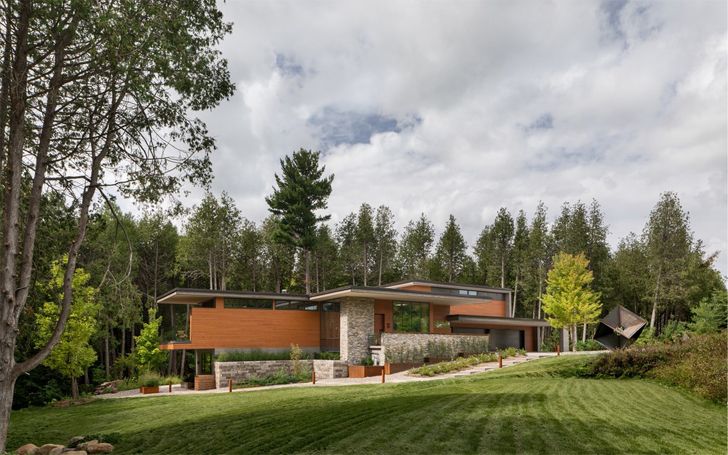 .
Keeping age in mind, a pneumatic see-through elevator shaft is integrated into the design, connecting all levels and adding an industrial touch.
Builder: Ortolan Building Design Ltd
Architect Firm: Trevor McIvor Architect Inc
Lead Architect: Trevor McIvor
Structural Engineer: Blackwell Structural Engineers
Project designer: Steve Choe
Interior designer: Dorota Jackowski
Project Area: 5,000sf (460m2)
Location: Whitby, Toronto GTA, Ontario