By Rutvi Ashar
Photography: Amey Kandalgaonkar; courtesy the architects
Read Time: 2 mins
.
The 'Jungle Race' by 100architects is an indoor intervention designed as a kids-oriented path within the course of the adults' circulation in a shopping mall…
Occupying the entire 2nd floor of a shopping mall in Shanghai, China with special emphasis on one of the corridors sans commercial shopfronts, 'Jungle Race' is an explosion of colours and immersive graphics. The idea originated from the fact that due to the lack of shopfronts, the corridor seemed like a back of house: residual space with poor pedestrian circulation. So, whilst the client envisioned it as a family-oriented entertaining space, the designers at 100architects worked in collaboration with Squiggle Labs to design an interior envelope that worked as a surreal, immersive experience to the delight of children and adults alike.
.
.
.
.
Themed as a jungle, the 'Jungle Race' is complete with animals and nature-related elements. The aim is to add value to the hitherto neglected 1,200 sq. m. space, transforming it into an immersive experience, a tunnel of fun for accelerating kids' imagination to another world. This racing track spans across the floor, walls and ceiling of the corridor allowing kids to let loose while parents take it easy!
.
.
.
Whilst the main activity is concentrated in the unused corridor, part of the thematic runs across other areas of the mall. The highlight is the surprise element and squeals of glee as the mushrooms and traffic lights light up every time kids approach them.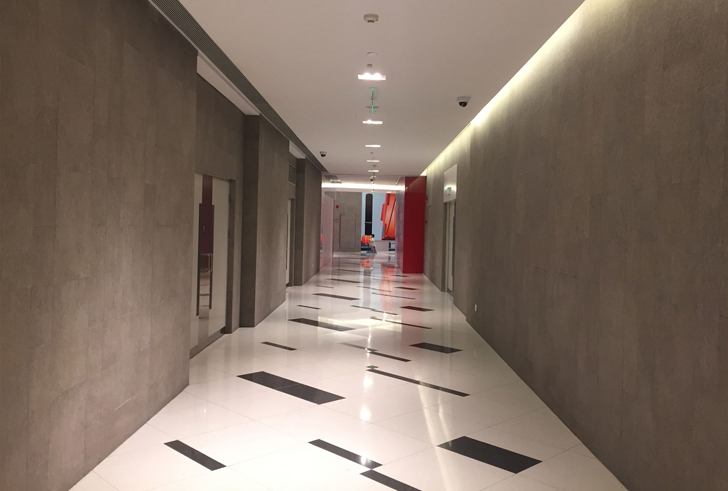 .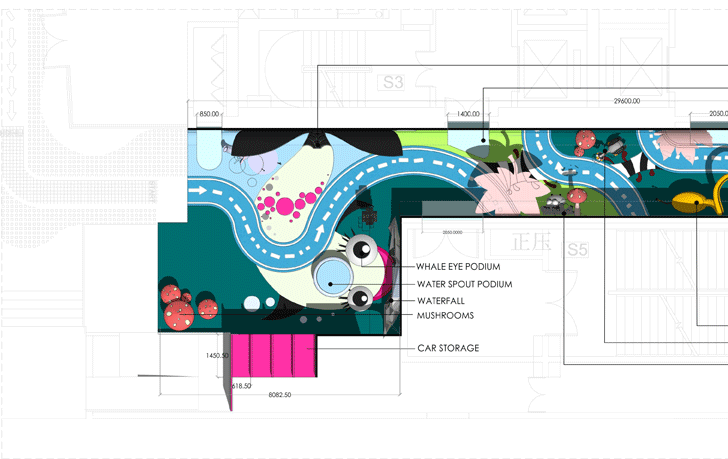 .
What would have otherwise been a dead corridor, has been transformed into a circuit of eventful surprises. It comes as no surprise that this corridor has its own rhythm of eventful situations, as 100architects are known to design architectural objects that attract people and encourage social interaction. This project like most of their other work, invites the user to jump, to sit, to climb, to lie down, to take a selfie and much more… Whilst this is another project in China that sees dead space put to productive use, it is perhaps a prelude to an impending phenomenon that could make a universal footprint.
Client: The Place (Nanfung Group)
Design Firm: 100architects
Principal Designers: Marcial Jesus, Javier Gonzalez, Anshuman Roy
Built-up Area: 1,200 square meters (12916.69 square feet)
Location: Changming District, Shanghai, China