By Archit Raj Thapar
Photography: Zhang Qianxi; courtesy the architects
Read Time: 2 mins
.
Credited with creating the iconic 'sky library' in Beijing, Lacime Architects add another feather to their cap by designing the Guofeng Library in Dalian - the most liveable city of China, as stated by China Daily.
Lacime Architects beatifically embrace the brief, "there should be some empirical connection between architecture and site, a metaphysical relationship, a poetic connection". Contextually relating to the city of Dalian, which originated from Qingniwa that literally translates to 'bridge over the cyan mud swamp', the architects attempt to live up to the legacy of this name.
.
The story of this built form begins with the entrance space that marks the presence of a single flight of stairs originating from the landscape and eventually arching over a water body; like a bridge.
.
.
With the intention to embrace rather than overshadow the existing built form, the new and old junction areas are anointed with a spiral staircase to realise the transition and connection of the space. The reading area moves upwards layer-by-layer progressively, to form a rich interior space. Finally, there is a balcony with an excellent view of the landscape. There is a clear and layered flow of lines and space shaping, as the architectural logic deeply reflects the intrinsic characteristics of a typically Chinese-like space.
.
.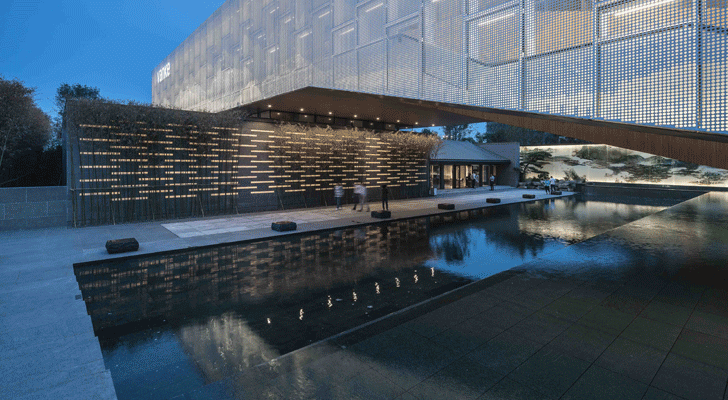 .
The new building is a steel structure, which forms a relatively free and flexible architectural form by means of subtraction, torsion and deformation. The glass block and perforated aluminium plate on the facade depict the lightness of volume. Meanwhile, the combination of the perforation and landscape reflects the design concept and traditional cultural elements of mountain, river, city, human and culture at multiple levels. Combining characteristics and mirroring waterscapes, one observes two main axes constituting a quality external environmental space, while the pastel reflections on the water surface illuminates the lower part of the building, making the building volume appear much lighter.
.
.
The design combines the features of the site, retains some of the original buildings, and positions the new buildings to forge a harmonious relationship with the site environment. The space and facade expression of new Chinese style, as well as the introduction of landscape, recall an architectural form reminiscent of oriental aesthetics… shaping the natural and poetic interior and exterior spaces.
Client: Dalian Vanke Real Estate Co.Ltd.
Architectural Design:Lacime Architects
Chief Architect: Song Zhaoqing
Design Team: Guo Dan, Yang Peishen, Nie Jichang, Chen Cheng, Wu Minqi
Floor Area: 1163.9 sq. m.
Location: Dalian Metro Line 2 Hongjin Road Station