By Archit Raj Thapar
Photography: Koichi Torimura; courtesy the architects
Read Time: 2 mins
.
Ar. Takanori Ineyama uses the simple technique of drawing parallels to design a 25 sq. m. store, carved out of nothing but cedar wood…
Often, inspiration for a design is born out of the product itself. This retail store too follows one such example. Retailing a variety of rice-crackers that can be prepared from the single ingredient rice, the Yamako Senbei Honpo Ginza store is a roadside shop facing the active pedestrian street of Suzuran in Ginza, Tokyo. Following a metaphoric stance, the architect goes a step beyond the obvious to draw parallels – literally too – to design the entire interior, playing on the versatility of cedar wood.
.
Measuring almost 4.5 metres in length and 3.3 metres in width, the store has a rather small rectangular footprint, which the architect capitalises on to create a clutter-free design. The spatial narrative begins with a monolithic rectangular wooden cabinet in the centre of the store that acts as a counter top to host brochures, packaging samples and a colourful bonsai on top of miniature bamboo flutes.
.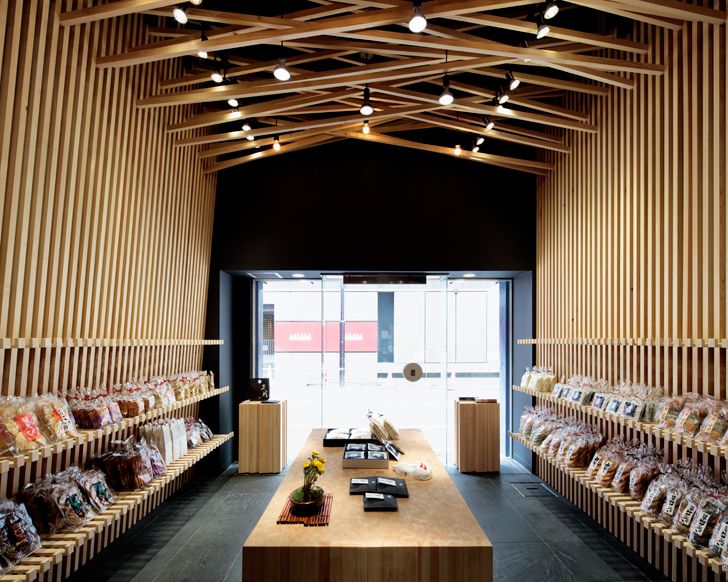 .
This cabinet creates two aisles on either side displaying rice crackers on shelves juxtaposed horizontally out of a floor-to-ceiling wooden slat lining. Slat-wrapped walls on either side rise to meet the ceiling which is a simple but intriguing composition of 40 mm by 30 mm batons running parallel from opposite ends – emerging at different levels - to appear seemingly crisscrossed – giving the impression of a pitched roof.
.
Strategically placed lighting in the ceiling illuminates the entire store, whilst the ceiling also effectively camouflages all necessary functionalities like the air conditioner, fans etc. Similarly, camouflaged in the modular system of the panelled walls, are possibilities of additional shelving and compositional variation – simple steps to facilitate future expansion.
.
Despite being a small store, the architect creates a heuristic and dense space interplaying colour contrast and depth. Taking a cue from the duality of yin and yang, the interplay of white cedar wood against a backdrop of black walls, flooring and ceiling creates a space that resonates with balance, harmony and coherence.
Client: Yamako Senbei Honpo Co.,Ltd
Project Name: Yamako Ginza
Architecture Firm: Takanori Ineyama Architects
Architect in Charge: Takanori Ineyama
Construction: Yamazaki Construction
Location: Ginza, Tokyo, Japan