Compiled by Team IAnD
Photography: Amy Barkow; courtesy v2com
Read Time: 1 min 30 secs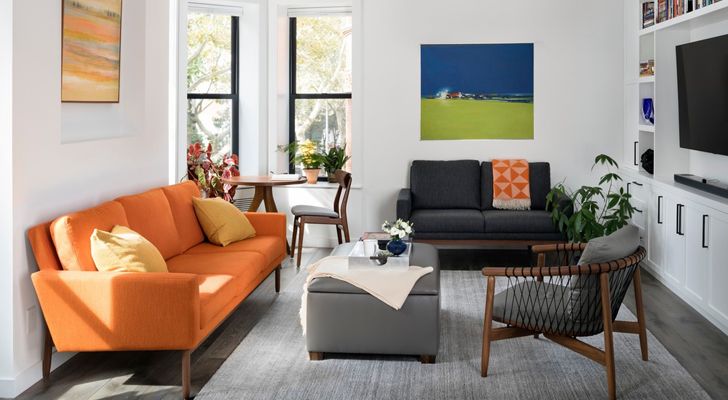 .
BFDO Architects juggle space to turn a simplistic apartment with a basement into a chic duplex by exploring a spatial narrative…
Award-winning multidisciplinary New York-based practice, BFDO Architects turn around a decade-old apartment in New York by converting a basement-level storage unit into a family room by adding a staircase at the end of an existing hallway to connect the two spaces together.
The entry sequence is reworked to create a slate-tiled mud room that could contain coats, shoes, backpacks, and sports equipment for the family of four; the strategy for the living spaces being to remove partitions and open the kitchen to the living and dining rooms.
.
.
.
A raised wood-clad ceiling separates the kitchen from the adjacent spaces and the creation of the mudroom facilitates a small office to be tucked into a corner of the dining room.
A steel and glass partition creates a sound barrier while letting in light. Steel also wraps the structural column and appears again in the dining-room light fixture as well as in the form of a shelf above the kitchen counter.
.
.

The private spaces of the apartment are organized along a long wall painted a deep blue-gray. A new bath is added off the master bedroom, with both finished in shades of light blue and gray.
The kids' bathroom features another steel and glass enclosure, this time for the tub/shower, which is set between a black tile floor and ceiling. The kid's bedroom at the end of the hall is painted in tones of lilac and gray with a large corner window seat.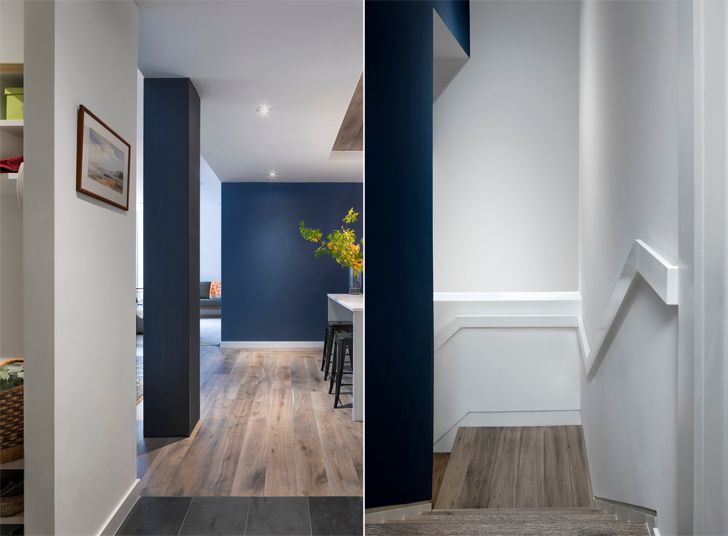 .
Downstairs, the family room features a large sectional and built-in shelving for movie watching plus areas for laundry and storage.
Keeping it simple and vibrant with a distinct lived-in feel, the home is trendy, yet high on comfort.