By Vinita Wagh
Photography: FG + SG. Ultimas Reportagens. Fernando Guerra; courtesy the architect
Read Time: 2 mins
.
It's clean, it's functional and it's minimal – The Hofmann House by Fran Silvestre Arquitectos is distinctly modern and breath-taking…
Characterised by the signatory white linear form positioned on an elongated plot, its panoramic windows catch a glimpse of the distant sea. Nestled within gardens, the sleek form with its sharp angles and geometrical silhouette also brings out the brilliance of the blue sky and landscape that lies beyond.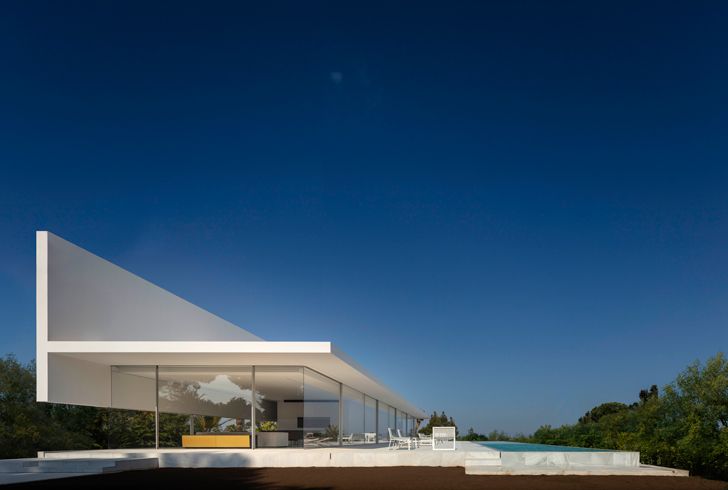 .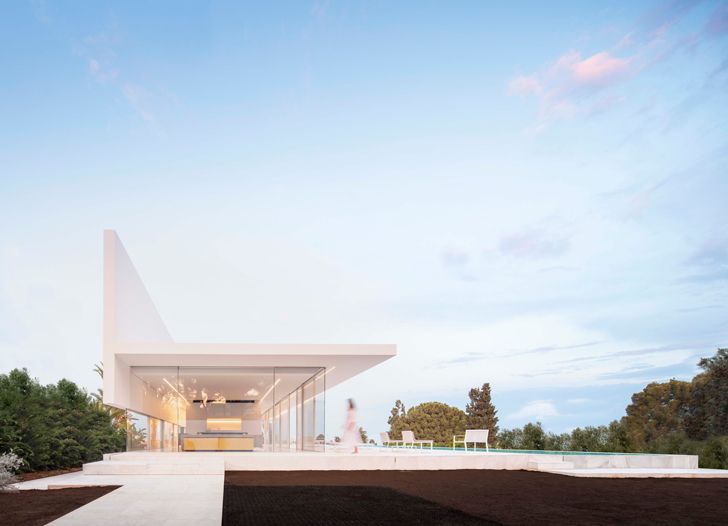 .
The almost-square plan fits in a range of uses in its 350 sq. m. The design allows for shaded terraces, and equally controls exposure to intrusive eyes and the southern sun. Across the levels, spaces distribute themselves as per their uses, all opening into the garden. The use of natural stone across the exteriors and the interiors helps tame the otherwise large spans of the structure and humanise the interior spaces.
.
.
.
.
Two main elements craft the project – the cover and the enclosure, seated on a stone base that also accommodates the pool. The levels of the residence follow the natural slope of the plot and the resulting composition conveys a sense of order designed with an elegant balance of luxury and simplicity.
.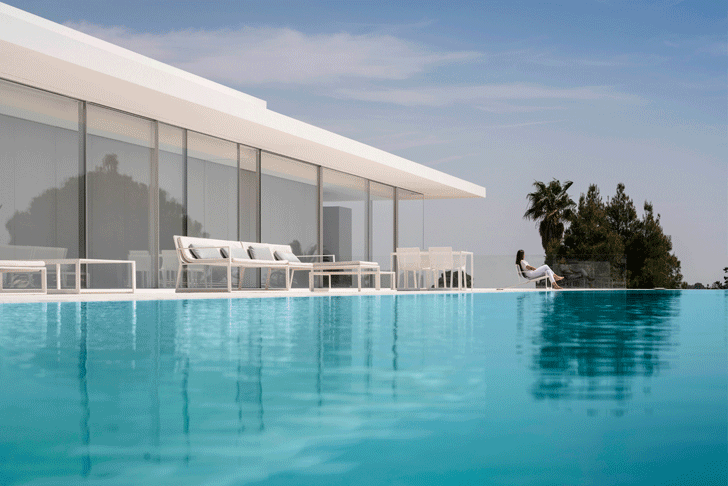 .
The cover, a striking T-shaped framework extruded along the length of the plot houses the habitable spaces underneath. While the framework acts as a wall and a roof, it holds its own - dominating the space and drawing attention to its crisp lines, akin to a piece of art. The walkable roof, in contrast, is an expansive belvedere, overlooking spectacular vistas.
.
.
.
The enclosure, a glass shell, wraps the spaces within, predominantly guiding their distribution and moderating privacy. The design allows for flexibility in circulation and the use of spaces. The main room seamlessly connects to the walkable roof. While the wet areas and private rooms are cocooned, the corner study features the best views.
The residence is classically experiential, consciously making the user perceptive to the spaces they engage in and the moments they occupy.
Architecture: Fran Silvestre Arquitectos
Interior Design: Alfaro Hofmann
Project Team: Fran Silvestre | Principal in Charge & Estefanía Soriano | Principal in Charge