By Vinita Wagh
Photography: Julien Falsimagne; courtesy the architect
Read Time: 2 mins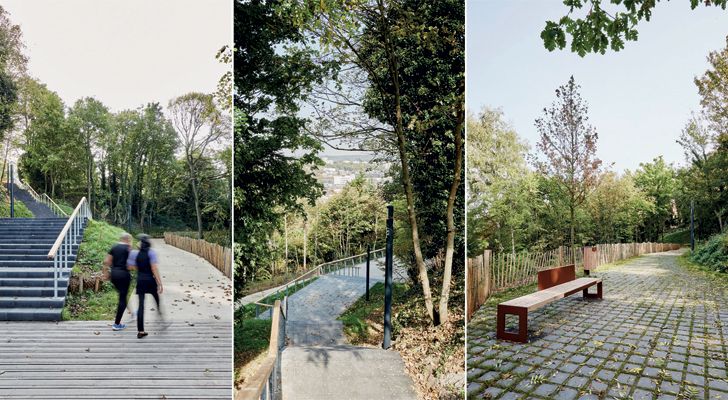 .
Espace Libre draws on the intricacies of the hillside landscape to choreograph the route linking two disconnected parts of the city of Creil, France…
Located north of Paris, Creil is a post-war, small town surrounded by a green landscape. With suburban neighbourhoods intensifying rapidly, Creil has until ow stood cut off from the city-centre by a wooded hillside that rises 40 metres high. The dense urban growth and spatial configuration has ensued in a geographical divide that disconnects access to the city centre, positioned on a plateau on the edge of the Oise river. With the support of the city, the current project responds to the need to connect, utilising a stunning ramp that takes you voyeuristically across the dynamic landscape.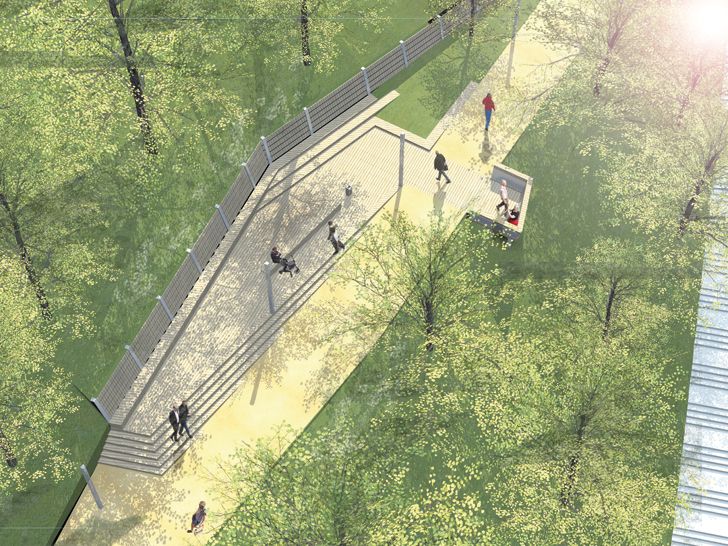 .
.
Contrary to conventional solutions, the design focuses on the landscape, its ecosystem and the vistas. Through a careful analysis of the site, its potentials and the soil, the team of landscapers and urban planners, Espace Libre extends interventions that minimise environmental damage. Rather than defining foreign programs, their layout outlines pathways and observation platforms that are born out of a natural process of dealing with the site. Subtle and minimal interferences, pedestrian friendly structures, ecological restoration, a hydrographic network and indigenous plant species characterise this global project. Signages even highlight the location of endangered species.
.
.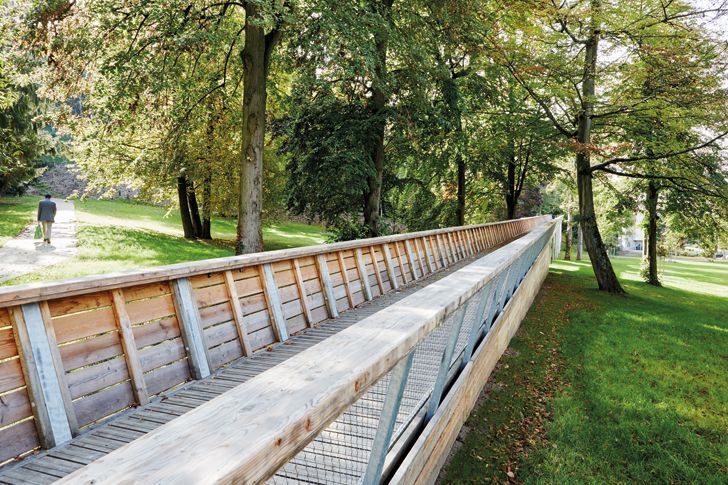 .
.
With an unobtrusive layout, the strength of the idea lay in highlighting the landscape. A foot-bridge at the bottom of the path allows one to draw alongside the coastline level. This 100m bridge rises through the treetop and an English Park, meandering to reach a belvedere at the top, seemingly floating, to frame an exceptional view of the city and the Oise. The steel bridge, with oak and larch wood boards, braves vibrations and wind forces.
.
Marked with places to break, meet and observe, the 1.2km path features the belvedere haunt, the Laversine glades, the belvedere of the crossroads, the crossroads itself, the hiker's plaza and the ramp.
.
With this urban ramp, the agency catalyses the landscape, adding drama, adventure and unexpected elements that warrant appreciation and a transient experience.