IAnD EXclusive
Plush Residences - evolving lifestyles!
Photography:
Jon Reid - Arch.; courtesy the architect
Read Time: 2 mins
By designing a beautiful house nestled into Arizona's mountainous rock, Kendle Design Collaborative celebrates the quiet and serenity that nature has to offer.
Located against the Camelback Mountain in Paradise Valley, the 4756 sq. ft. home sits on a unique plot that takes advantage of the rock at the back and the panorama of the valley out front. While the planning revolves around creating opportunities to take in the spectacular views, the context and its preservation, the rugged, natural backdrop accentuates and drives the visual aesthetic.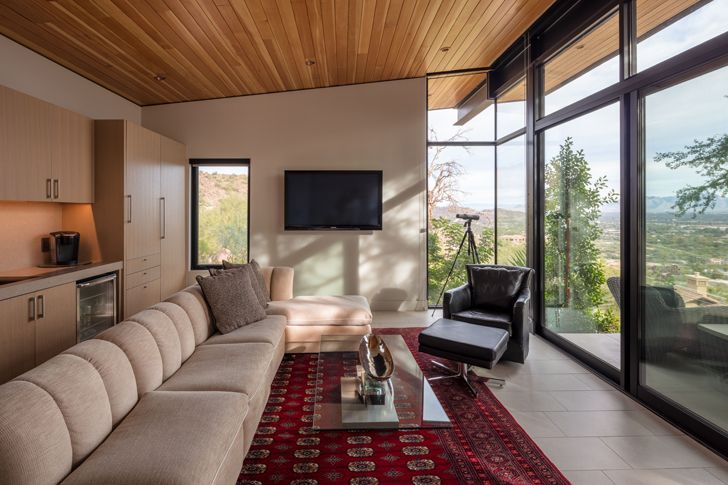 .
.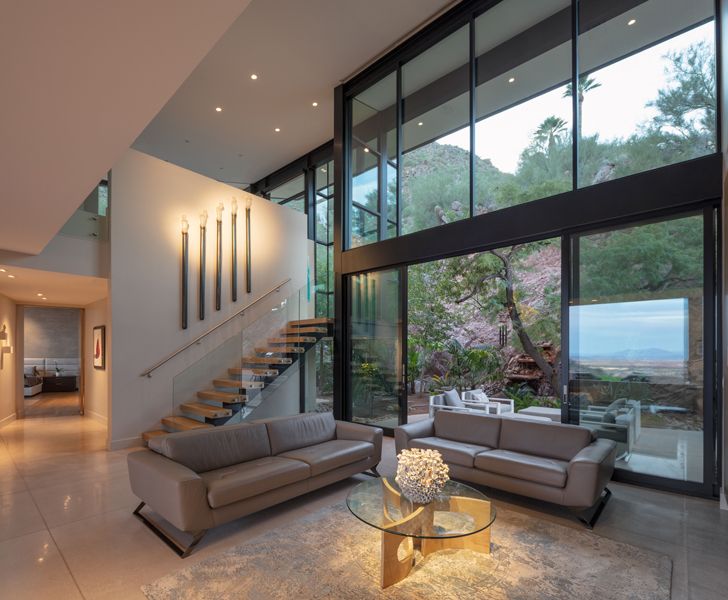 .
.
.
.
Radiating, angular ceiling planes frame the dynamic volumes of the house, highlighted even more so due to the seamless use of douglas fir wood on its underside, running from the interiors into the exteriors. A stark contrast to the sandy tones of the exterior, the pigmented roofs, a rich brown, meld with the backdrop, their overhangs shading spaces underneath.
.
.
Simplistic in form, these volumes define spaces that internally expand to connect harmoniously outdoors into the front yard and the lush garden backyard – the kitchen, dining, bedrooms and even the baths! High ceilings and sliding glass openings facilitate this extension into nature, allowing air and light to flow uninterruptedly.
White concrete floors with a light terrazzo grind lead the way through the house. The neutral colour palette spotlights the art, the hopper finished accent walls and the cambria quartz surfaces. The combined kitchen and dining room opens outdoors, indulging in not just different views from the east and the west – the rock and the city, but the space also echoes of a simpler life, one spent in the abundance of nature. The terrace sports a comfortable lounge, a relaxing pool and an outdoor firepit. On the level above, natural light floods the art studio that borrows views of the garden below, and the mountain peaks beyond.
.
.
A sleek, modern home that embraces an awe-inspiring terrain - the studio delivers a stand-out home that is refreshing, rejuvenating and exudes a holiday-esque yet homey feel.
Fact File:
Project name: Cholla Vista
Architect's Firm: Kendle Design Collaborative
Lead Architect: Brent Kendle
Landscape Design: Juan Sandoval
Gross Built Area 4756 sq ft
Location: Paradise Valley, Arizona