By Vinita Wagh
Photography: Tomaz Gregoric
Read Time: 2 mins
.
OFIS Architects redesigns a single-family house in the Rozna Dolina 'flower valley' district, within Ljubljana's city centre.
The Rozna Dolina district comprises of low-lying meadows, whose development stayed nascent until after the Ljubljana earthquake of 1895. However, today the area is a famous locale adjacent to the green parts of the city. Often dubbed as the 'Beverly Hills of Ljubljana, the area boasts single residential houses with gardens.
.
.
.
Archetypal pre-war neighbourhood villas follow a distinct typology and character. With a raised ground floor to protect from floods, the structure ventilates the underground spaces and filters light within. Staircases form a portico and the uppermost floor features a smaller footprint – a result of terraces created for good sun exposure to gardens and surrounding houses.
Distributed vertically across the house, the family programs structure zones – leisure at the semi-underground level opening onto the backyard garden, living-dining and terrace at the ground level, children at the first and parents at the top.
.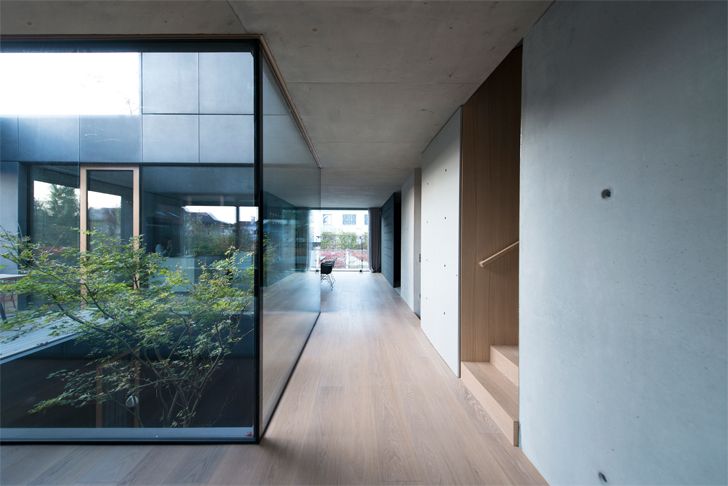 .
.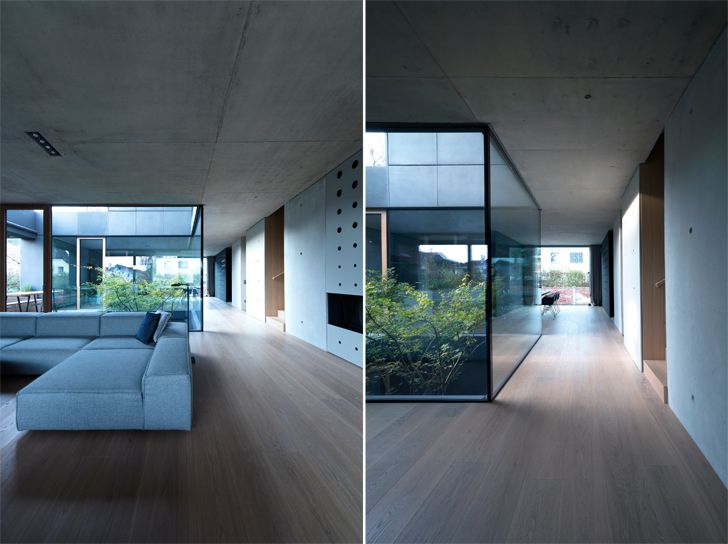 .
.
Using 40% of the plot area and in keeping with the prevalent typology, the design proposes four main elements, interweaving convention and novelty, giving the impression of a carved out cuboidal volume – a terraced block encased within an envelope. First, the raised ground, allowing for clerestory windows below. Second, the covered, conduit-like portico at the entrance emphasises the wide flight of stairs. Next, the culled out south side that creates elevated terraced platforms, with trees and gardens levelling alongside each room. Lastly, an internal glazed atrium, providing for light, ventilation and a habitable summer deck – an atrium that punctures the heart of the building all the way to the semi-underground level where it forms a courtyard between the parking and the guest room.
.
With a geometric form, clean lines and a subtle façade pattern, this minimalistic house plays up the dynamics of the simple, yet bold elevation to render a design that confidently borrows the best of the old to catalyse something new.